I love sending out holiday cards. In my opinion, there aren't enough postage stamped personalized cards and letters being exchanged anymore. I personally take it upon myself to help the USPS stay busy by always writing cards and sending care packages whenever I can.
This is especially important to me in the holiday season. I love the idea of picking a beautiful, glittery, and joyful holiday card and sending it out with a special message.
Yet, this year, when I got to thinking about cards, I kind of got sad for a moment. I love getting photo cards that show my friends and family in adorable coordinating outfits in their homes, with their animals, on trips, etc.
I also love the idea of being part of that crowd. Yet, as I racked my brain I didn't have any pictures that would make a good holiday card front. I didn't go on a trip that would show everyone this cool place I went; I don't have a dog or cat to cuddle with in the picture (nor do I have kids to do that with either); I don't have a new home that I can show in the picture.
But, like I said, I only got sad for moment because I realized there are so many other fun ways to have holiday cards that are beautiful and unique.  Why was I stuck on picture cards? They are beautiful and personal, and I look forward to joining that crowd in the future, but not this year.
The point of Christmas cards is not to make me feel sad planning for them – nor being boastful showing my face with something super cool. The point of the cards is sharing a special message of love and happiness with those people you are closet with in life.
When you think about just spreading joy and love through your card, it is exciting to pick the card that best describes that for you that year.
I popped over to Minted (can you tell that I love them with this art work and curtains) to check out their personalized cards. Not only do they have oh-so fun pictures cards (next year, maybe with a picture of my new dog on it? You know, the one I haven't gotten yet but want to?!) but they also have really neat cards that don't have pictures.
They have awesome foil pressed cards (meaning shimmer and GOLD).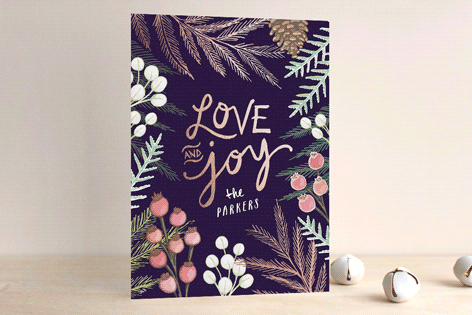 They have ornament cards that can be hung on your tree for years to come. Wouldn't that be a fun tradition each year?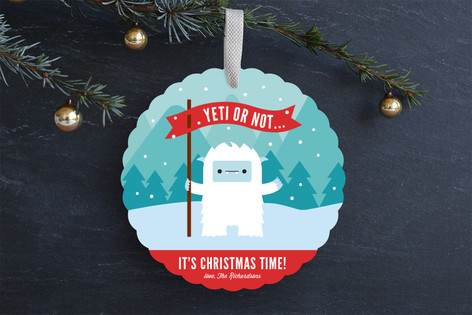 Isn't that hilarious and nerdy-delightful?! They have more serious ones but I had to share this one. A pun is always a good idea on a card (or anytime really).
I absolutely adore these minibook cards too! So many possibilities and personalization possible. Plus, to send a book as your card? That's just cool.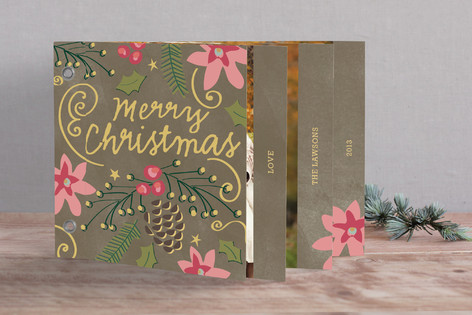 If you want to go a little more casual you can use a postcard style. I definitely still love sending postcards to my family when I'm on trips, so I like this option a lot.

The last non-traditional option I found are these petite cards. I mean, everything is cuter when it's small, right? #plightofthetallgirls But gosh darn it, these are adorable.

With all of these card options you can still personalize them to max out their cheery message straight from you heart. Plus, you can upload addresses so they are beautifully typed on the envelopes!
So spread a little holiday spirit by making your card personal, joyful, and  full of love so that when the recipient opens that card it will explode with happiness and glitter (yup, that's my tradition – people have learned to open my cards over a trash can because GLITTER).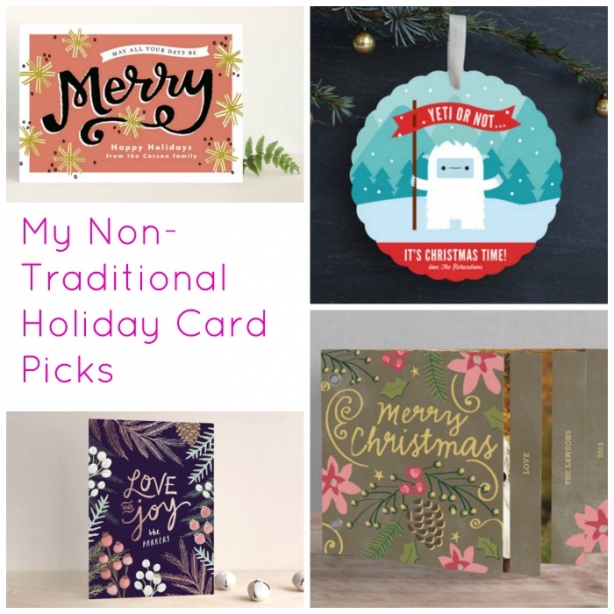 So what type of holiday card do you like sending out? Any of these catch your eye?
This holiday is sponsored by Minted. All opinions are my own.