Now that I have fully settled into and embraced apartment living (because of awesome things like when I told them my screen was damaged, went to work, and came home to a new screen!), I've also learned that certain things are more important to me than they were living in a house.
For instance, wreaths just weren't my thing before. But the color of my front door was. Well, since I can't paint the ugly beige door (grrr) I choose to adorn it with something that is festive and speaks to my personality!
You may remember my fall wreathing party with one of my BFFs. Well, we got together a few weeks back for another wreathing round! This time it was all about the Christmas/winter wreaths.
I wanted to make a wreath that could get me to Christmas and through the winter. As much as I like wreaths, I'm good with making them for every season and cutting it off at those four. It's fun but still…crafting usually ends with me lying on the floor at some time, just over it. #beingreal #justaskmyfriend #ilaidonherfloor
So after a fun trip to Michaels and wading through all the glitter that Christmas brings out (!!!!!), we came back armed with our supplies.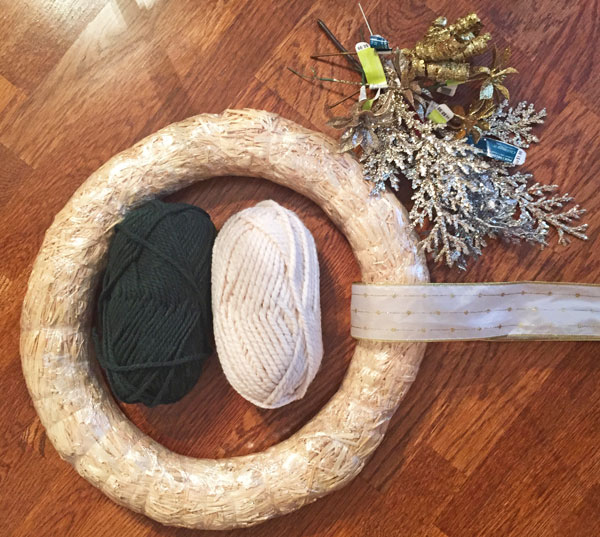 I decided to do a yarn wrapped wreath and add ALL THE GLITTER. Obviously.
Although it took a while, it was a very easy process. I just alternated wrapping the sparkly gold/ivory yarn and the deep forest green yarn around the wreath, just eye balling the width of the sections.
You can see how I perfected the process by having the wreath rest of my legs to give wrapping room without having to hold the wreath with my hands. I know, I know, pro tips here.
After that was all done I just started gluing down my sparkling flowers and BOOM! Favorite wreath ever! Plus, the obligatory goofy pictures of us with our wreaths (and isn't hers beautiful?!)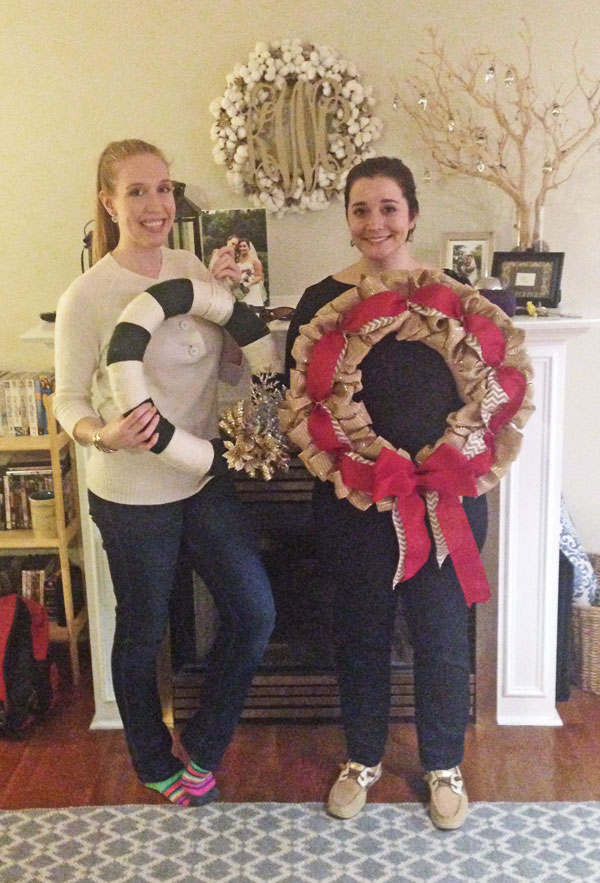 Now, here it is trying to help my beige door look better.



I'm pretty sure that I at least get four visits to my friend a year because we must continue the wreath tradition.
If you're interested here is the fall wreath we made…

And here is the glittery gold wreath I made last winter…

So glad I can now add this beauty to my collection!