As much as I love getting a box from Stitch Fix where every piece fits perfectly and I keep them all, sometimes there is something to be said for a box where you love one thing. Well, I actually would love to have 5/5 boxes every time but my wallet appreciates boxes where I only like one item. 🙂
After coming off the October box high, I was so excited for November's box. I was doubly excited for this one because I scheduled it for the day before Thanksgiving when my mom would be here to open it with me.
Then I opened it…and didn't love it. I think I even said I absolutely hated one thing.
But wait…I'm putting the cart before the horse. Let me give you the quick run down on Stitch Fix first and then we can get into the piece by piece breakdown.
Stitch fix is a personal stylist company that hand picks 5 items based on your style and size. You get assigned your own stylist, and she gets to know your style based on your pinterest fashion board, style profile, and feedback you leave on your previous fixes. In turn she hand picks out pieces she think will make you look – and feel – great and sends them to you along with styling advice and a personal note. Love that part so much!
RD Style Yolanda Airy Knit Sweater
This is the one I said I absolutely hated when I opened the box. Now, this may seem a little hypocritical since I LOVED the black lace back shirt in the last box. Which may also be the reason I got this shirt. However, crochet is a) too boho for me and b) too cold. I don't do holes in my sweater on purpose.
Once I put it on with a colorful shirt underneath it, I definitely liked it more. But not enough to keep it. Also, after looking at the pictures, it was a definite no. Sometimes photographing the pieces show me how they really look and help my decision making process.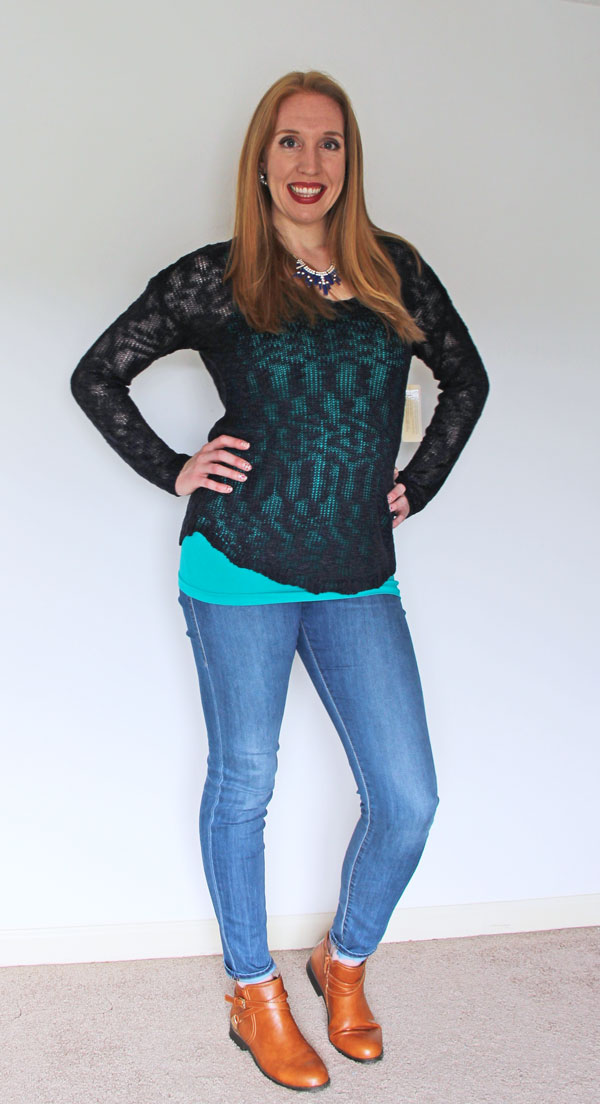 Returned
Echo Hannah Ombre Striped Infinity Scarf 
Ok, so I asked for no scarves. And I got a scarf. In her defense, I did ask for as inexpensive box as possible, so I'm assuming that is why she put a scarf in there. But sorry, no. I know the colors are me but I have SO MANY scarves that I rarely wear.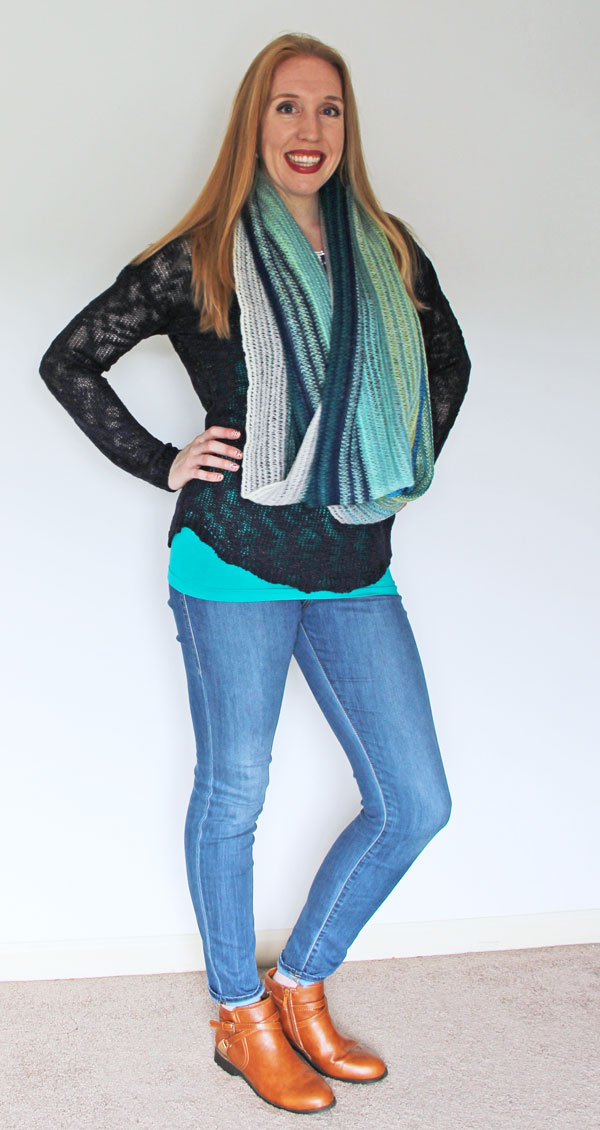 Returned
En Creme Lola Open Cardigan
This sweater is so fun! I love the colors and the pattern. I love that it can be thrown over things and be cuddly for colder temperatures. Except that it really isn't that cuddly. It was a little itchy. I've learned the hard way that I won't wear anything itchy – ever. Plus, I thought this would be hard to pair with my closet full of bright colors and patterns.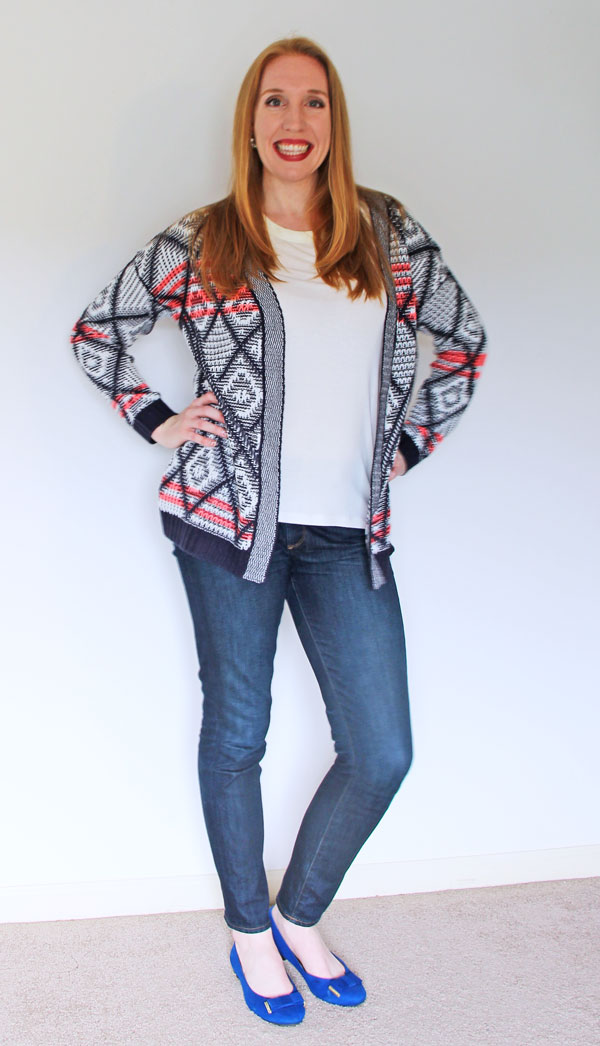 Returned
Liverpool Anita Skinny Pant
Oh Stitch Fix, one of the reasons we have such a good relationship is that you give me pants that fit me great and are long enough. That is a rarity in my world. So keep them coming! I love these stretchy grey pants that can go with sooo much all winter long.

Kept
Alice Blue Faustian Contrast Side Panel Knit Top
Sigh. This shirt. It had potential with the different stripes and such but oh my, I'm not pregnant. This is such a maternity shirt to me! I know this flowy style is trendy but nope, not for me. I've had to camouflage my body in my heavier days and it was so challenging. So now that I feel more confident in my shape and size, I don't want to drape it in maternity-like clothing!


Returned
That sums up my 1/5 box. But I was actually happy that only one piece was kept! And pants – thank goodness – I need them. Also, my mom bought the pants for my Christmas present and that makes them even that much more special. Thanks Mom!!
So, you agree or disagree with what I kept?!
Want to see more? Check out my other reviews!
my february 2015 stitch fix review
my march 2015 stitch fix review
my april 2015 stitch fix review
my june 2015 stitch fix review
my july 2015 stitch fix review