As I write this post, I am settled into my blue metallic table in the comfiest mid-century modern thrifted chairs occasionally glancing out the window to a snowy, snowy Presidents Day (no work for me!!) with some good ole Jason Aldean playing in the background. Because I oddly like (nay, love) country music now…after decidingly wanting hate it for years. Yet here I am grooving along to it in preparation for seeing Jason Aldean, Thomas Rhett, and A Thousand Horses in concert on Friday.
I'm really enjoying this moment right here, so I thought I would just set the scene and share it with you. It comes with a very, very inner-happy-peaceful Megan too, who had an amazing weekend spending time with friends and being so happy to spend Valentine's Day by myself, doing what I want and being so grateful for all the love in my life. Love is not just a significant other. It is so, so much more.
Ok, that got a little off track and contemplative but I just feel so good and happy!! I hope you do too.
Anyways, back to the real point of this post…STITCH FIX! Ah, I love Stitch Fix. I am actually going a little crazy this month because I am deciding to skip getting a fix this month to help save on the budget. Other things are taking priority so no more clothes this month. Sigh. Instead, we will reminisce on how AWESOME the January 2016 Stitch Fix was!
If you're new around these parts, stitch fix is a personal stylist company that hand picks 5 items based on your style and size. You get assigned your own stylist, and she gets to know your style based on your pinterest fashion board, style profile, and feedback you leave on your previous fixes. In turn she hand picks out pieces she think will make you look – and feel – great and sends them to you along with styling advice and a personal note. Love that part so much!
41Hawthorn Joan Faux Leather Panel Detail Sweater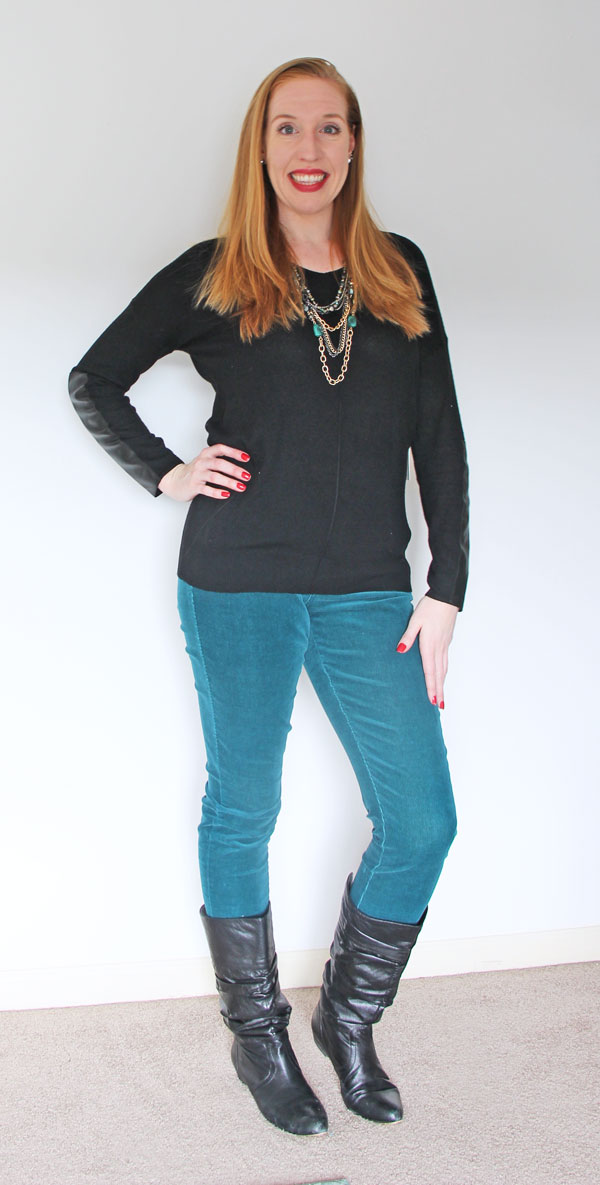 This sweater is totally rocking. I love it. Yes, it is 95% because of the faux leather detail on the sleeves. It just makes me feel styling and edgy, plus it's comfortable, and I know I will reach for it all the time. Plus, it's nice to have some more solids in my multi-colored, vastly patterned wardrobe. Welcome home sweater, welcome home.
Kept
RD Style Angus Split Back Mixed Material Sweater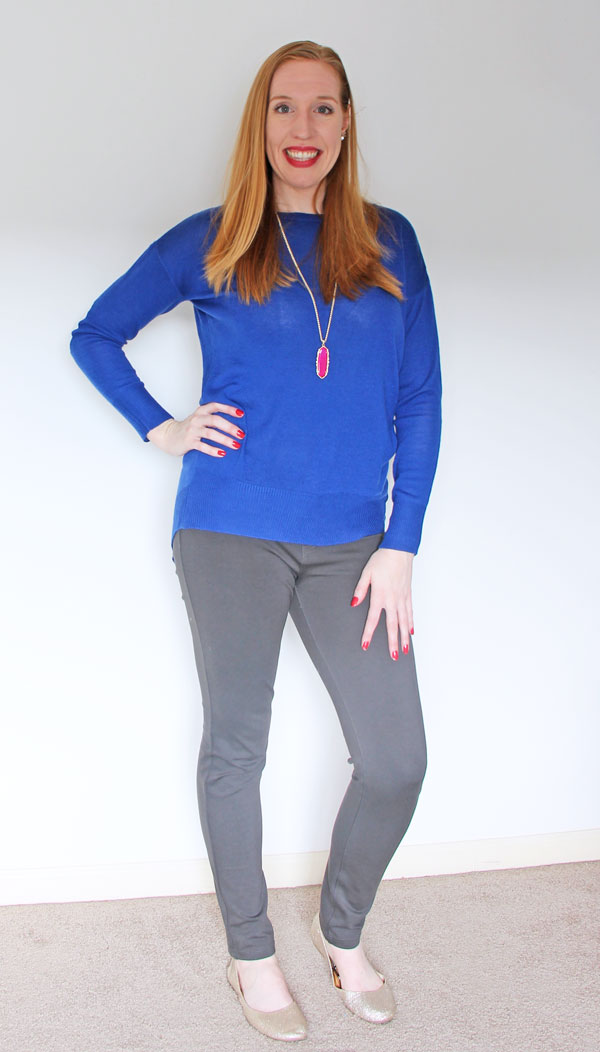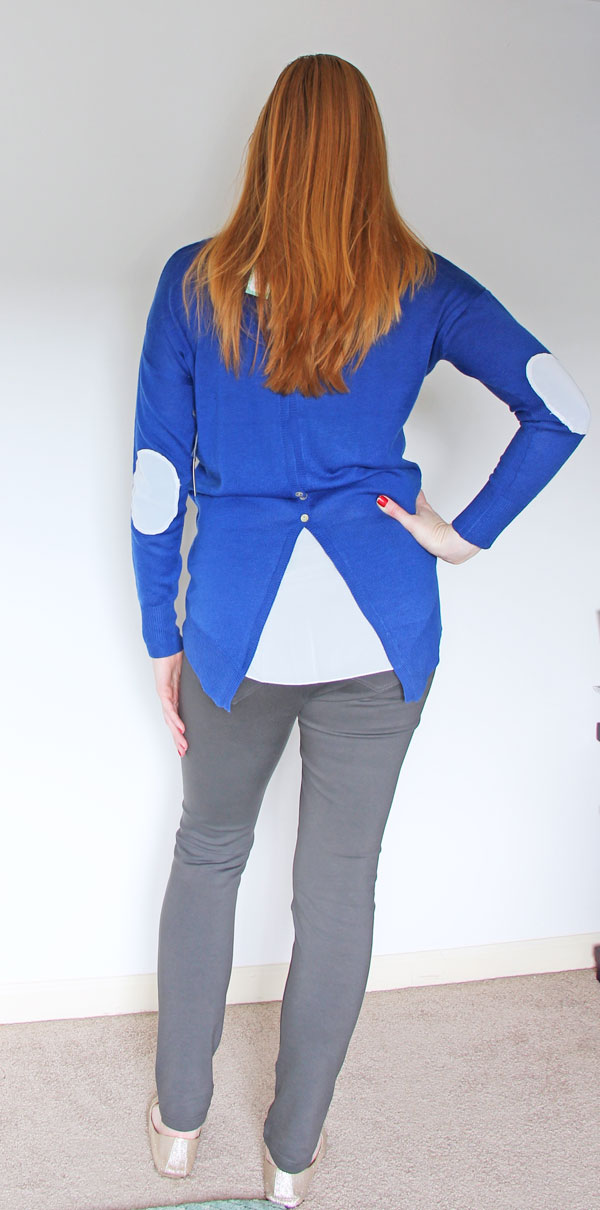 First, the color – right?! Blue is my jam. I think it works great with my hair and complexion and bright colors just make me feel good when wearing. Plus, the back is just so fun and different. You can't see it in these pictures but there is a little split back part above the buttons. You can wear a cami under it for more conservative settings (like work) and not wear one when going out on weekends!
Kept
Margaret M Emer Jacquard Print Tall Straight Leg Pant
Ok, so fail here on the no picture. These were so pretty but ultimately they fit me funny. They were a little too short….but I strategically scheduled this fix to be when I was visiting my friend in Richmond who is also hooked on Stitch Fix and my size as well. She tried these on and they were perfect on her. So she got to keep them!
Fun2Fun Banta Back Strap Blouse


I loved the back detail on this shirt! However, the pattern was not really my style plus it didn't fit me great (it wasn't very stretchy and was just a little too tight in the chest area). It was a little too handkerchief/country looking for me but someone else fell in love with it on the Stitch Fix Facebook group where you can sell your items to other Stitch Fix lovers. So off it went to a good home.
Sold
Mavi Freida Skinny Jean

I honestly don't know how they do it, but Stitch Fix has delivered me THREE pairs of amazing jeans. I can't tell you how hard it is for me to find jeans that fit well, don't sag, and are long enough. Enter pair number three. I asked for a dark rinse and these didn't completely deliver n that aspect but oh my goodness the softness, the stretch, and the fit sold me on first try-on. Plus, all my friend kept telling me when I was trying on the clothes was "Keep the jeans, Megan. Keep the jeans." Well, I did. And have basically worn them constantly. And have persuaded way more people than one should to touch them because of how soft they are.
Kept
Whew! All caught up on my back-log of Stitch Fixes….just in time to put myself in a Stitch Fix drought. Boo! Maybe March I will get another one? It all depends.
Want to see more? Check out my other reviews!
my february 2015 stitch fix review
my march 2015 stitch fix review
my april 2015 stitch fix review
my june 2015 stitch fix review
my july 2015 stitch fix review
my august 2015 stitch fix review