After a long hiatus I am back with another Stitch Fix review! Yay! These are some of my favorite posts (to share and to get). However, with all the moving expenses and life changes in a new city, I put them on hold….until last month when I got a fix. A fix that was terrible. Yikes! I tried everything on and hated it all  and sent it all back immediately. Yup, it wasn't good. So bad I didn't even share it. Yikes! I should have but I just couldn't.
However, I have done so well with this service that I wasn't going to give up after one bad fix. It happens to everyone and it happened to me. So I scheduled one for June and tried out a new stylist.
I asked for summer pieces, and I was pretty pleased with what I got! However, before we get to that, here is a quick reminder about what Stitch Fix is all about.  stitch fix is a personal stylist company that hand picks 5 items based on your style and size. You get assigned your own stylist, and she gets to know your style based on your pinterest fashion board, style profile, and feedback you leave on your previous fixes. In turn she hand picks out pieces she think will make you look – and feel – great and sends them to you along with styling advice and a personal note. Love that part so much!
Kut From the Kloth Malisa Scuba Dress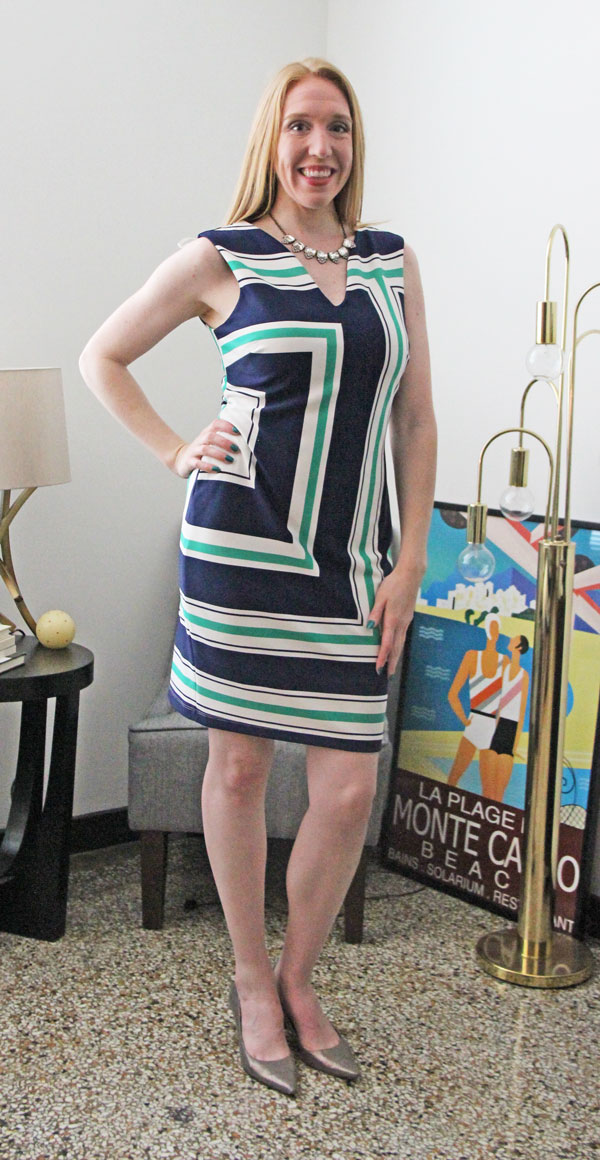 When I pulled this dress out, I immediately fell in love with the colors. Blue and green? Yes and yes. We all know this are hands down my favorite colors and you see them everywhere in my wardrobe and home.
It was definitely a winner when I put it on too. A good cocktail dress or professional dress. I'm always looking for new dresses to add to my wardrobe. It's a winner!
Kept
Collective Concepts Demetri Button Down Blouse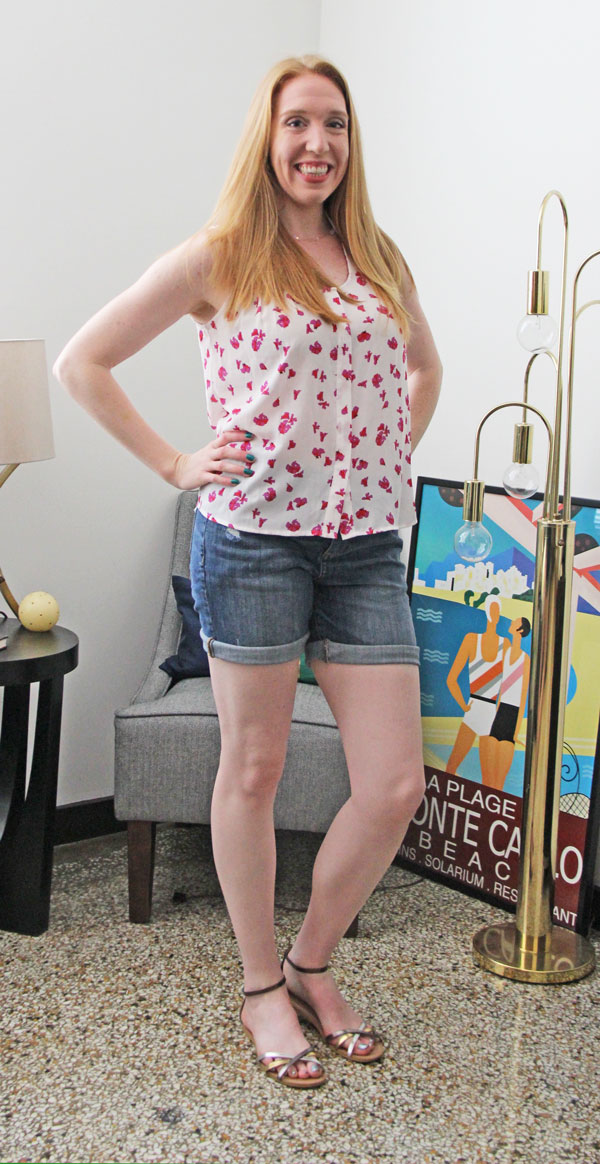 There were quite a bit of florals in this fix. Florals are not always my thing. However, this one had little petals in a modern print so it definitely had potential. It also had the hi-lo front and back, and I'm always a fan of that look.
However, once I put it on, I wasn't the biggest fan. White isn't always my best look (because I have such pale skin) and the top just kind of hung on me. This wasn't special enough for me to keep so back it went.
Returned
Collective Concepts Aesop Crochet Strap Top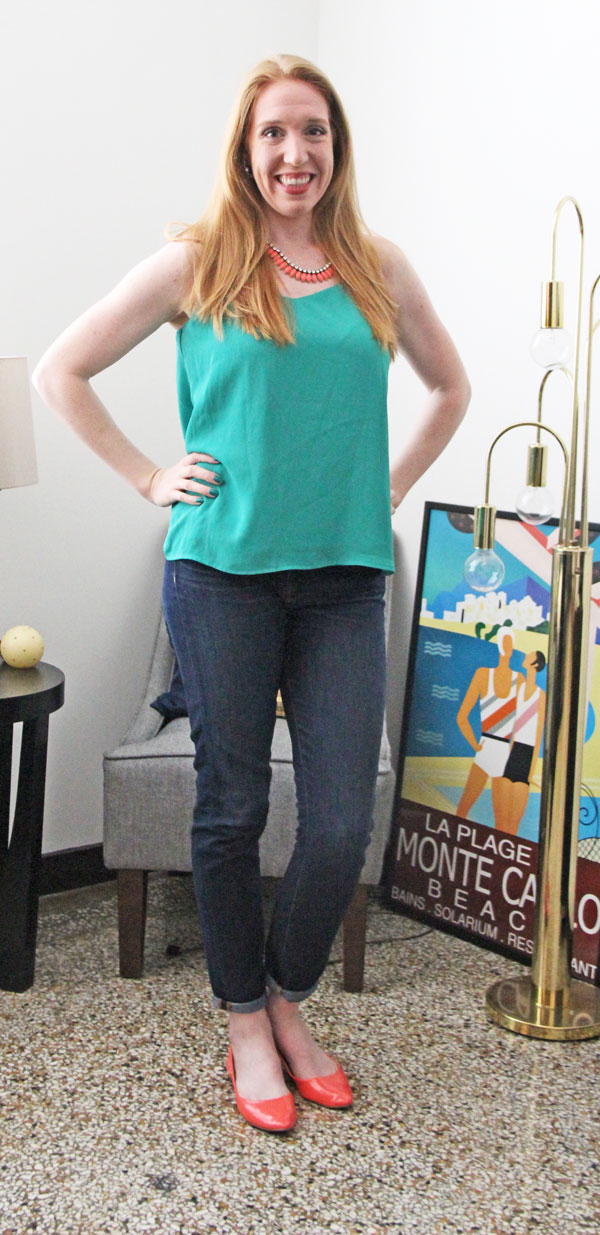 When I pulled this one out I immediately fell in love with the color but wasn't sold on the style of the shirt. I'm not usually one who goes for strappy shirts or flowy shirts, but I was open. When I put it on it definitely wasn't doing me any favors. The tan straps by my face weren't great and the green part wasn't fitted enough for me. But send more in this color! It's amazing!
Returned
41Hawthorn Pita Jersey Tie Knit Top

This one was another great color, but I wasn't totally feeling it from the moment I pulled it out. I already have another top that is this exact same shade of blue and I have another Stitch Fix top with a front tie like this. I like the style but you have to be careful with the front tie – it can go matronly pretty quickly. Plus, once I put it on the darts weren't well placed at all.
Returned
Brixon Ivy Rolfe Knit Back Top

Another floral! Except this one I didn't love at all when I first saw it. It grew on me more as I tried it on, but still, no. The floral wasn't great. The fit wasn't great. It was a little too big on me.
Returned
Sometimes people say just getting one item out of Stitch Fix is a fail, but I actually really like when I just love one thing. Well, at least my budget appreciates it. The dress was a keeper and all the rest went back. I'm so glad to be back on the Stitch Fix wagon and am hoping to schedule one for July!
Also, if you're interested in trying it out, click through to schedule your first Fix (this is an affiliate link).
Want to see more? Check out my other reviews!
my february 2015 stitch fix review
my march 2015 stitch fix review
my april 2015 stitch fix review
my june 2015 stitch fix review
my july 2015 stitch fix review
my august 2015 stitch fix review