I've always loved baking. Not only is it therapeutic for me, but of course I also love the end result (or even the middle result because: cookie dough). Baked goods are also one of the ways I express myself. When someone is happy, sad, grieving, celebrating, my initial reaction is to always make them something sweet. Perhaps baking is my real love language.
Over the years I feel like I had tried every cookie recipe on the planet. I loved making them, eating the cookie dough, and then tasting them fresh out of the over. Then, after cooled, I was over them. I just didn't love any cookie I made past fresh baked. Everyone else would enjoy them, but I would just be over them.
That was, until my friend Katie introduced me to her secret family recipe one wreath making weekend with her.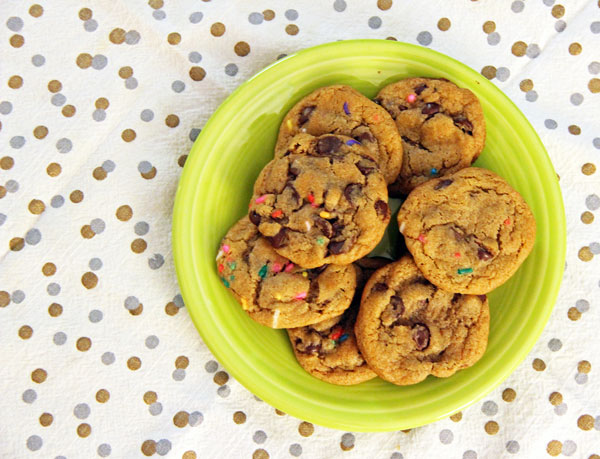 It was like the heavens had parted when I first bit into this cookie. It was crisp on the outside and soft on the inside. It was absolute perfection. Not only did I love the cookie one minute after they came out of the oven, but I also loved them one day, even one week later.
After that fateful first bite of cookie, I haven't made another cookie type since. I am 100% sold on these cookies! Plus, they are slightly customizable too, which makes it even more fun.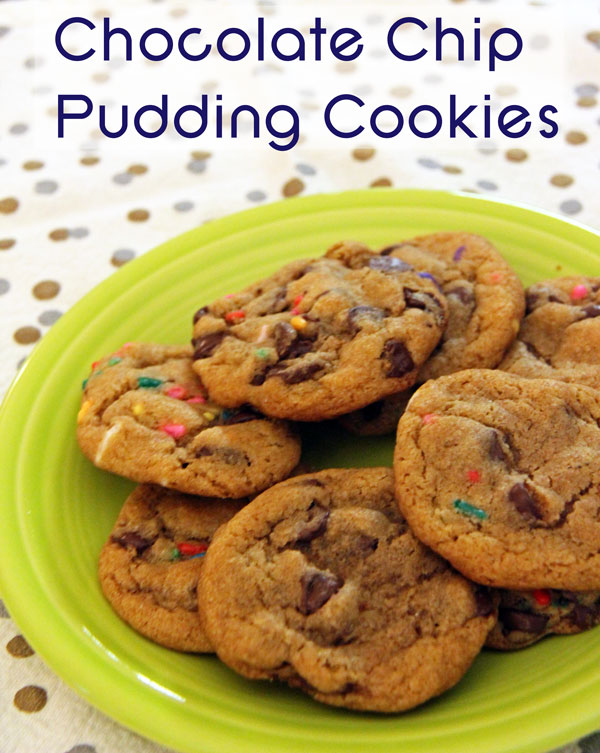 Chocolate Chip Pudding Cookies
1 cup butter, softened
3/4 cup firmly packed brown sugar
1/4 cup sugar
1 (3.9 ounce) package of instant pudding mix (experiment with different flavors)
2 large eggs
1 teaspoon vanilla extract
2 1/4 cups all-purpose flour
1 teaspoon baking soda
1 (12 ounce) package semisweet chocolate morsels
Any other add-ins you like: nuts, sprinkles, etc.
Beat butter at medium  speed with an electric mixer until creamy; gradually add sugars and pudding mix, beating well. Add eggs and vanilla extract, mixing well.
Combine flour and soda; gradually add to butter mixture, mixing well. Stir in chocolate morsels and any other add-ins; drop by rounded teaspoons onto cookie sheets.
Bake at 375 degrees for 8 minutes. Cool on cookie sheets 3 minutes. Remove to wire racks for cool completely.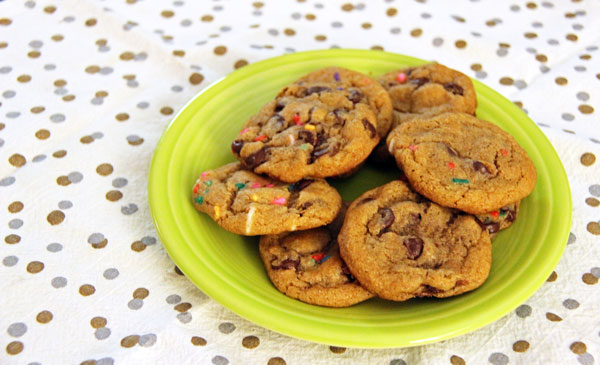 I use the birthday cake instant pudding mix (Kroger brand is the only one I've found) and it creates an amazing taste and those sprinkles are SO pretty. I've also made them using finely crushed peanut brittle in them and it created the most amazing caramelized insides that I have ever eaten. Ahhhh-mazing.
Let me know if you make these and what combinations you used! Have fun with it!