Oh hi there long lost friend. It's been a while. Thought I would pop in to give a little life update from my pocket of the world.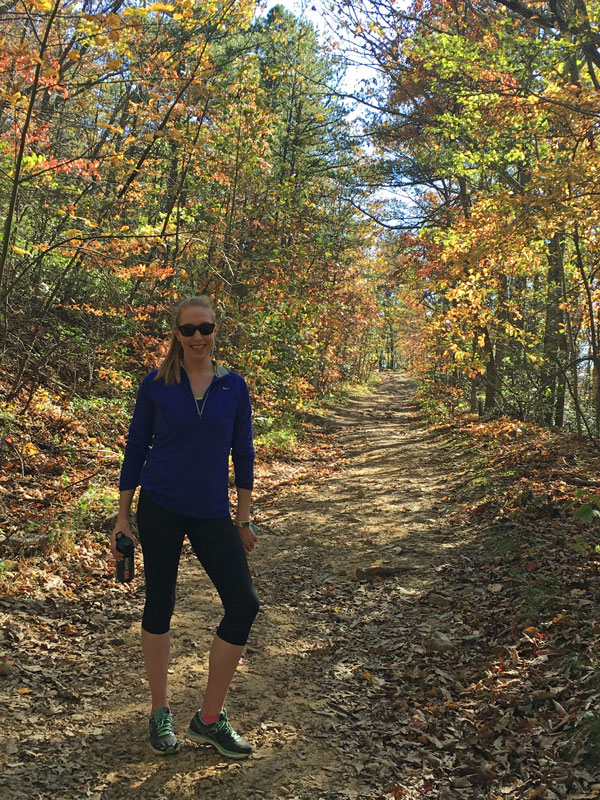 Why a life update when you are used to seeing home or apartment updates? Because that is where my updates lie now. I live in a beautiful, modern, and awesome 541 square foot apartment that is my favorite place I've ever lived. I told my mom that the other day and she shockingly asked, "Really?!"
Why yes Mom! She was surprised because she thought I would have said my old house because I had a whole friggin' house of 2,000+ square feet to play with plus a yard. But no, this 11 foot ceiling, glazed concrete floor, 541 square foot apartment in the city is my favorite place ever. Although, I hope to say that about every move I make because you should love every step more than the next.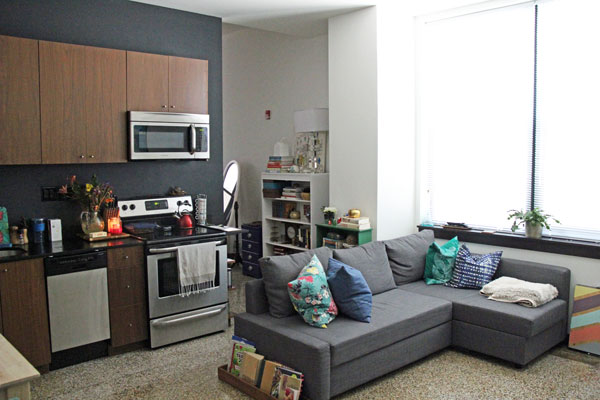 This little apartment of mine is all I need. It fits everything I need and want – and nothing more. It is in the heart of a little gem of a city – not too big, not too small, just right. It is modern, beautiful, and my electric bill is ridiculously, laughably low. Just everything about it fits my phase of life just perfectly.
Yet, its teeny tiny self does make the home updates part of this blog a lot less because, well, there aren't a whole lot to be made. I've shown you the tour in two parts (part 1 and part 2) and there are definitely a few more home posts to come (thanks to my mom and an early Christmas present!), but in actuality it's mainly looking the same.
Plus, this new lifestyle of mine basically just sleeps here. There isn't a whole lot of apartment time. There is out to dinner time, walking time, hiking time, gym time, working time, dancing time, pumpkin carving time, movie time….and the list goes on.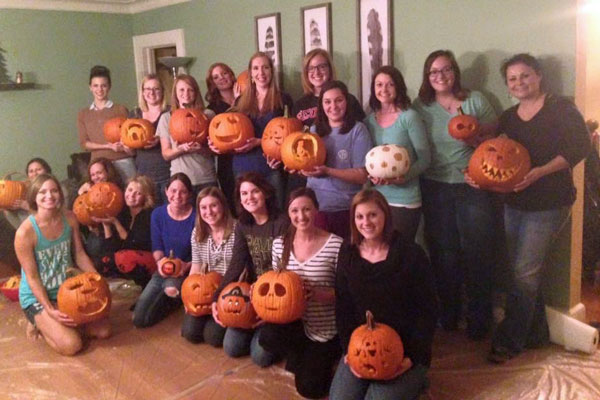 Yes, this may be the most social period of my life. Even more so than college (because hey – I'm getting a paycheck now versus going into debt)! My coworkers like to joke about my scheduling because it is rather intense. I mean, I am practically booked every weeknight and all weekend these days.

And that's exactly how I like it. In fact, I'm an instigator of a lot of these meet-ups. Which if you know me in person, won't surprise you. I'm a naturally social person who likes to be organized and plan ahead. Just ask my high school friends. I used to grid our time out in blocks so we could figure out when we were all available at the same time. Worked like a charm.

Anyways, about 6 weeks ago I realized I needed to make a change in my life. I had slipped into a pattern I didn't quite like. I wasn't in love with the type people I was spending a lot of time with (okay, I'll stop being so vague – I was dating a guy who was NOT GOOD FOR ME and this wasn't the first time since I've started dating post-divorce). I decided to swear off online dating (this is where the not-so-good guys were coming from, but I'm still pro-online dating, just not for me right now) and focus on surrounding myself with quality people.

I joined Meetup, which is basically a website that helps join people of common interests in the area. Oh my goodness, it has been the best decision of Roanoke so far. I joined a couple of groups but this one for women in their 20's and 30's is amazing! I've met amazing people, some who are basically neighbors, who are quality, beautiful people, inside and out. We've gone line dancing, dining, crafting, trivia nights, and so much more. All of a sudden I have all these amazing people in my life. And now I'm starting to meet the other amazing people they have in their life. Boom. Just like that my life is full of amazing, quality people. I run into them while I'm out. I text them during the day. I make plans with them for fun activities. It's really quite  a wonderful thing in my life, meeting these women who are in similar stages in life like me, and just get it. They get it all. They get where I am, what I'm going through, and a lot are in similar places.

Since I've stopped online dating I've also expanded my friends in other ways. The ones that I already have, I have more time for. We've done all sorts of fun things and I've met their friends….and oh hey – got some dates the good ole fashioned way too. In a very natural, relaxed manner. Which is good, so good.

Also, I have wanted to become more involved in the community and give back, so I joined an organization that is very dear to me – Big Brothers Big Sisters. My sister worked there for years, and I have so much respect for the organization. It's always been close to my heart but I wanted to be ready and able to fully give my best to my little. So I now am a proud Big Sister to Princess. So far we've made crowns, baked muffins, and gone to fro-yo. Next week we're making brownies. Yup, we are perfectly sweet tooth matched. I can't wait to see where the year takes me with Princess.

Also, if we are being thorough in my life updates…I want a dog SO BADLY. More specifically, I want a retired greyhound. I ran into a neighbor who has one and was absolutely smitten with her dog. So after spending almost a whole day just researching everything about greyhounds, I knew it was the right dog for me. So now I'm waiting for my time to get my own. But in the meantime I might try to volunteer at the kennel with them instead. One day, one glorious day I will have my own dog.

So basically that's my life update. I'm not here as much because I am out there living so fully, so happily. Everything about this life of mine makes me oh so happy. Sure, I'm a normal person, and I get lonely sometimes. However, I've just come to accept those days, recognize them, and just watch them pass. It is part of this phase of life, and I'm okay with it. Because everything is exactly as it should be, right now, right here.