Christmas season is upon us! It seems like once November 1st hits, it's all Christmas all the time. Generally, I try to keep the season until after Thanksgiving, as Thanksgiving is my favorite holiday of the year (the wholesome family time, the peace of it, the sense of gratitude and love), but there are definitely some things that you can do before Thanksgiving to help make your whole holiday season a lot calmer and stress free.
One of those things is designing and ordering your Christmas cards early so you can get them in the mail right after Thanksgiving. So where else do you turn for the best, most beautiful, and well priced custom cards around? Minted of course! I've talked about them before, and I will talk about them again because I love the beautiful variety of cards (for all occasions) as well as their home decor and artwork choices. Heck, I think my whole apartment is mainly decked out with Minted prints, and I constantly get compliments on them!
I thought I would share some of my favorite designs from Minted with you today. Plus, they have really awesome services like free address printing on envelopes and custom stamps to go with your cards.
So you know I have to start where my heart is….and that is with all that shimmers and shines. If you open a card from me without something glittery or sparkly, send help, something is very wrong with me. I mean, just look at this collection right here. The shimmer adds to the holiday feeling without it being too over the top Christmas or cheesy.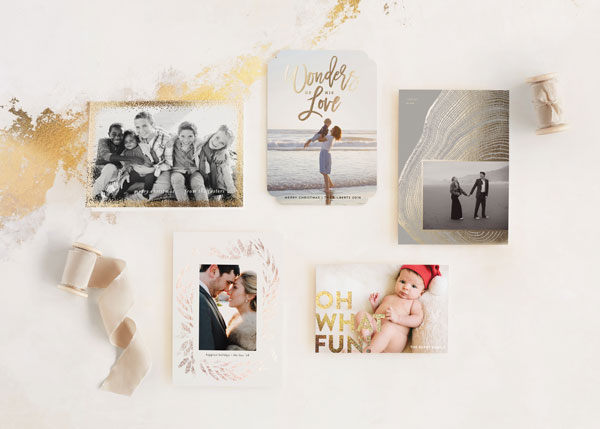 This one in rose gold is probably my favorite of all of them. I love it!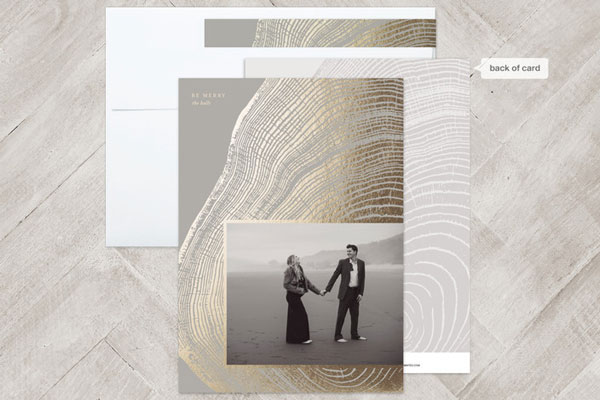 I am also really digging moodier colors these days. When paired with the right lightness, it makes a room warm and inviting without feeling cavelike. I think the same goes for those colors on a card. When the black is paired with green and white it feels like the perfect wintery, holiday card.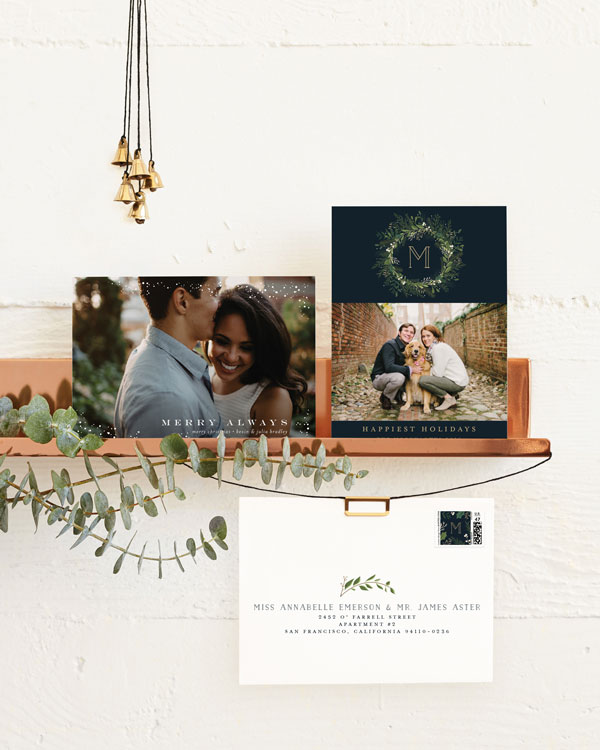 Then there is always the classic black and white, which I am drawn to more and more (in cards, decorating, my wardrobe). It is a timeless feel and gives you the option of adding a pop of color here and there that really adds that extra oomph.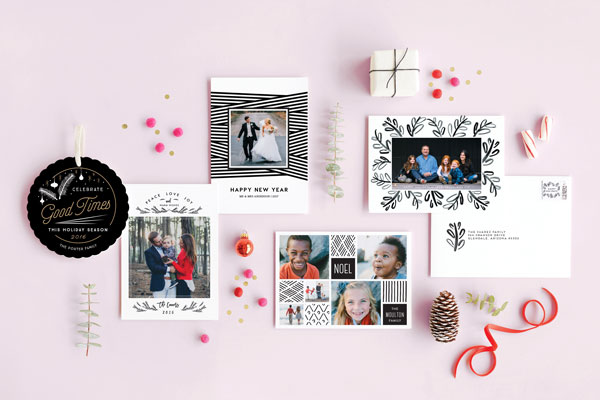 Also, here are some examples of how Minted will address your envelopes for you. It takes the hassle out of it and looks so beautiful too. Plus those matching envelopes are so nice! It really brings it all together.

Finally, maybe some of my favorite items that you can personalize from Minted are their thank you cards. I was brought up in a family where after every birthday, holiday, and random present giving event, you immediately sat down and wrote thank you cards. I think that is one of the most valuable things I have carried over into adulthood. Both my sister and I religiously write thank you cards, even to our parents (which I think they found kind of weird in the beginning, since they told us we didn't have to. But my response was, "You taught us to! How can be not?!"). So having my own personalized thank you stationery makes me a giddier than probably normal. In my world the day after Christmas I sit down and write these, so I get excited to send out beautiful thank you cards!

I think this beautiful gold and sapphire one is my pick for this year's thank you cards….I think. So many choices!
I would love to hear from you about your favorites! Any that are catching your eye just in time to send out for Christmas!? You can view all the holiday cards here and the thank you cards here. Just trying to make it a little easier for you this holiday season!
Now let's all take a moment of peace and sit back and just breathe in the beautiful world that surrounds us and be thankful for our life. Happy Thanksgiving to everyone and here's to kicking off this holiday season right!!
Thank you to Minted for sponsoring this post! All thoughts and opinions in this post are my own.