Guys, I am so excited to share this post with you today. It is something that is a little out of the ordinary for this blog, but it is something very close to me that touches my heart. Today, I am talking about children's books. Specifically, a children's book written by a friend; yet this is a friend I have never met in person. Okay, that's a lot. Let me back up a little.
First, children's books are like golden tickets of joy in my family. I grew up being read to constantly and then reading on my own incessantly. Almost every memory in my childhood includes a book. I feel so lucky being brought up this way, and I hope to one day bring my own children up this way. What is even more special is that my mom saved her thoughtfully curated children's book collection for my future family. I've actually been toting around boxes and boxes of children's books throughout the years….and my mom still has more in storage for me up where she lives!
So you know how important children's books are to me, if I've moved these books three times. You're welcome future children. 🙂
Okay, now here comes a fun twist years later. As you know, I've worked with Minted throughout the years, making curtains to hanging artwork (lots of it!). Through it all Cheryl Koning was my contact there. She initially reached out to me to partner with Minted and just through email and my blog we became friends. That's how cool this blogging world is; you become friends with people you've never met, whether they are sponsors or other bloggers.
Cheryl left Minted a while back to be able to help her Gram more (don't you already love her?!). We promised to keep in touch and we did. I received an email from her recently talking about my blog, greyhounds, and most excitedly a children's book she and her husband had written and published!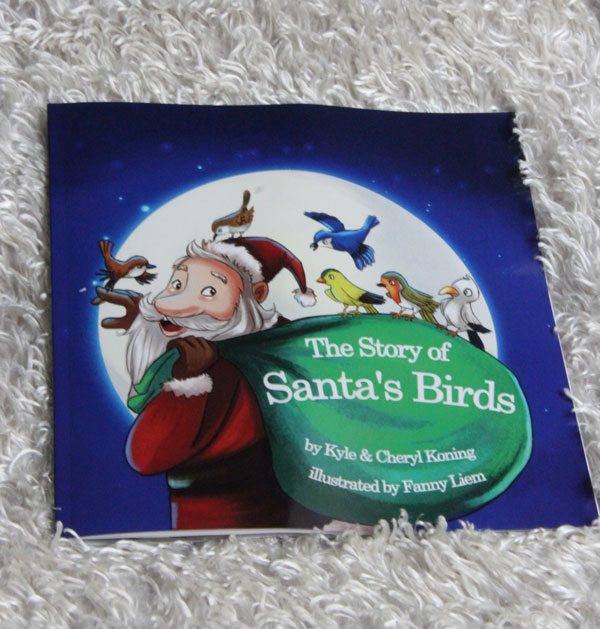 The book is called The Story of Santa's Birds, and she asked if it would be something I would be interested in sharing on my blog. I said a big ole "HECK YES" and three days later the book showed up at my doorstep.  I had such a fun time reading the book!! I can't wait to read it to my children one day in the future. It will always have a special place in my heart.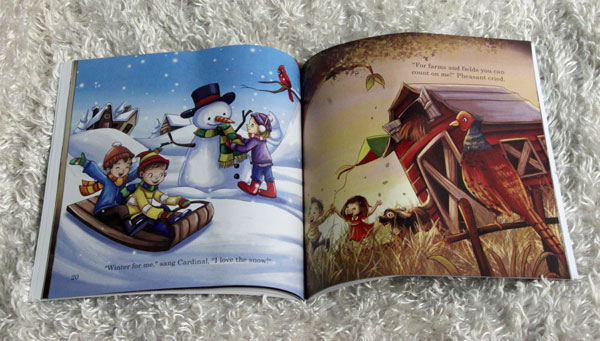 I thought I would let Cheryl explain a little more about the book and the special place the story came from…
"Our book is based on a story that Kyle's mother would reference at key moments to tip his behavior and that of his siblings (and later his nephews and niece) closer to nice than naughty. At any given time she could point out the window and say, "Oh, I think Santa's Birds are watching you!" and cries would cease, fighting would stop, and good, sweet children would reappear.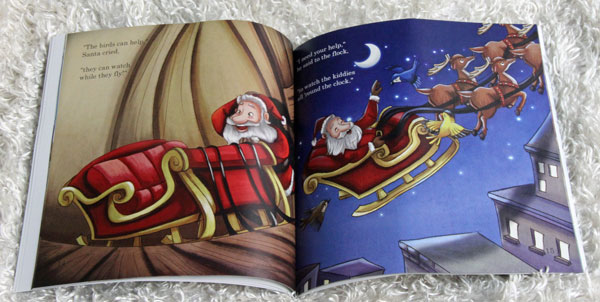 In 2012 we moved from Chicago to San Luis Obispo, where we spent Christmas away from our families for the first time. While on a dog walk with our dear Leonberger, London, Kyle started a rhyming verse and recorded it on his phone. After finishing the walk we reviewed that first draft and went from there.

We actually let that first draft sit for nearly a year before returning to it and working through the rest of the words while sitting on our front steps, again with London. A little while later we moved to San Francisco and Kyle started sketching out a visual storyboard (it was absolutely dreadful). We found a veteran illustrator, Fanny Liem and she turned our rough sketches into magical works of art (including a cute likeness of London). After a LOT of formatting and some edits by our friends, we launched an e-book, then a hardcover and paperback about a year later. From start to finish the process took four years and hundreds of dog treats for London.

We dedicated the story to our parents, Bruno, Louise, Andrew, and Rosemary (whose tales of birds inspired our own) who provided us with great books and great places to read them."

Gah, does that story just not tug at your heartstrings?! I love it! Plus, the book and its illustrations really are SO charming. I love, love, love it. I'm so proud of you Cheryl and am so excited to share your book with my readers!
If you want this book for yourself this Christmas, make sure you grab a copy on
Amazon
(affiliate link).
As a last minute gift to one of you this Christmas, Cheryl is doing a giveaway of an autographed copy of her book! Just leave a comment below telling me your favorite book from your childhood. The giveaway will close at midnight on December 18th.