I wake up and I can't move. My neck is stuck in place, and I feel like I haven't rested at all.
We've all been there right? When you have a bad mattress, you know it. It's the worst and affects your daily life, because we all value our sleep! Well, rewind eight months ago and that was me every morning. It was not good. Thankfully I was able to fix that problem pretty quickly by the few quick clicks of a button at the Casper website. A week later a box showed up at my door and one swift flick of the wrist with a razor and out sprang (literally!) a mattress. With 100 days to test it out and send it back no questions asked, it was a zero risk purchase. Thankfully, I'm still sleeping like a baby eight months later, and am so happy with the purchase.
Now, that's the basis of my bed, my Casper mattress, but it's not what people see. It's the pretty pillows, covers, and headboard that make a bed. Let me tell you, making those decisions has been so much more challenging than the actual mattress buying process! Who would have thought.
Sometimes you know what you want and sometimes it takes trial and error. Well my bed process has been both of those.
My next step in building my perfect bed, after the mattress, was picking a headboard. I have built headboards before but I had a very specific image in my head. Also, I was okay paying for exactly what I wanted and not compromising. I wanted a tufted, velvet, wing back headboard.
I scoured website after website looking for the perfect headboard. There was one I kept coming back to, but I kept dismissing it. Could I really commit to a navy headboard? Spoiler alert: the answer was yes. After months of looking at headboards online, I knew I had to go with my gut: the navy headboard. I found it on Target's website. I also knew from the months of stalking it, that it would come on sale. So I waited it out and grabbed it on sale.
I got it in the apartment and it was perfect. PERFECT! I knew it was right, and I was so happy I spent a little more and followed my heart.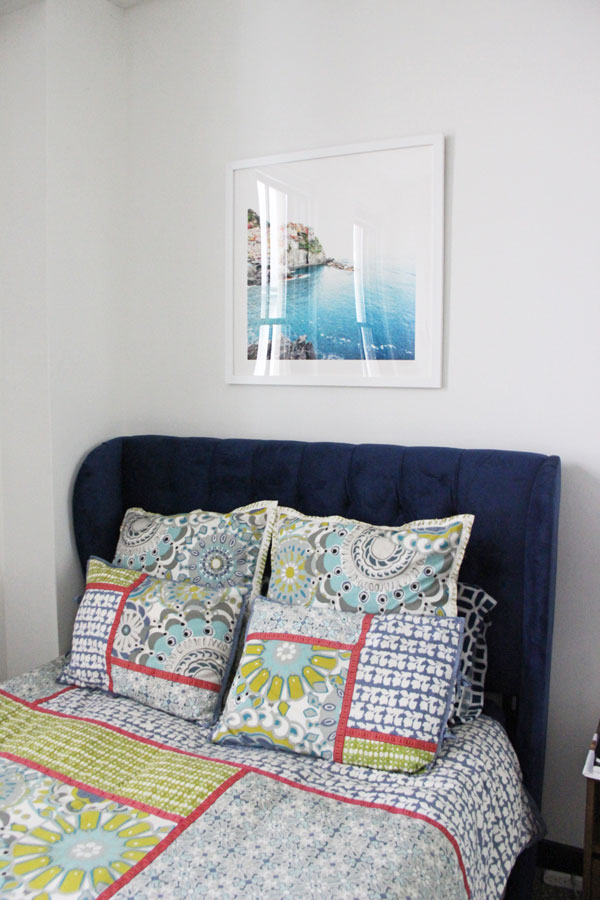 Now it was time for a new duvet cover. The current duvet was at least seven years old, the style didn't fit anymore, and it was getting stained.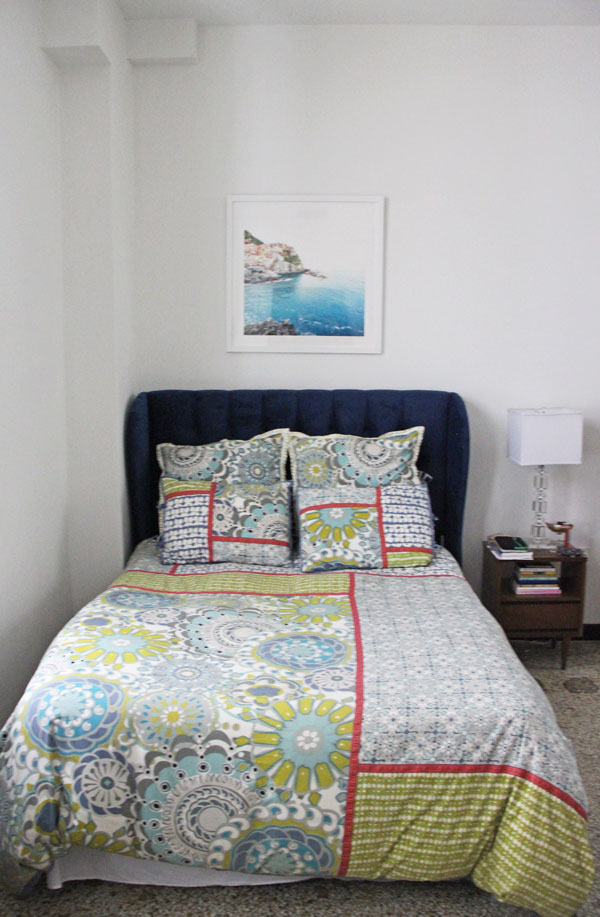 I asked for a new one for my birthday, after months of stalking. And it was wrong, all wrong. I put it on and then immediately took it off and returned it. I put the old one back on and lived with it for five months.
It wasn't until I was in a West Elm store with my mom that I found the perfect white patterned duvet cover. It was perfect! It had a subtle pattern, a clean look, and I knew I could make it fun with pillows. My mom got it for me for Christmas, but we opened it at Thanksgiving when she was visiting me in Roanoke.
However, once it went on, I wasn't thrilled. I knew I liked the duvet but the bed wasn't there yet. It was time to pillow shop. Mom and I hopped online and actually found some amazing ones at….Wal-Mart for about $30 total (faux suede pillow and Greek key foil pillows). Then I scored the matching Euro pillow covers on Cyber Monday on a crazy sale West Elm rarely has.
Finally, I did some bed composition research and took inspiration from Emily Henderson's formula. When I stepped back, I had found it. It was PERFECT!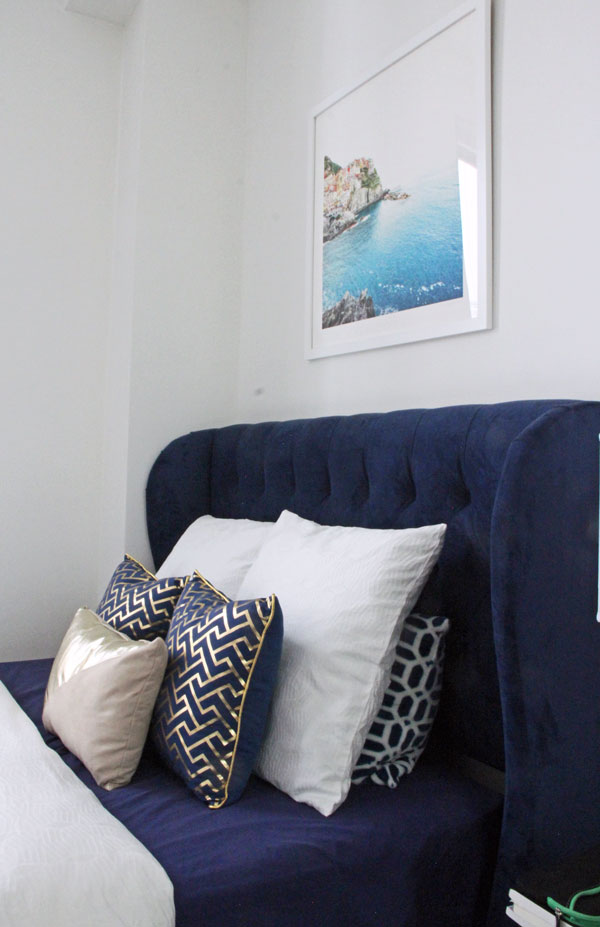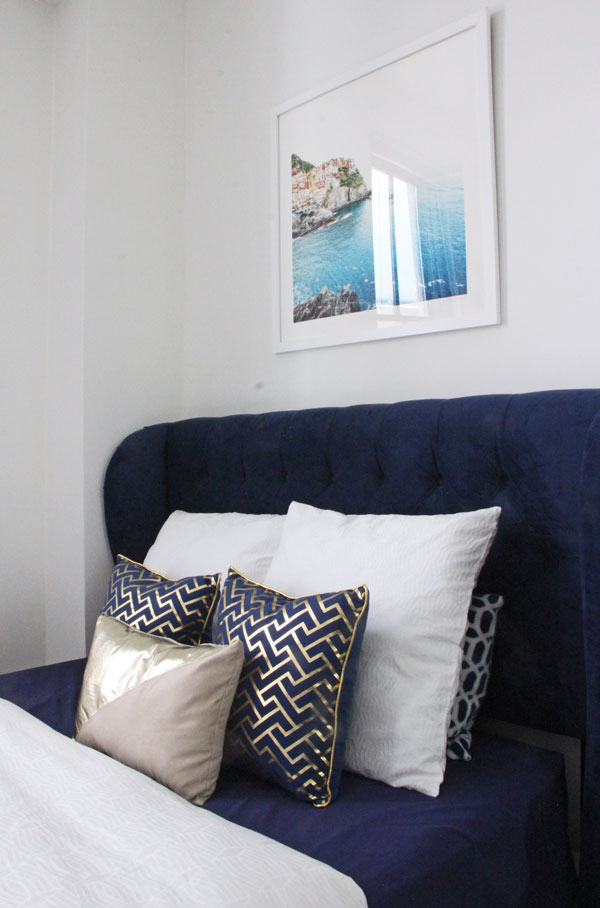 Now every day I look at my bed and grin, actually grin! My bed looks beautiful, elegant, fun, and true to me! It has style and personality. People even call it a "Gucci bed". I'll take it! I couldn't be happier! It took some trial and error and almost a year, but finally, my bed is everything I want it to be!