One of my favorite things about spring and summer is the explosion of colors. If you haven't noticed yet, I love big, bright, bold colors. I mean, just look at my blog design. That pretty much transfers to everywhere in my life (heck, I'm writing this with pink shorts on and a bright green top — yikes!). Needless to say, sometimes I can get a little plant happy after a cold, grey winter. I also get a little plant sympathetic. When I go to buy plants I immediately head to the back. It's where my kind of plants hang out – in the clearance section. It's just so sad as they are left there to die practically with no water and no care. Until I swoop up to save all those little beauties. That's how this happens: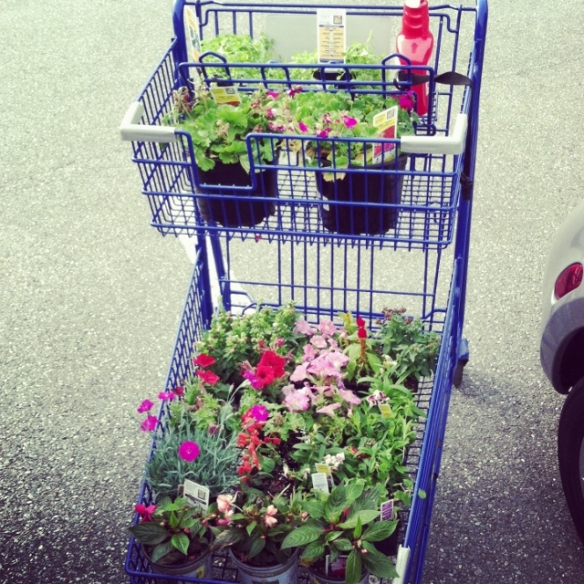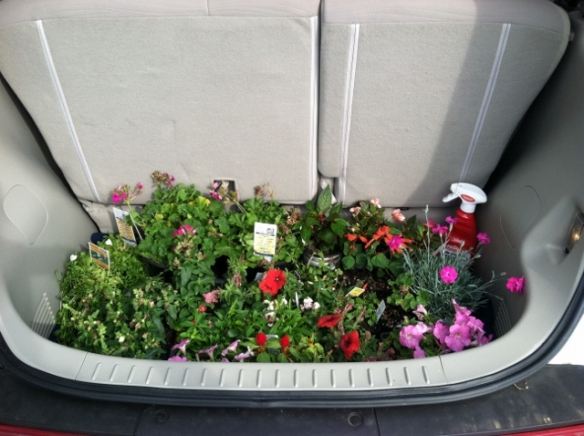 If you follow me on Instagram you would have seen my cart of the saved flowers.
Okay, yes, as a self-proclaimed cheap-o, one of the draws of these flowers are their price tags. All these plants were $0.50 or $1 with just a couple larger ones being $3. I got all these plants for about $20. Now that's a deal, right? Yes, I am taking the gamble on the plants dying and therefore losing money, but I have faith. After a few years of successfully keeping some plants alive, I have realized it's not that hard with some work. Sun, water, food and the plants grow. Pinching off the dead buds also keeps them flowering. Maybe a little plant food. So I have taken the chance and am showering these plants with all they need to grow and thrive. I feel like they are my flower babies I have adopted.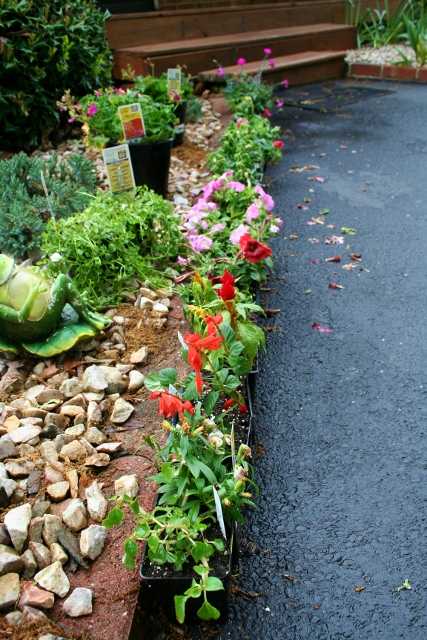 I came home with my discount plants and immediately set to watering them and taking their dead leaves and buds off. When I came out the next day I could immediately see that they were doing better. They were perkier and a few had even started to bloom. [Full disclosure, a few broken stems were too far gone. There's not too much you can do there.] The next step was potting them so their roots could roam free!
For a few of their homes I had salvaged two pots from our shed. I had to go back there to get something the other day and I happened upon these. I have no idea how they got there. Perhaps the previous owners? That's a win!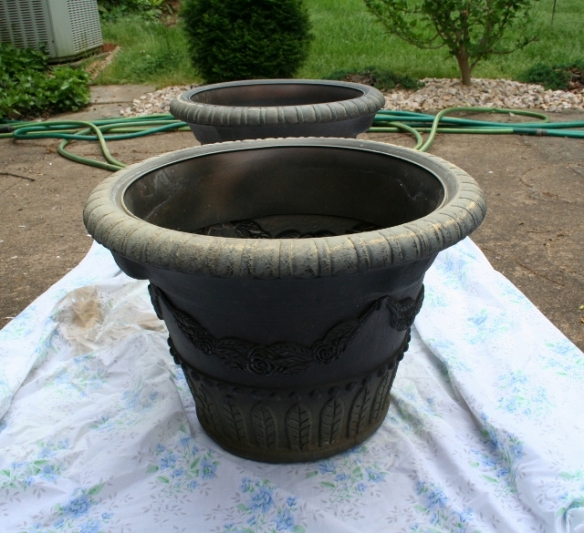 I thought that with a new coat of paint they could be revived. After a thorough cleaning I decided to used Rustoleum's Metallic Vintage Copper. I liked the idea of a neutral color to let the plants shine (I originally thought about using a bright color but then realized they may detract from the plants), and I also liked the idea of a little glimmer to them (duh, it's me – everything is better with sparkle!). After a few coats they came out like new. I was pretty pleased with this $6 makeover.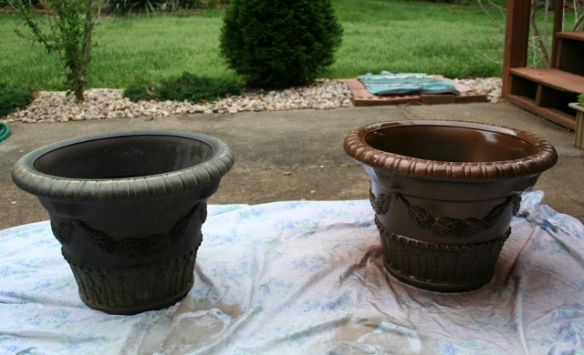 Look at the difference! Left = unpainted. Right = painted.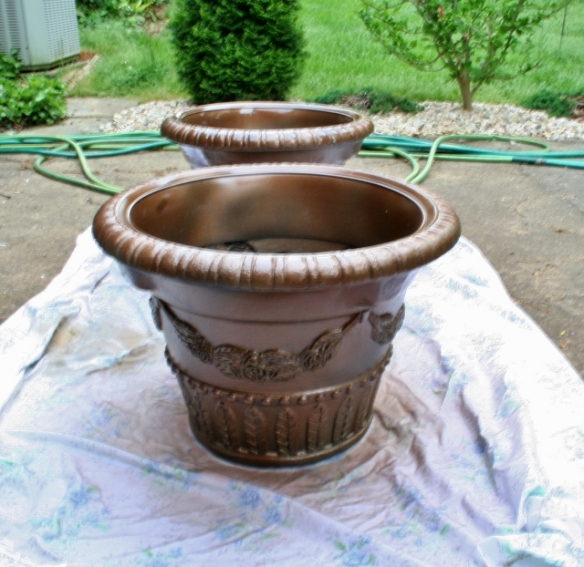 Then it was time to plant. Since these were large pots I decided to put in some of the plastic plant containers in the bottom so I didn't have to put in as much soil. It's unnecessary and expensive.

Then I filled in the rest of the space with soil and topped it off with the plants. I tried to space them nicely with the spilling over plants in front (the only non-discount plants), the medium height ones in the middle and the tall in the back. I tried to make each pot about the same since they flank the stairs.


Then I still had more plants so I grabbed these old wooden "decorative" holders from last year. They are looking a little rough, hence the quotations. Oh well, they live on if the plants do. By this time the plants were down to the roughest of the group. So here's hoping these live. If not, I will go get some more discount plants and give those a go.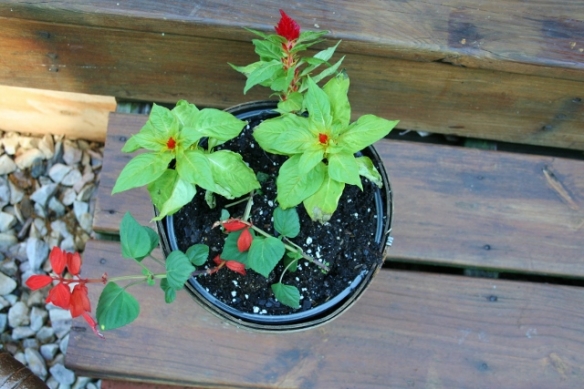 The final touch for the front porch was to fill the big blue pot we got last year. I had to be careful with these plants because they get no sun. Pretty much all the plants I put in there last year died except the vine. I thought partial sun plants could work. Nope. Must be shade plants. So I hope these work!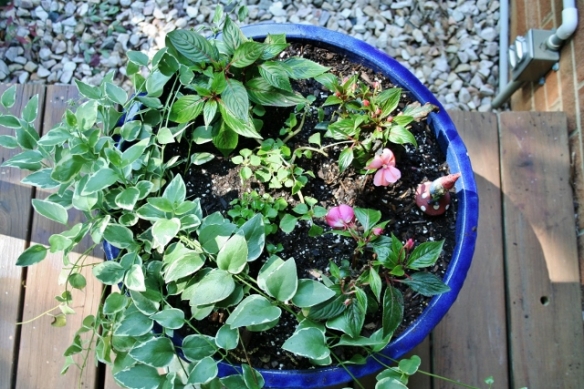 Here is what the front porch is looking like right now (excuse my reflection in my super bummy gardening clothes).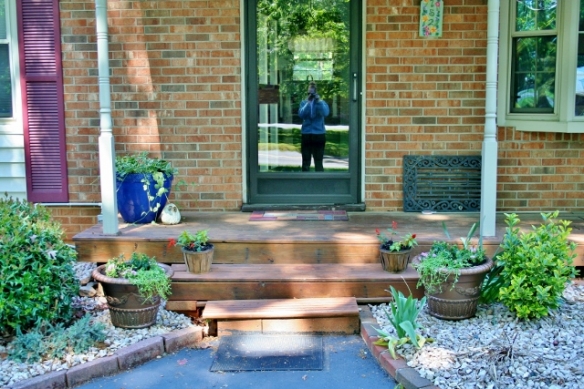 The final planting of the day was to plant the few pots I have on the back porch. I have some thoughts on beefing up the back porch so I just filled the pots we had back there. Perhaps grander things will happen with the back porch. Perhaps…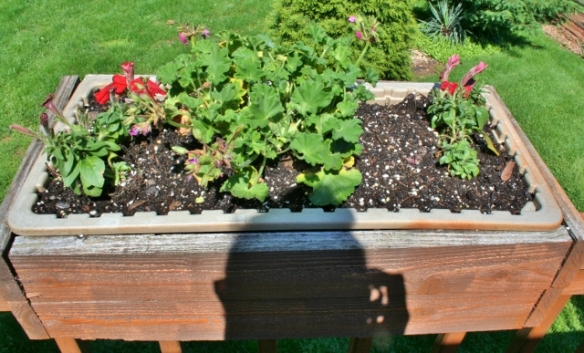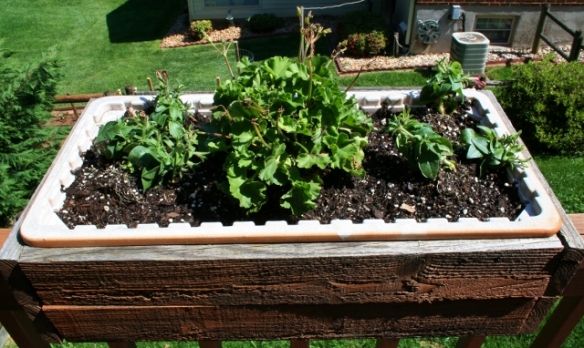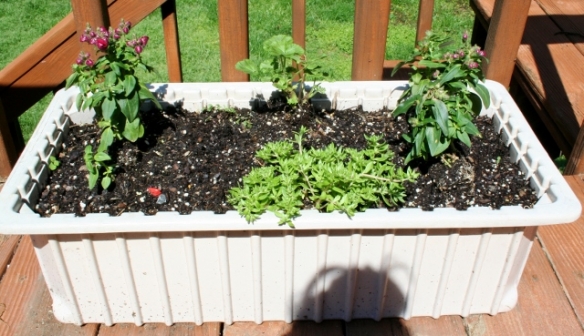 The only thing that doesn't happen with discount plants is instant gratification. They aren't all blooming like when I planted last year. But I am hoping that in a few weeks I can post update shots of my plants blooming and thriving and filling out those big boy pots. So hop on over to your local store, save a life, and shop discount
PS – Yes, I know I have a flair for the dramatic. Hopefully that's one of the reasons you come here. 🙂