Oh the evolution of a room. Layer by layer each room is built into something that is beautiful, emotional, and telling about you. It's fun to have a room slowly grow with you. It can mirror where you are in your life, how you feel, and how you use your home at a certain time in your life. Make sure you create rooms that look and feel like you – not like some magazine you are trying to emulate. If you slowly evolve a room, piece by carefully chosen piece, people will feel the thoughtfulness and personality shining from your home – plus it will be the epitome of a sanctuary to you. Now doesn't that sound like a happy place to live?
Today's post continues with the evolution of our guest room. What once started out as a brown room without much character is on its way to looking beautiful and sassy – meaning it has a whole lot of character now! But to really appreciate it's update, let's look at in it's brown state.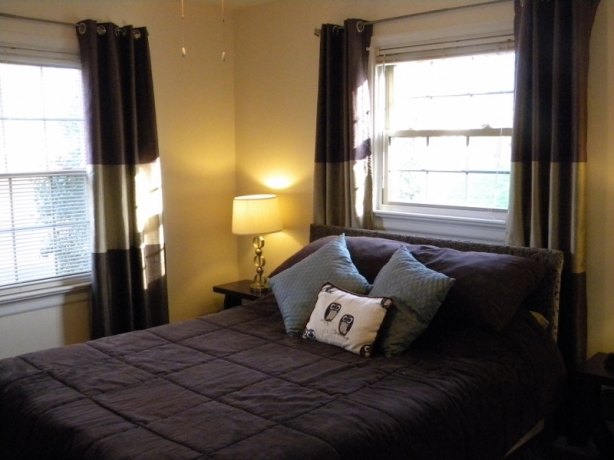 I showed you my latest creation of a fabric gallery wall (that still makes me stop and stare and sigh with happiness every time I see it) and the next element that really needed to happen in the room was a coordinating headboard. This headboard still had its velour fabric that matched the brown bear of a room. With everything else getting brightened up this was like a dark hole in the room. Boo brown!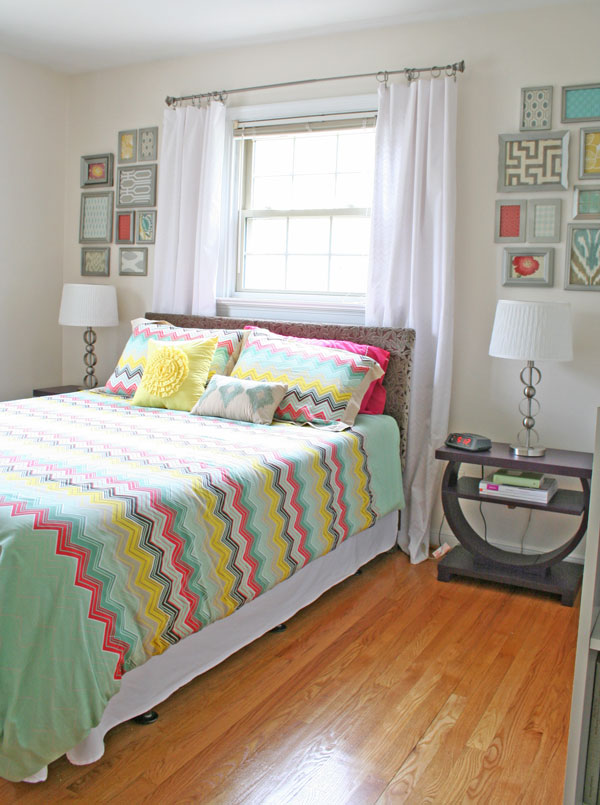 Thankfully my mom and I were really tuned into fabric when she visited, and we were able to find this gorgeous white textured fabric at the Charlottesville U-Fab.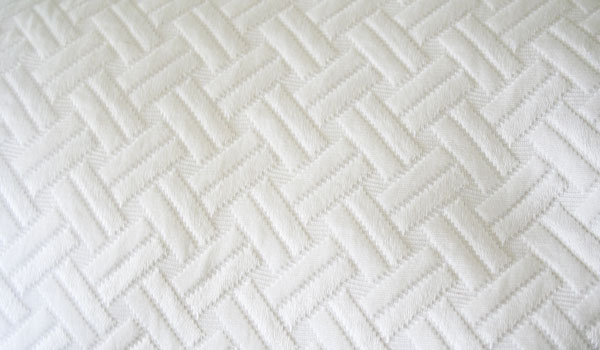 We already  have a wonderful headboard that Eric built pre-blog, but since I had to strip it down to recover it, I can show you how he built it.

Materials:
Particle Board
 1 x 4's
2×4's
Wood screws
Nuts, bolt, and washers to attach to bed
Instructions:
1. Cut the particle board a couple inches wider than your bed. To find your height measure from the bottom of your mattress to the top of where you want the headboard to end. Cut that height into the particle board. 2. Use the 1×4's and 2×4's to frame out your headboard. Cut two tall outside pieces from the 2×4's that go from the floor to the top of the headboard. Then cut two smaller pieces from the 1×4's to connect the 2x4s. 3. Screw them all together.

4. Cover with batting and fabric. I like to staple the batting to the headboard and separately staple the fabric to the headboard. Then you can easily change out the fabric without removing the batting.

5. Screw holes in the bottom of the legs and use large nuts, bolts, and washers to attach the legs to the bed frame.

Now bring on those pretty pictures showing how this reupholstered headboard really brings a new lightness and vitality to the room! I am loving playing with the textures and white on white patterns in this room so that they don't compete with the duvet.





I think this room really shows our guests about ourselves and how we want them to feel when they visit: comfortable, bright, happy, relaxed. But why don't you…be our guest, be our guest, put our service to the test!