This is a sponsored post on behalf of Tide OXI Multi-Purpose Stain Remover. All opinions are 100% mine. 
With school buses starting to circulate the neighborhood,  the sounds of the marching band wafting over to our house from the nearby high school, and recent unseasonable cool, humid-free summer days, my mind is definitely starting to think of fall and all it brings.
The cool night, beautiful colors, and cozy nights in by our fireplace.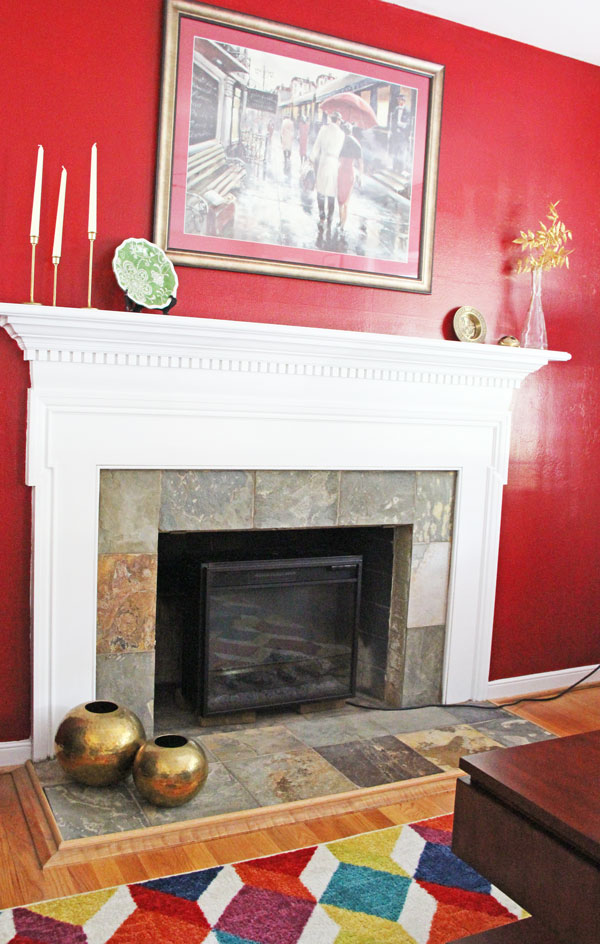 In our case, that means an electric fireplace that we love and makes it no less cozy in our warm, color-drenched living room.
However, the fireplace box did need a little sprucing up to get it ready for daily use come September (oh well, let's be real – the fireplace has been turned on a couple times this summer to up the cozy factor).
Our electric fireplace is basically a black box; a black box that is mostly hidden in the dark fireplace box. However, it was only dark because of the dirty soot stains left behind from its wood burning days. It was a just dirty, uneven mess that I knew could be better.
The plan: clean the fireplace box and then paint it a nice even black.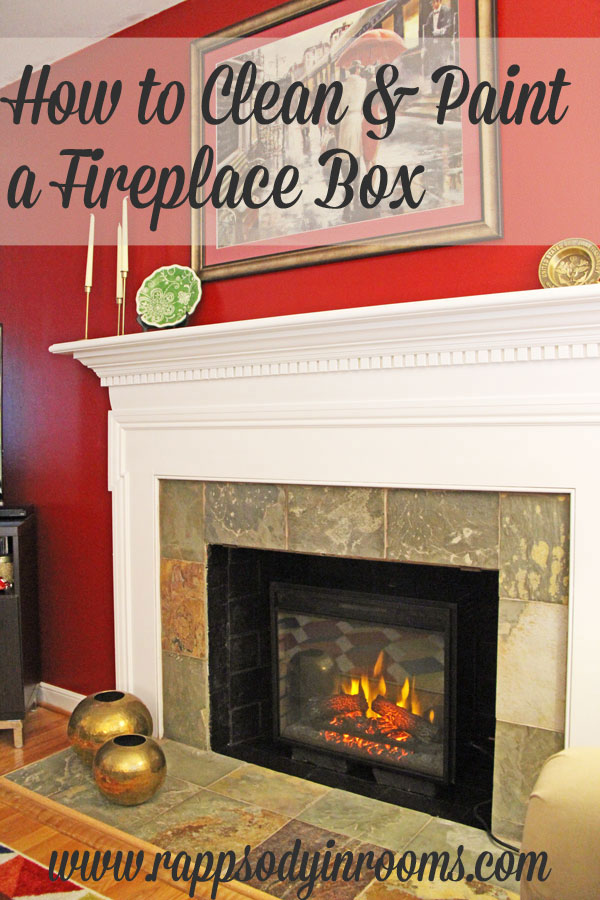 Step 1 was cleaning out the fireplace box. I decided to use Tide OXI Multi-Purpose Stain Remover (purchased at The Home Depot). I love that Tide is branching out from the laundry room and making a product that can be used to clean just about anything around the house. It can be a laundry booster, a upholstery cleaner…or a fireplace box cleaner!

After taking out the electric fireplace and vacuuming out the dead bugs hiding under it (ew!), I made sure to protect the slate around the fireplace by putting down a plastic drop cloth and then another fabric one on top (just because I kept sticking to the plastic one).

Then I mixed the Tide OXI Multi-Purpose Stain Remover according to the instructions on the box (basically one scoop of cleaner for every 4 scoops of warm water). Make sure you use warm water to help dissolve the powder to get a really good solution.

Once I had my solution mixed in a bucket, I used a bristle brush to scrub, scrub, scrub! It was a continual process of dip, scrub, dip, scrub. I changed the solution a couple of times as the water blackened. It was definitely an intense little scrubbing session but the Tide worked like a charm!

Here you can just see the dirt dripping down (and off) the brick!

After my last Tide scrub I did one pass over with the bristle brush and plain water just to get everything washed away. It really was an incredible difference!

Step 2 was painting the fireplace box.
Now, a word of warning for this step. Since we use an electric fireplace it doesn't get all that hot in the fireplace box. However, for those of you who use gas or regular logs, you may just want to clean it and be done.
I used Rust-Oleum's High Heat paint in satin black (also bought at The Home Depot) that is meant for temperatures up to 1200 degrees.

After I taped around the slate, I used a cheap paint brush that I could just throw away after using it and started painting. It was a fairly quick process, even with all those mortar seams. Here was my first coat, splotchy but still looking nice!

After my second coat I was finished!

I love the look, especially after I loaded our electric logs back in. The black box almost disappears – just like I was hoping!



Now we are definitely ready for those chilly fall nights so we can curl up in our cozy living room with the fire on!