Just writing this post makes me breathe a sigh of relief. That's what happens when I purge and organize – which is a very popular topic this time of year. It's something that is popular for me all year round since nothing really feels better than getting your home organized and getting rid of that stuff that has accumulated.
I am calling this the year of less stuff. I want to get rid of more stuff; the key for me will be buying less stuff. Yes, I mean you Megan.
Actually, I haven't been to a store to shop for weeks now and it feels so good.
Every time I get the urge to grab my wallet and head out the door to a store, I stop and look around my house and see what I can do here instead. Maybe try to figure out new ways to put together outfits to curb my clothes shopping appetite (which is quite healthy). Or perhaps organize or style a little corner of the house so it feels new and fresh to stop my twitchy fingers from wanting to snap up home decor items from Target or a thrift store.
Making things I already own seem new to me has really helped me stop me bringing more stuff into the house.
So I have been in the habit of assessing what I have and organizing it to a "T" so I know what I have (so I don't buy duplicates)! This is most helpful in my crafting world since there are all these little parts and pieces that can get lost in the way so you keep buying them and all of a sudden you have 1.5 million push pins, 25 pads of sticky notes, washi tape for miles, and 50 shades of the same ribbon (but of course they're not grey).
I decided to tackle my craft corner in the studio. Thankfully my apartment has these wonderful built-in shelves that I knew would be perfect for a beautifully crafted craft organization spot. This is what it was looking like empty and then just moved in with stuff just tossed on the shelves.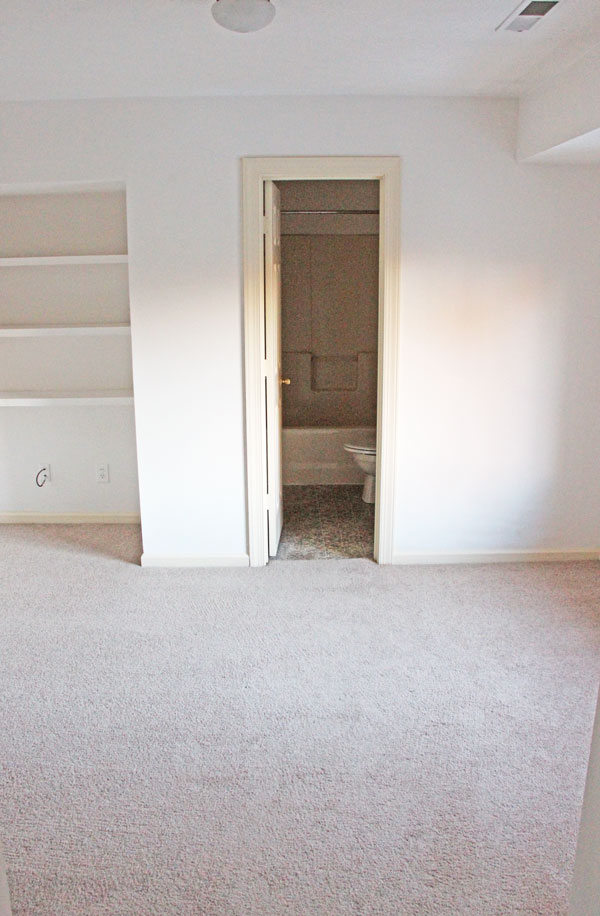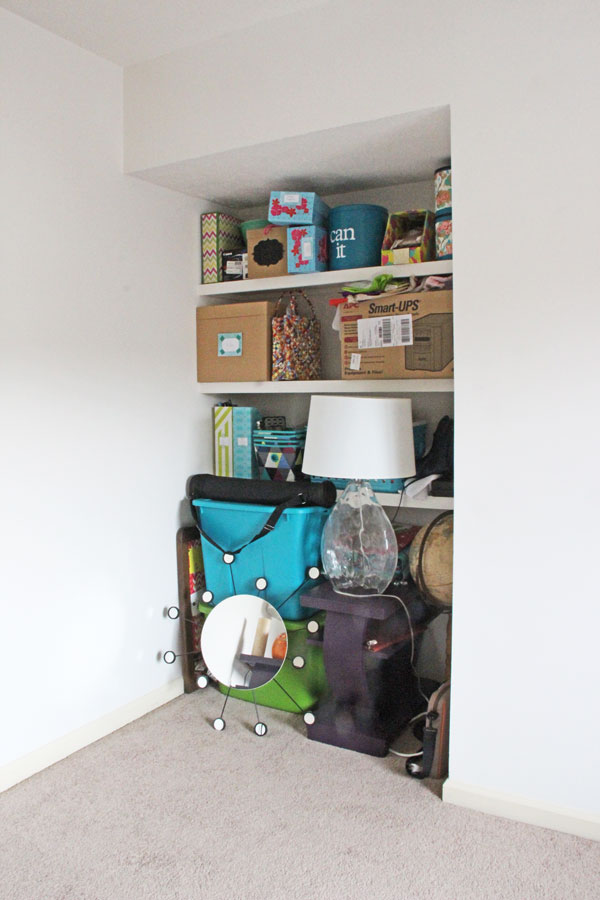 I used only what I had in the house and brought together a lot of easy and inexpensive DIY organization projects that I've done over the years.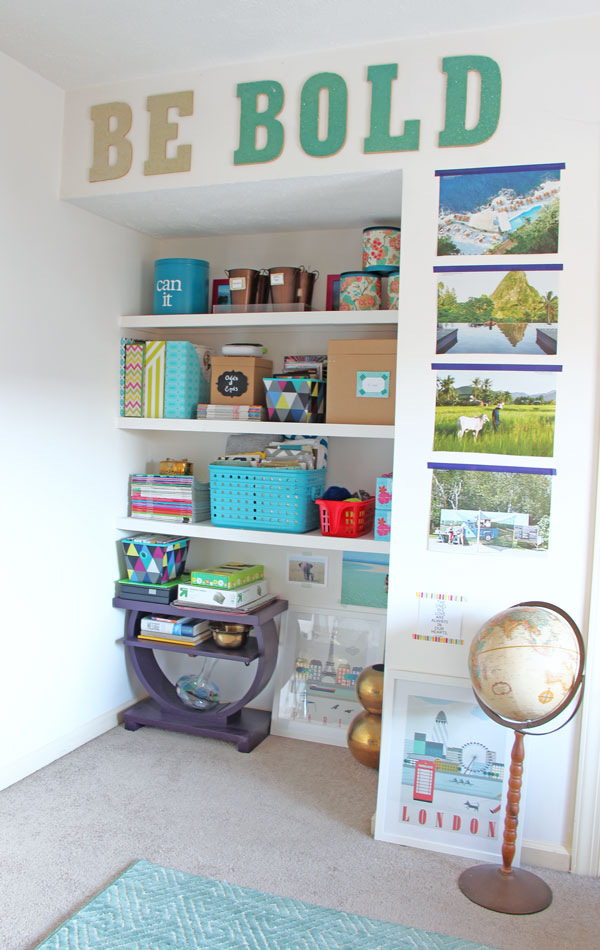 Plus, I FINALLY got some things up on my walls (thanks for washi tape and command hooks) that are apartment friendly (hello no holes to worry about when I move out).
Let's take a look and stroll through all the little projects that make this a magnificent craft storage area for me.


Who says all artwork needs to be eye level! I taped up a calendar page and a card from my mom on the wall for visitors who stay over and get the oh-so-elegant air mattress treatment that gets them even with this lower level artwork. Plus, two thrifted planters stacked on top of each other leave space for some hidden craft supplies.

Fancy shoeboxes with labels provide great free storage and a dollar store bin lets that pretty yarn shine as its own decoration.

My favorite magazines are beautiful to look at and easy to grab for inspiration. Plus, a brass thrifted container holds business cards of favorite bloggers and vendors.

An open blue plastic basket showcases fabric to remind me what I have and provide pretty eye candy.

My home organization binder cozies up to two magazine holders that actually hold extra colored paper and my favorite recipes torn out of cooking magazines.

DIY Magazines are the base of a cardboard box full of various supplies and my label maker.

A colorful bin holds notebooks, cards, colored pencils, and markers.

All my files are tucked into and precisely organized in this file keeper from Target.



My "Can It" tin made from a holiday popcorn tin holds my paints while dollar store tins hold markers, washi tape, glitter tape, and paint brushes corralled on an upside down acrylic frame used as a tray.


Upcycled metal coffee cans hold ribbon, hole punches, glue, and other craft goodies.



Glitter letters are from the sun room at the house and beautiful 2014 calendar pages are hung with washi tape on the wall beside the shelves.



The organization is not over! As a fun way to keep your organization inspiration fueled (I know you're feeling it too), hop on through to these other amazing bloggers who are sharing their organization genius with you!