It's fashion show time! Even though I don't do Stitch Fix as much as I used to, I still love the odd month when I treat myself to a box full of clothes for me! Gah, I love fashion and clothes. I love the way you can endlessly piece items together to get different looks and feels.
This time around I requested a box full of sweaters for winter. I was feeling like I needed to inject a little more style into my winter wardrobe. I did a great job this summer upping my fashion game so I needed my winter wardrobe to step up too.
Before I jump to the reveal, here is a quick reminder about what Stitch Fix is all about.  stitch fix is a personal stylist company that hand picks 5 items based on your style and size. You get assigned your own stylist, and she gets to know your style based on your pinterest fashion board, style profile, and feedback you leave on your previous fixes. In turn she hand picks out pieces she think will make you look – and feel – great and sends them to you along with styling advice and a personal note. Love that part so much!
41Hawthorn Halifax Colorblock Pullover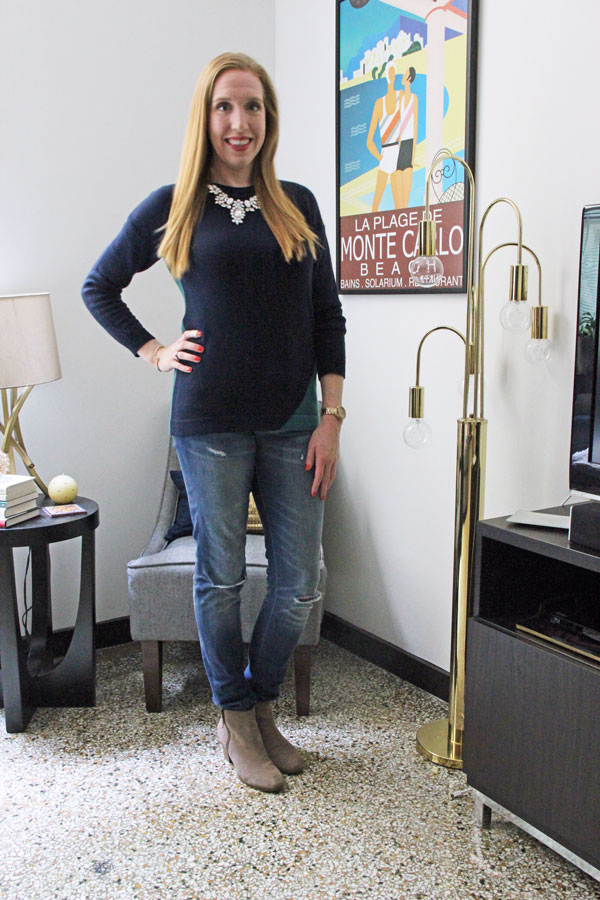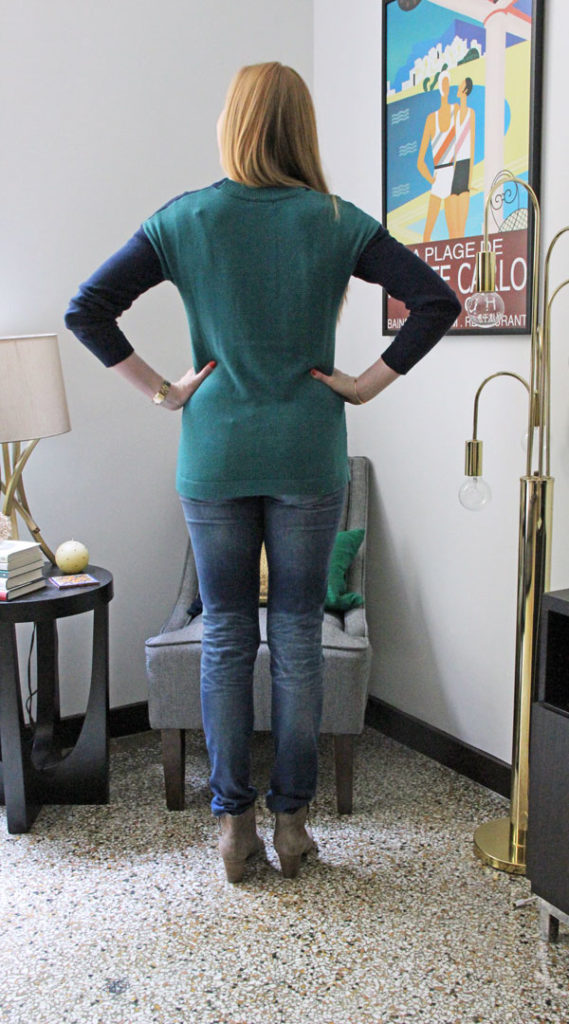 I pulled this sweater out and immediately knew that it was something I would love. It is green and blue and those are my colors. Plus it was super soft. I put it on and fell in love. Sold, sold, sold!!
Kept
Market & Spruce Evrett Mixed Stitch Pullover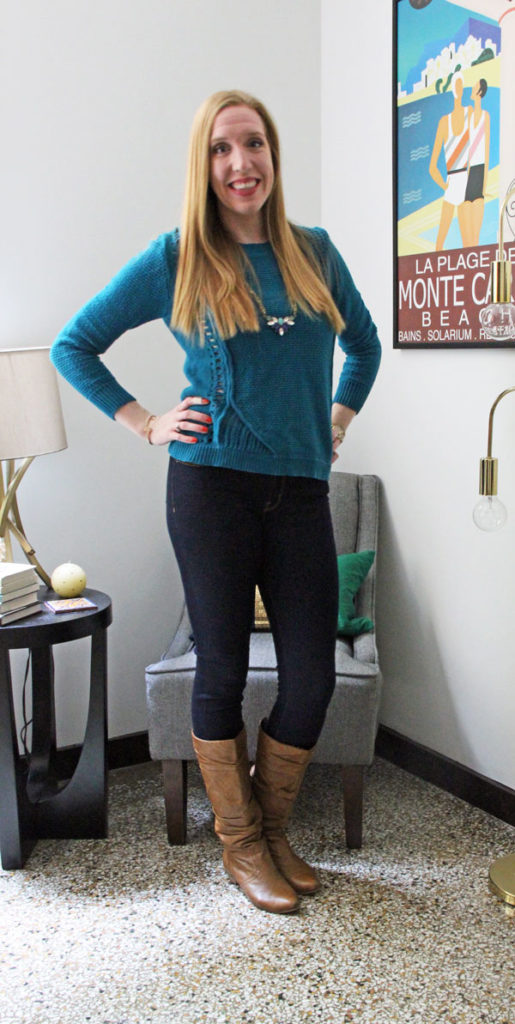 When I pulled this one out of the box I was really excited. Give me anything teal, and I will probably fall in love with it. However, I didn't love the texture of this one. I know myself and to wear anything in the winter it has to be super soft or it's just going to sit in my closet. I also didn't love the holes in this. I'm a cold natured person who definitely doesn't need a breezy sweater. I was disappointed this one didn't work out.
Returned
Daniel Rainn Darcie Lace Detail Peplum Knit Top

When I first saw this one, I knew this wasn't going to be a winner. First, the purple color is not my favorite. Second, I love a good peplum top but this one wasn't it for me. It's just not my style. It's a little too boho for my taste.
Returned
Briton Ivy Sylvester Split Neck Blouse 

I love bright colors so when I saw this one I got pretty excited. I wasn't sure if this shade of purple would work with my skin tone but was pleasantly surprised when I tried it on. I love the shade! I also wasn't sure if it was going to be too flowy for my taste since I generally like more fitted items. However, this shirt was so bright, fun, and soft that I couldn't pass it up.
Kept
Loveapella Gearan Mock Neck Knit Top 

Welcome to the 70's! Hahaha! That's how I felt with this top. It was just wrong, all wrong for me. I know that the styles are going a little more retro, and I love a mock turtle neck with the best of them, but everything was wrong with this top for me. I felt like I had gone back in time. Plus, it fit very tight and the stripes were not doing me any favors.
Returned
So there is it, another Stitch Fix for you! I don't do them as much now but they sure are a fun treat every now and then. Plus, I went on a shopping trip the other day and man, was I dragging my feet throughout the mall. I just do not have shopping stamina anymore!
Also, if you're interested in trying it out, click through to schedule your first Fix (this is an affiliate link).
Want to see more? Check out my other reviews!
my february 2015 stitch fix review
my march 2015 stitch fix review
my april 2015 stitch fix review
my june 2015 stitch fix review
my july 2015 stitch fix review