So finally, all the Christmas decorations are gone and I can begin the house tour! Since I started this blog recently and have been living in our house a little less than two years, a lot has been changed/painted/fixed/updated already. So I thought to catch you up to speed I would take you through the house and explain what has already been done. I don't really have good before and after pictures but let me paint a picture with my words… 🙂 Our house is a ranch house in an older neighborhood (translation: great trees!) and was built in the 60s. Oh yes, it had some great reminiscences of it that good ole age of wacky color. That's mostly gone but there are still some great dated moments.
So we will begin…at the beginning: the living room. Okay, okay perhaps the outside is the beginning but it's winter and things aren't blooming. So we will begin in the warm and cozy. As you walk through our front door you are hit in the face with our living room!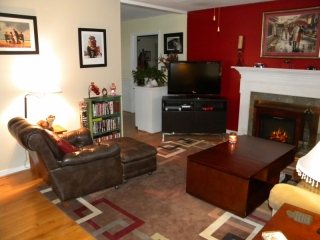 It is not the largest room in the world but it is cozy and pretty open with the entire house, which I LOVE.
Since the living room also has to absorb all of the stuff you tend to drag into the house with you (coats, shoes, keys, etc.) we were definitely looking for a piece that could multi-function. We finally hit upon this great antique piece. It has a few special pieces on it too: a glass bowl/plate, a gift from my mom for my college graduation. It also houses one of my favorite pieces of all time: a Tiffany style lamp. I love the colors and intricacies of these lamps. This piece overall provides a place to tuck shoes under, hold keys and other small miscellaneous items and proves a holding ground for things we need to remember to bring in and out of the house.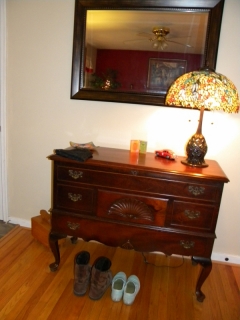 Now, the centerpiece of furniture: the couch. Microfiber of course. Soft and easy to clean. I also loved the simple lines, neutral color, and grommets that add a special touch.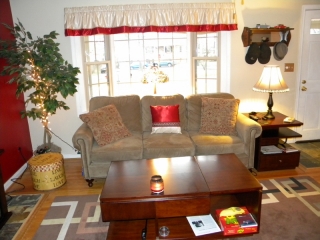 The table is pretty sweet too. Check out its multipurpose use. Before is above. After is below!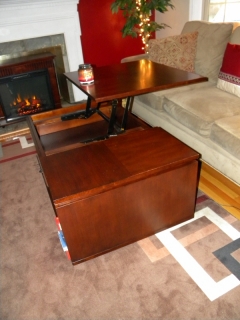 Use this way to eat, put your computer on, do a puzzle, or use as a desk! What a great use for furniture.
You also need to make sure you notice the curtains and pillow custom made by my mother-in-law. That is also a theme you will see around the house. How awesome it that! (And another Tiffany lamp siting!)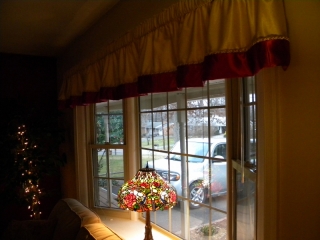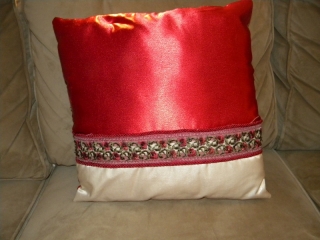 We also found a matching side table to the coffee table in the clearance section of the store. Score! You can also see that I have an awesome husband who indulges in my sparkly obsession. So when we were shopping in a home improvement store and I started petting this lamp shade, he picked it up and said "We are buying this for you" and marched off to the register. Gotta love that.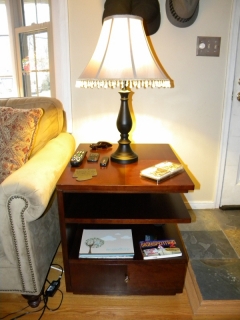 Now to the chair that once you get in you will never get out because its comfort sucks you in. This chair is a cool piece because it was a hand-me-down from Eric's dad. He custom built this many years ago and gifted it to us when they moved. I love it, especially with its special memory.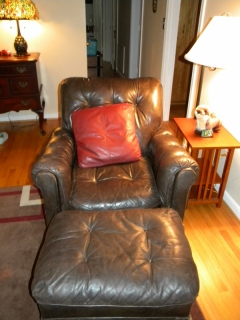 Also, you can see the art work around the living room. This is artwork are prints that I had been saving up for my first house since college. I love the romantic style pieces and any pieces with a European flare. That's a common theme around the house.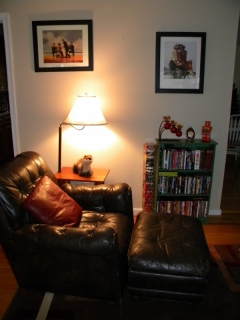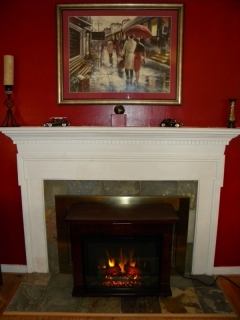 Also, an improvement that we made to the house is the slate that you see in the entry and around the fireplace (above – forgive the "other" fireplace in front of the real fireplace – still using that great heater!). You should have seen the nasty, red, fake broken brick type flooring that was under this. Huge improvement. One you will just have to take my word on.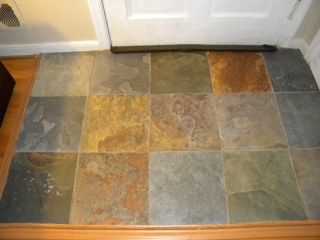 There are also a few sweet things on this bookcase that shows the beauty of melding different styles and working together as a team as husband and wife. The red vases are something I picked out but work with the robot (Eric's of course). The piece in the middle is a family keepsake that Eric's mom gave to me this Christmas. There is nothing more that gives you a sense that you are entirely accepted into the family. You also can't forget the huge car package beside the bookcase!
Well, I think that is enough house overload for now. Next up will be a tour of the kitchen where you will definitely find some great 60's keepsakes (think pea green trash compactor!). Also, the living room is definitely one of the most finished rooms in the house. The others are more a work in progress. Get ready for the fun!