Recently my mom made her annual spring visit to good ole Lynchburg. We had been planning this for a while and had many fun projects and shops to hit when she arrived. She first arrived via Amtrak…what a great option! I highly recommend it for travel to and from Lynchburg. Then I had three blissful days off (a Wednesday through Friday no less. Hello 5 day weekend!) to eat, talk, and shop with my mom. What a wonderful five days it was!
My mom is my design inspiration for home decorating. Ooh how I wish I had pictures from some of our old houses. Although her favorite decor is very country (very different than mine) her taste is exquisite. Even if you don't like the country flair you can't help admire the attention to detail and how everything is just right. So I really appreciated having her as a shopping buddy as we began our adventures.
The most fun part of shopping is that we were both all about finding things on a budget. So we hit up some of the best thrift stores in town, along with an antique store and the always fun TJ Maxx (any Maxxinistas reading?). We found many fun, unique, and quirky items. I wanted to share them in their solo glory. So this is kind of a teaser. I want to show you all the great things we found and then reveal them in their own mini-makeover posts. The great thing about all the items we got is that they inspired me to actually makeover every place we put them. So it wasn't just adding to a collection but giving a small revamp to places around town.
My challenge to you: guess where all the objects are going to be placed and/or used for! Drum roll….here we go!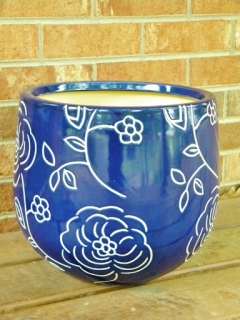 Ok, this is just a warm-up. Not a hard guess on what this will be used for. But where it will go, nobody knows (even me!). [Found at TJ Maxx – the best place for great prices on ceramic planters!]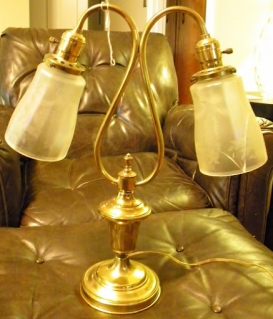 My mom and I were both draw to the unique shape of this lamp. Yes, it is a mighty brass lamp with a cracked shade, but a little spray paint and new shades this will be better than new! [Found at Estate Specialists.]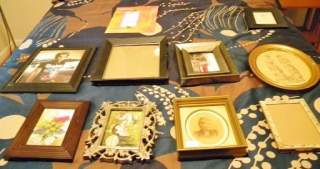 Lots and lots of frames! The one with Ryan Cabrera in it (RC count = TWO. That is just ridiculous! I'm almost 25!) is an old frame from high school college (ashamed sigh – at least it only stayed up through freshman year). I will be using it in the project all the frames are for.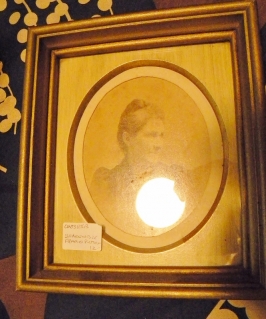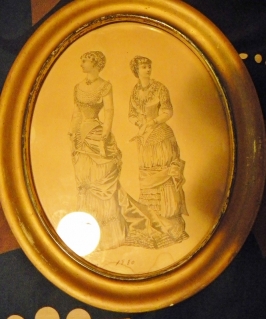 These are two of the frames that are from Estate Specialists. They may not stay the same color or have the same picture in it, but then again, they are neat in an old way. I wanted to highlight these because they are so neat. The other frames in the picture are from TJ Maxx and were picked for their texture or unique shape.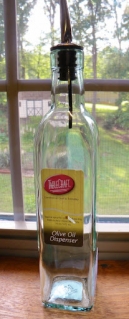 Olive oil container. An item with an obvious purpose…or is it. Prepared to be surprised in its reveal! [From TJ Maxx.]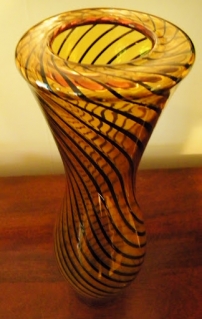 This guy will have a double (hint hint) surprise! [From Estate Specialists.]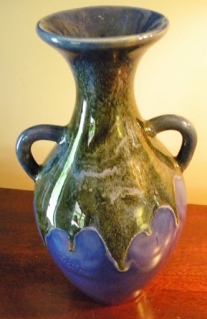 Ahh this pottery blue vase is so special and beautiful. I just love it! [From Estate Specialists.]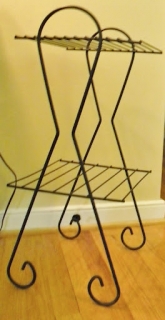 Hmmm…I will just leave this as a mystery. Let me eliminate the obvious: I'm not using it as a plant stand. They don't always live when I take care of them but I am working on that! [From the antique mall Antiques to Envy.]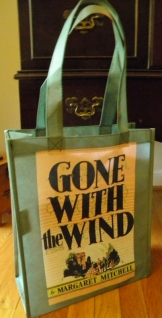 This is a special bonus. My mom put a part of my birthday present (we like to celebrate together, even if it is a month early!) but I thought the bag was just as fun as the present! I am kind of obsessed with Gone with the Wind and have been since middle school. My mom and I decorated my room in middle/high school with GWTW garb, so we have a bond with it.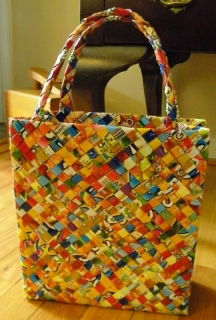 This was in it! A bag made with juice boxes! What an upcycle. For a good cause no less…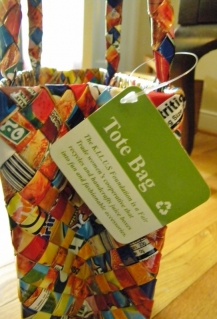 The tag says "The K.L.I.S. U.S. Foundation is a fair trade women's cooperative and recycles and handcrafts juice boxes into fun and fashionable accessories."
That are most of the finds that we got on this trip. There is still a small reveal to show with a few other items but it would have completely given away where and what it was so I will save that for another post!
I would also like to say a huge thank you to my mom for making the trip to see me and for a wonderful three days of quality time. The trip was definitely not about things but rather about quality time. I did enjoy the times we were able to go shopping though…what's a girl to do?
Question:
Are there special things you do with your mom when you get to spend time together?