You tired of the mini-makeovers I hinted about in this post? I hope not, because I am loving them! Having all these small changes around the house make a big impact! Dare we call it irony? You can check out the other two mini-makeovers I have done here and here. This one is a pretty big makeover in my eyes! It is in the living room though, where most of my minis have been so far. It is nice to get really detail oriented in the room where we spend so much time. Now let's get down to it. This is the space in need of the face lift.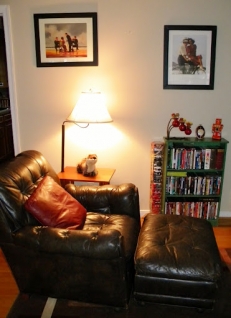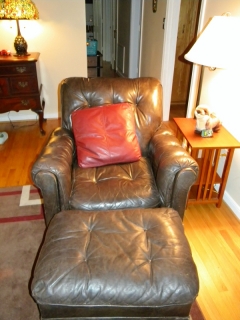 Can you guess which element I am changing? Not the chair; the chair is a wonderful hand-me-down from Eric's dad but the lamp is just one of those old pieces from our more collegiate/apartment days. It was great for a younger look, but now we are wanting something a little dressier for the space.
This was one of the pet projects my mom and I undertook while she was here. The story of how we found it has quite the dramatic flair. So much so there are no pictures to help with it. Hopefully my words will paint you a good enough picture! It all started with a lamp we found at TJ Maxx. I saw it and fell in love and hemmed and hawed whether I should get it. I just knew it would be perfect (are you already saying that those are famous last words?). I ended up not getting it the day I saw it…although I did get the next day because I couldn't stop thinking about it that night! It was such an exciting moment to bring it into the room, followed by a devastating reality check where our bright faces slowly drooped. It was all wrong. It was a stand-up lamp in bright silver. A terrible fit. Can I emphasize that enough? We should have realized it with all the soft gold tones in the room. It was mom's last day there and she wanted to see the project through, so we trekked back to TJ Maxx and returned it. Such a sad moment. We decided to give it one more try at Target – where we hit the jack pot. We had so much fun pulling tables and lamps into the aisles (maybe it wasn't as much fun for the other shoppers!) and trying to find the perfect table/lamp combo. And oh did we ever.
It came together like this: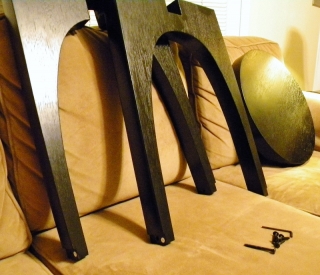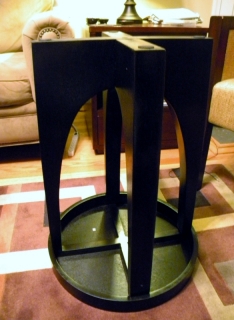 Then it all came together with the new lamp and lampshade and accessories that we already had in the house. To me, this is huge change! It makes the whole side of the room look different.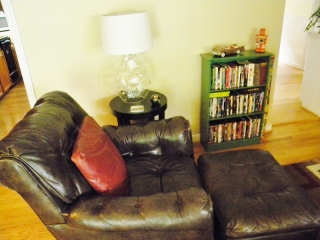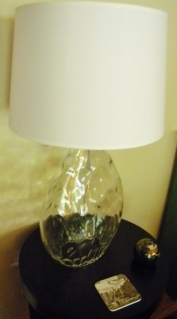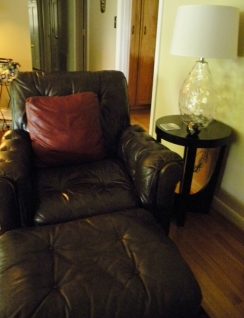 Here is another before and after for you for emphasis on the grown-up change.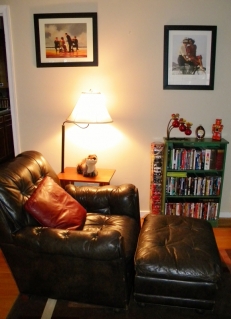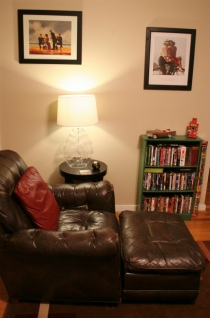 Now what did we do with the lamp that we had? Even though it wasn't perfect for this space, I still have dreams for it. It ended up landing in the first guest bedroom.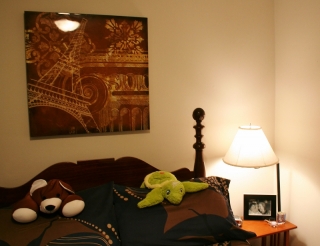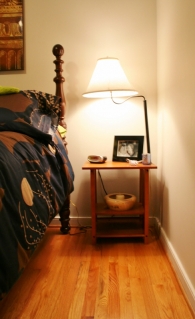 I accessorized it up with some things already strewn around the room. They look much better all together here! I actually really like how the lamp fills the space. I still have ideas of painting this and changing the lampshade. For now, it works great (especially since this room didn't have anything here before!).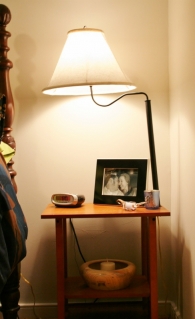 You can check out the initial house tour of the guest bedroom here.