After we have spent so much time in the kitchen these past days, I am going to throw you for a loop and switch to the basement. Under full disclosure and all, this is a project that happened a while back but got interrupted with all the excitement of the kitchen. So while there is a slight lull in kitchen renovation (well it will be happening but I will just be in lovely California visiting my sister) I thought it was the perfect time to show some of the progress in the basement. There was just one thing bothering me. Can you guess what it was from the picture?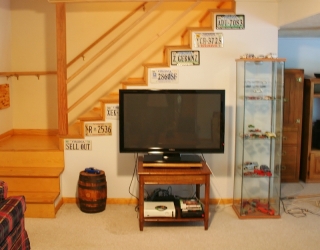 No? How about now?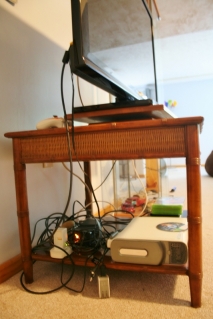 Yup, you got it! We were in dire need of an entertainment stand to hide our cords and provide some needed storage for the exercise and game DVDs. I wanted something modern looking, low to the ground, with storage space, but enough open space to make sure Eric's X-Box didn't get overheated. So where did I turn? Craigslist of course. I did not want to spend full price on an entertainment stand (or the like – I am all for using a dresser, trunk, chest, etc. for an unexpected entertainment stand). Now when you start looking for an entertainment stand on Craigslist, be prepared to wade through many, many old school stands. You know those types that used to fit the old, boxy TVs? They were a lot of wood and usually not so pretty. Just big. So when I stumbled across a sleek, simple entertainment stand I got so excited and emailed them immediately. They still had it and would hold it for me!
Here is where I learned a Craigslist lesson. The time to negotiate is before you meet them in person to pick up the item. I waited until we were in person and asked if there was any movement on the price, but it didn't work. I also had a hard time asking because they were this super cute young couple that had a baby on the way and were moving. So I handed them my $50 and away we went with our new find. I would bet you anything if I had negotiated over email before meeting I could have moved the price $5-$10. Oh well. Lessons learned.
Introducing…our new entertainment stand!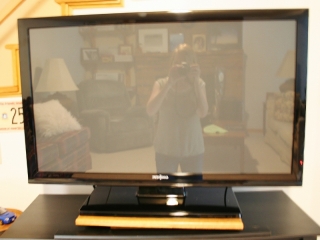 Beautiful, except for that odd oak looking thing in between the stand and the TV. That is the swivel that is absolutely essential for us down there so we can watch TV while working out if we would like. That was an old swivel we had from another old entertainment stand which we were excited to reuse. So hubby got out his guns, well his spray guns, and changed the look of that in minutes.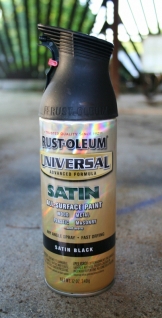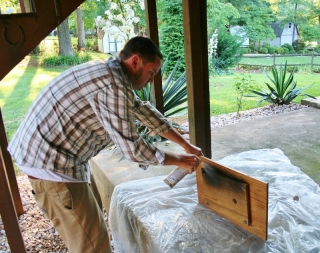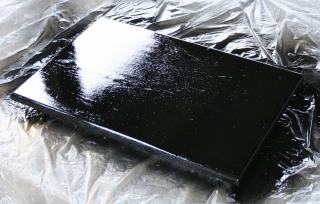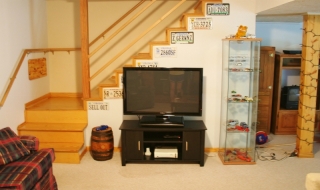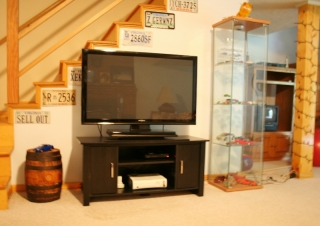 Let's do a before and after for good measure, because who doesn't like one of those?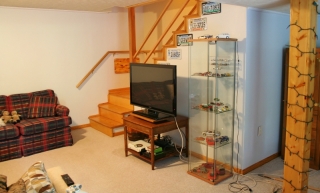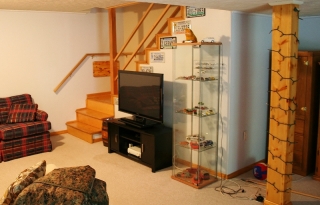 We just love it. It serves all of our purposes for being modern, simple yet stylish, and provides the storage and cable-hiding that we need. It makes is look a little more styled and finished down there. The basement is kind of on hold while we finish up the kitchen (for now) and style up the Mego Cave. Eric does have some pretty cool car part up-cycling projects slated for the basement though. Can't wait to share those when they're done.
Any of you out there who did something neat with an entertainment stand? Do you have some un-traditional serving that purpose? Or how about any Craigslist scores out there that you have found? It is definitely my favorite toy right now (hello online discounted shopping!).