I'm sure you haven't forgotten reading all about our sophisticated, adult retreat monkey infused master bathroom. We like to keep things real. Real fun that is. So two new things have swung into that bathroom recently. Don't you like when you are browsing through a place and just by happen chance you find the perfect item? Well, that happened to us, twice!
The first one happened at a whim visit to Bed, Bath and Beyond, when Eric, a few of his friends and I were out together. They wanted to head into their geeky world of Best Buy and Game Stop. Seeing a long trip unfolding, I headed over to BBB to spend some fun time checking out their housewares. It's not often that I actually spend time in BBB, so I was having a ball looking around at all their gadgets and pretty home things. I was definitely there more as a window shopper, until I wandered over to their wall décor wall. This wall is hung with massive pieces of artwork all over it, but it was a small little guy (or make those three little guys) that caught my attention.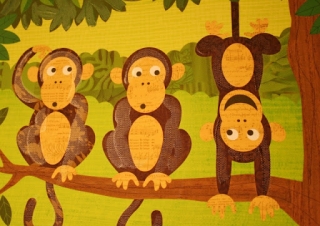 Remember, when I first introduced you to the monkey bathroom, I did it all for Eric. He fell in love with the idea and since I loved Eric, the monkey bathroom ensued. Fast forward a couple of years later; I had caught the monkey bug. I didn't really realize this until this wall art moment. When I laid eyes on these three little guys I swept them up in a heartbeat. I think I even put back a few things I was contemplating getting, so I could get this adorable little print.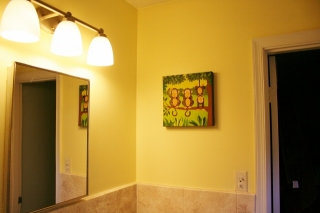 Don't you just love them? I sure do! We had been looking a wall adornment of some type for this wall for a while. I knew these monkeys fit the bill!
My original idea was to have this smaller print be the starting inspiration for having a collection of items on this wall. Looking at the picture it does seem a little small by itself. I am still undecided, so those guys will just hang around with us until we do decide.
Now, let's do a fast one to the other side of the bathroom to the window wall. Look how forlorn this window looks, with no treatment. He looks even worse when you pull up the blind and it falls down just on one side.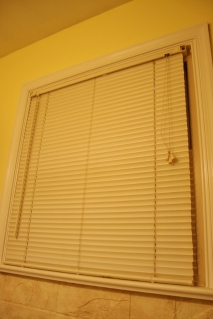 I had been hemming and hawing over what to do for this window covering. Since it is a small room I thought, more like was really going to do, about hanging one of the bamboo roman shades. Since I had never found one that fit this window (I think it is a custom size) it never happened. Then we got these lovely, simple, linen-like valences for the kitchen at Target (for a bargain price of $10), and I thought the shade of green they carried would be perfect. Then I never bought them, and they stopped carrying them. Sigh. At this point I was just keeping my options open. It took a random Thursday evening shopping trip at Lowe's to open my eyes.
Eric and I had to grab a few random house items (one being sample paint – coming soon to a blog near you!) and while I was waiting for the paint to mix, I wandered down the adjacent aisles, which just happened to be window coverings. Then, in a moment of glory, like a spotlight shining down from above, I saw it. My curtain. That's right: my curtain. I loved it. I knew it would be perfect for the master bathroom. So I grabbed it. Then I fell even more in love with the $15 price tag. Then, I wasn't even looking for a curtain rod since they can be very expensive (although very pretty) at Lowe's and was going to hit up Big Lots, my go-to for rods. Then a little industrial/earthy thing almost came out and bopped me on the head. Yup, you guessed it, my curtain rod. Let me be clearer, my super-clearance, extraordinary $8 (!!) curtain rod. I was like a kid in a candy store with my giddiness of that trip!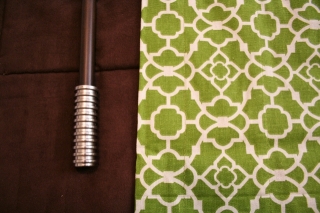 Then I put them up and my giddiness just exploded all over the house (usually through my happy dance).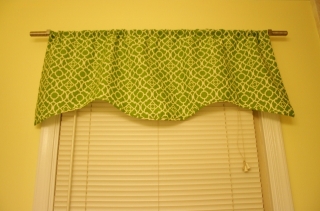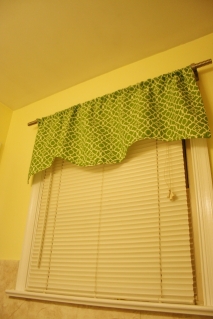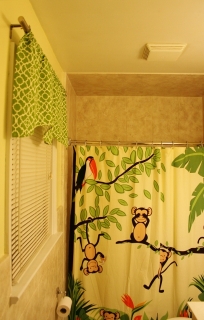 Don't you think the whole aura of the room changes with the curtain? It feels different to me. I also hung up the curtain about 2-3 inches above the actual window, which gives the appearance of bigger windows. I think it actual helps this room feel bigger. Hanging valences higher above the windows also allows more light into a room, always a plus for me!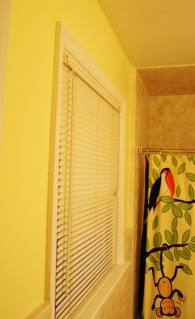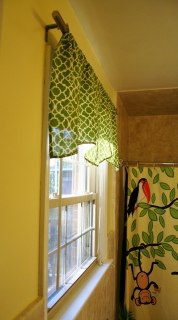 So there you go! My small bathroom changes that have a big impact for me! What small changes are you making that give you big results?