Ever since I married Kris Kringle, or Eric as most other people know him, Christmas became a big deal in my life. This sweet guy o' mine lives for the holidays. He starts counting down the sleeps until Christmas starting on December 26th. Needless to say, we like to do it up big so Eric can get the most out of this special time of year. Unfortunately, you hear a lot of people talk about how stressed out they get around the holidays and just can't wait for them to be over. I always think that is so sad, since it is such a time of happiness, family, togetherness, and love that remind of what is really important in life. This year, I found a few tricks that has helped me relax and just enjoy this Christmas season. And of course I just had to share them with you!
1. Start a Christmas fund. Last January we set up a Christmas fund (your bank may call it something different). This is basically just a savings account. You put money into it all year (I actually have it taken straight from my paycheck each time) and come end of October (ask your bank as your date may be different), they deposit the money into your main account. That way, starting November 1, we had all the Christmas money we needed. So no more penny pinching in the few short weeks between Thanksgiving and Christmas, trying to get all your presents on a few paychecks. Not only does it help in budgeting, but it is also so much easier to have all the cash to go buy your presents all at once. If you make your list of items to buy, you can most likely take your list and your Christmas fund and knock out shopping in a day or two. I think I got the majority of Christmas shopping done online in less than two hours. Then you take the rest as you get to have the fun sport of poking around stores looking for the little special items.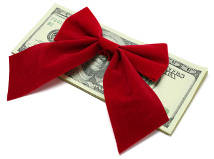 Source
2. Wrap and ship early. Now that you have all your presents bought early (and painlessly!), take care of them right away. Even if all the items are bought, I still know they are there, lingering in the house, still needing a wrap-job (or should I say a Rapp-job?) and a way to get to the recipient. This past weekend the gifts in the closet were definitely haunting me, so I pulled them all out, organized them by recipient, wrapped them, and then put them under the tree or in a box to be mailed. Now I can enjoy them for weeks to come under the tree and be certain the presents mailed reach your loved one's farther away in time for Christmas. I like to say "Outta house, outta mind!"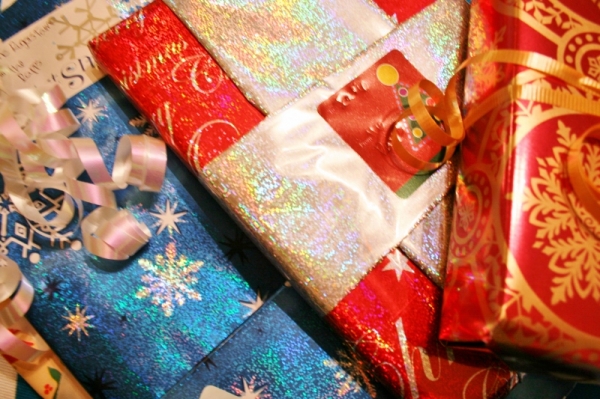 3. Prepare a menu and buy the non-perishables early. We eat weird. I'm a vegetarian and Eric hates vegetables. So the meals we serve up in our house are definitely non-conventional. So although I love to cook and entertain, it stresses me out. I get sweaty palms trying to figure out what to serve up to guests on our snowman plates. So last week I sat down and wrote down the whole menu of food we would be serving. Since this is the first year we are actually having overnight company for a few days at Christmastime, there were quite a few meals to prepare. So I made my list, checked it twice (just like the Big Guy!), and even sent it to my Dad and his wife Tina (our overnight guests) to check about their appetites and any dietary requirements. Buying 3-4 big meals and all the breakfast and lunch items can get expensive, so planning ahead allows you to start stockpiling (AH! Horror of horrors! I am recommending stockpiling! Low key stockpiling for two weeks, that's it!) the non-perishables. I grabbed some of the items at last week's grocery run and still have two weeks left until Christmas. Phew, that one feels good to have out of the way! Oh yeah, and with all the extra time I freed up in tackling the menu early and not just stressing about it for weeks, I whipped up a little menu that I thought would be nice to  put in the guest bedroom or kitchen.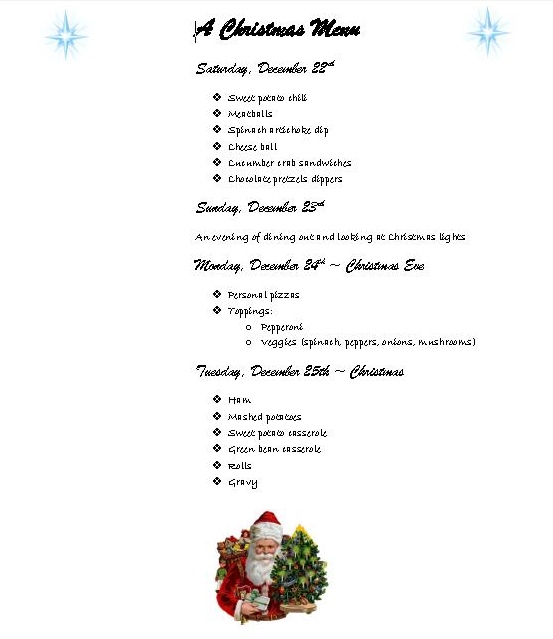 4. Make a batch of super simple Christmas cookie dough and freeze. Last year I shared this super simple and oh-so-tasty recipe for our family renowned Christmas cookies (please forgive the yellow pictures from our previously yellow kitchen). I don't know about you, but there isn't enough time for all the sweets I want to eat around the holidays. There  isn't enough time to make them or eat them. But you always want them to eat or serve to unexpected company or share at the cookie exchange at work you forgot about. So this year, I decided to whip up some of this dough early on and then freeze it so it was ready whenever a Santa cookie was needed. It feels good to have that back-up dough in the freezer for spontaneous cookie making (without all the busy prepping).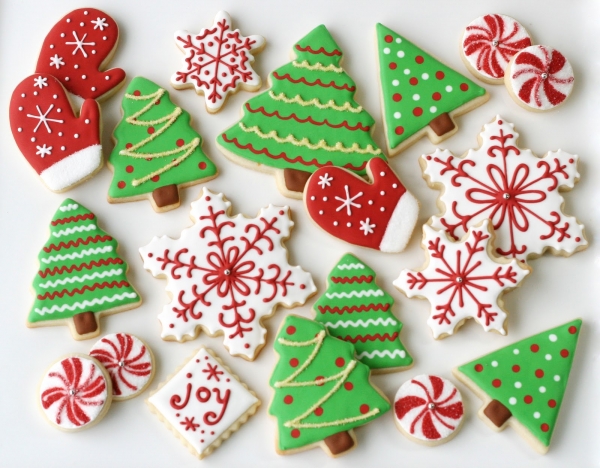 Source
5. Decorate early and then enjoy! I was never a big Christmas decorator until that boy of mine came around. Then he opened up this whole new world of Christmas decorating inside and outside. In my baffled mind it went a little something like this, "What?! There is more to decorating than a Christmas tree?! And oh wait, it's not too difficult to hang lights outside?!" Yup, mind blown. It's not that hard. It's just time consuming. But worth it as Eric has taught me. So the day after Thanksgiving we hopped outside (in jeans and a t-shirt thanks for 60 degree weather!) and got all the decorating done. Yeah, wrapping a string of lights around a fence pole isn't the most exciting task but the result is worth it, just to see the glee on Eric's face that first night we turn the lights on. Since it's not always my cup of tea to string lights, I like that we get it done quick. Check it off the list and enjoy it all season. Then, you get to enjoy all that hard work for about 6 weeks! Much more rewarding than procrastinating and then working hard to just see the decorations for a few weeks or even days. Here's a sneak peek of the house. A full decorating tour will be coming soon!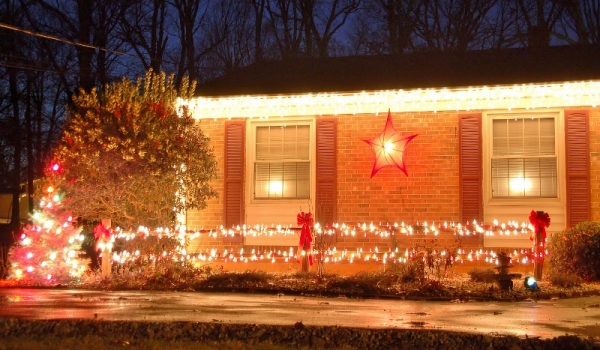 So that's my little list of ways to make the holiday season a little more enjoyable and a lot less stressful. What are your ways that you keep the stress level low and spirits high at Christmas?