Ahhh… summer is so upon us with long nights, humid days, fun in the sun (or mainly fun in between the torrential down pours), and just overall enjoying life. I've also been a little bit more social and helping out some friends do some things around their homes. Basically, that's just a really happy way to explain why my blog posts have been a little more sporadic. I think it is important to post quality, not quantity. I've done some of both in the past but I'm trying to reform and just post really great content riddled posts. Since I'm working on some major sun room projects, they are a little bit more far between now.
Why don't you just look for yourself as to what's on my sun room project list? This is where my first house tour post of the sun room left us.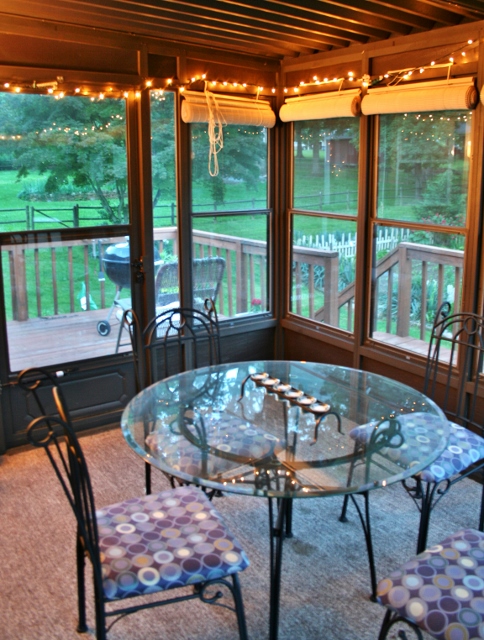 Then came my master plan with a little furniture rearranging and a sneak peek of some new furniture.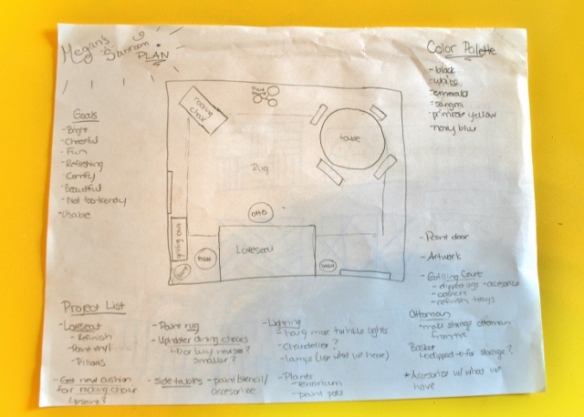 Now that I have put together a floor plan and found all the ugly, thrifted, old, cracked, peeling furniture (this fills me with glee and anticipation) I thought I would do a before picture of the room with it all put together – just not redone and pretty.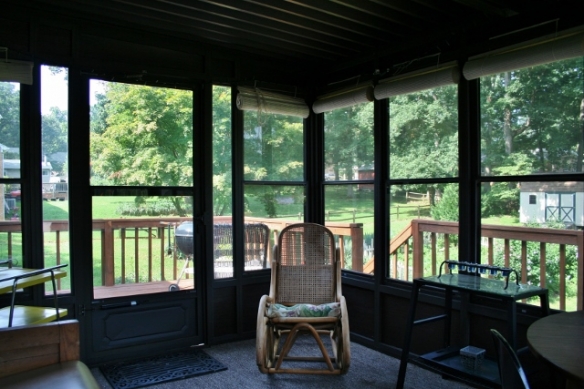 Let's take a little jaunt (and I mean little cause this space is small but packing punches).
I found by moving the table into this corner opens up the room to a lot more possibilities. When it was in the middle of the room, pretty much all you could do was eat in the room. Now, you can eat and have more of a living space.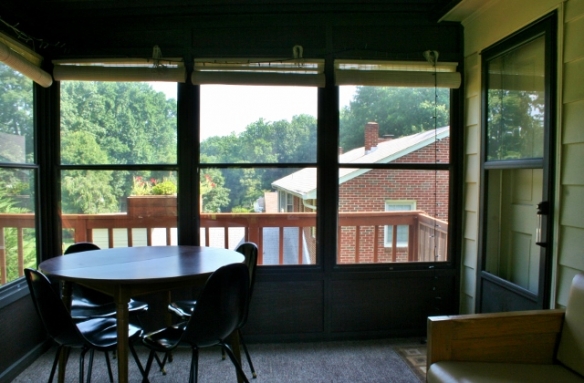 This table was a $20 DAV Thrift Store find. It had what I was looking for: a low price tag, 42 inch diameter, and interesting, geometric legs. Check! Welcome home. Can't wait to paint you some fun color with perhaps a pattern and some highlights around the geometric parts of the legs.


The chairs are really the shining stars of the room so far. I found these for $7 (!!) a chair at a new consignment store down the road. I loooove them so much. So so much. I think I will do a little rub 'n buff on the gold bands of the legs but other than that these babies are done.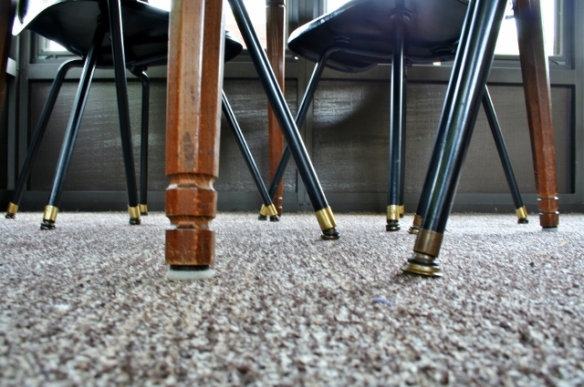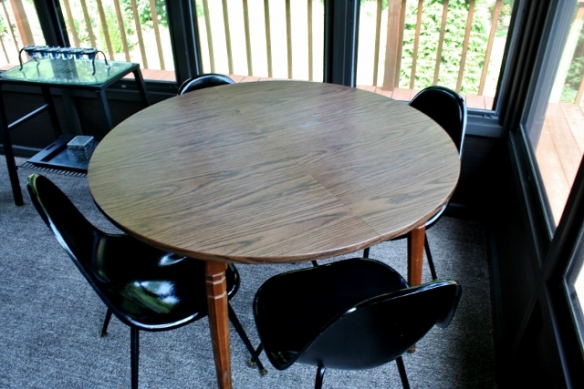 Let's now turn towards the living section of the room. Check out my brand new $25 love seat. Thank you Craigslist. It's exactly what I was looking for. Heck, I found this guy by putting wanted ad on Craigslist (my first) and having someone contact me trying to sell it. I have BIG plans for this love seat. The wood is getting stained and the cushions redone. It's going to be lovely!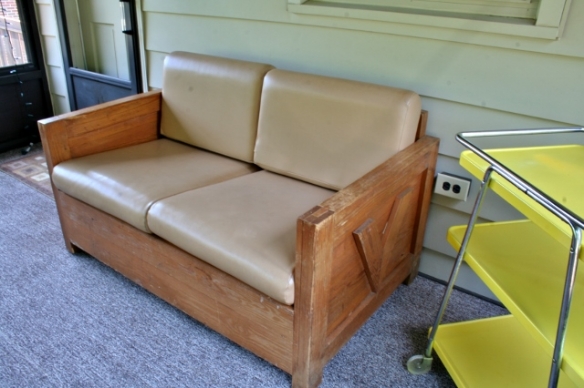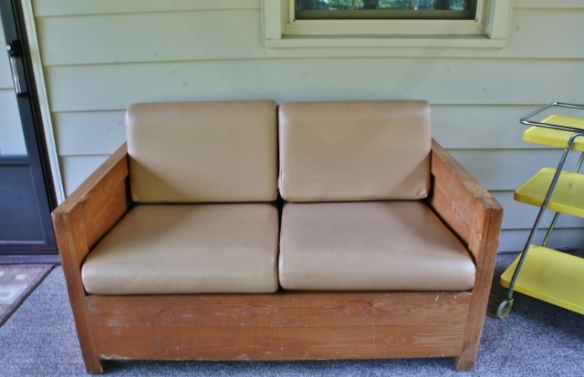 This next find is definitely one that made me pat myself on the back for my planning of the room. I found this 1950s/1960s rolling cart for $30 at an antique store. I wasn't sure what I would use it for until it hit me that it was yellow and would be the perfect, roll-able grill cart for indoor/outdoor use. There was definitely gleeful picture texting to Eric when I found this lovely laddy. I'm also sooo in love with this item.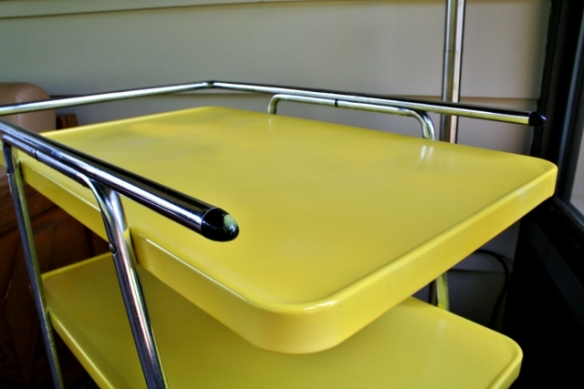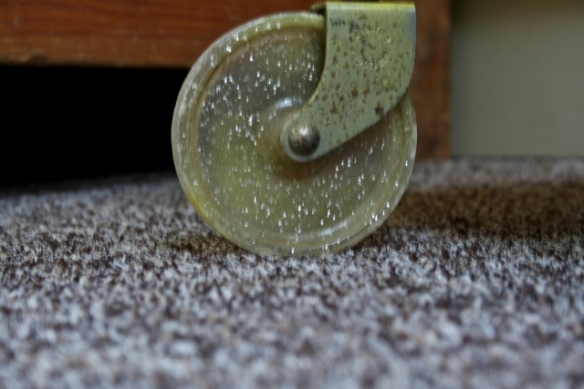 There are also the items in the room that I already had – the rocking chair and a fun little table. These are both going to undergo a makeover too!


Of course there will be all the finishing touches, accessorizing, and small additions along the way, but this is the foundation of the room. I wanted to chronicle the pre-painted/stained/glorified furniture remnants to remember them by because in my head it all looks so different already with my imagination and creativity on high alert. Can't wait to break out my sander and paint brush for these projects!