You've already heard me swoon about my Haven Conference experience, so I won't open that bag again (because gosh darn I don't have my smelling salts to revive me). As I mentioned in that post one of the most valuable things I got out of the conference was a group of lovely blogger friends. As I have been getting to know them and their amazing blogs, I realized I wanted to share all this bloggy goodness with you too! I just get so inspired by these girls that I know you will too.

My first feature is my friend Jackie from Teal & Lime. Fun Fact: I first met Jackie at Haven when I was sitting next to her at the first class of the conference (a photography one). We were both the eager ones up front. I ended up striking up conversation over her…wait for it…teal jacket. That was even before I knew her blog name. Way to wear your brand on your sleeve jacket Jackie! Well done.
Also, this is a very exciting time for her since she just announced her e-course that you can sign up for now. If you're looking to define your style (which is surprisingly hard – I'm definitely still working on that) this is the course for you.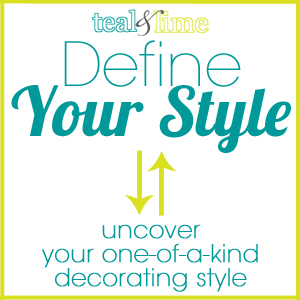 Now, let's settle in for a little Q & A with Jackie!______________________________________________________________________________
Hmmm, where do I start?!  Well, I had another blog before this one, associated with an online store I ran from home.  I loved the blog more than the store.  Sadly, when I got pregnant with my youngest, I got very ill and some things in my life had to give.  The shop and my blog went away.  I missed the blog the most.  I felt empty.  I made it through my pregnancy and my son's first year.  To cope with my empty feeling, I read lots of blogs.  He was only a week old when we bought this house and I was on maternity leave when we moved in. Just after my son turned one, I decided it was time for me to blog again.  This time about the undertaking of transforming our builder basic home into a space that felt like us.
You'll never know until you try.  I always here people say things like "I wander if…" or "how could…" when they talk about potential projects in their home.  I also standby and see those same people never tackle the projects they talk about.  They just ponder.  Sometimes you have to stop thinking and just do it.  Start on something small.  What is the worse thing that could happen?  You are out a few dollars or a few hours.  But, what is the upside if the project is a success?  Pride in your work, money saved, a project completed not just pondered about, a new skill learned, and a home you love.
My top three survival tips as a DIYer are:
Research – Project failures are part of life, but a little research on tools or techniques before starting a project can prevent a lot of them.
Try everything once, then try it again – DIY is hard, so it is important not to judge how much you like doing something just on one experience.  The first time I used a miter saw, I never wanted to again…power tools kind of scare me.  But, I tried again.  Then, I used one to cut every piece of flooring and baseboard for the basement.  Now, I also have my own drill, jigsaw, sander, and brad nailer.
Balance –  I wrote for 31 day series on DIY or Buy.  The topic of how and what we choose to DIY fascinates me.  There has to be a good trade off between money and time to make a DIY project worthwhile.  If you are hardly saving anything, but putting in a lot of DIY time, then I might be better to buy.  If the project saves a bunch of money and takes relatively little time, then DIY is a great option.


What is your favorite way to spruce up a room without spending any money?
My motto is Make It Home, Make It You!  I believe your space needs to be a reflection of you and that you are the best person to decorate your home.  My goal with Teal & Lime is to empower you to decorate your home in an easy and approachable way.
Thanks so much for having me Megan.
__________________________________________________________________________________