My goodness, I love the possibilities that a popcorn tin holds. First, it holds hundreds upon hundreds of delicious kernels of joy. Yum. One of my favorite parts of the holidays. But then it gets empty and then what? Joy over? No my friend, no! You saw I already made one can into an organization holder for my closet makeover. Now I have another use for one: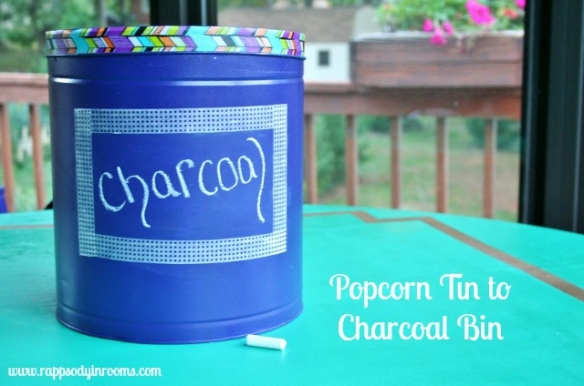 Yes, I am making a charcoal bin out of a popcorn tin. Rhymes help motivate me. We like to keep it old school with using a charcoal grill.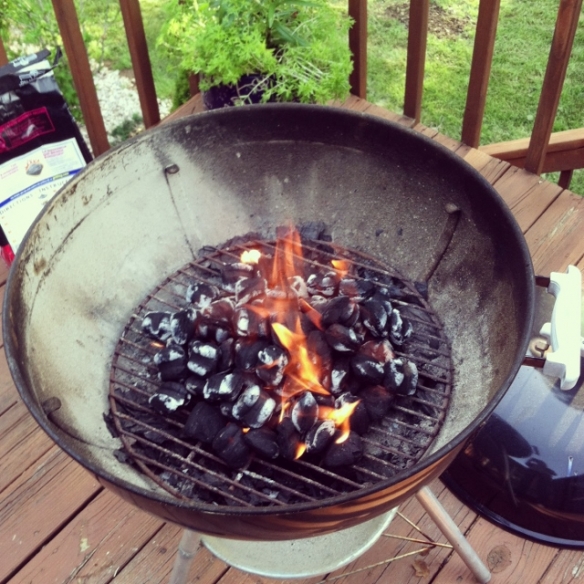 Our charcoal floats around the house. It usually lands by our back door by our kitchen table. Sometimes it floats in the sun room (but not recently since that room is too pretty for it now). Other times it gets left out in the rain (oops) where I later find it ruined and make some of my own flames with my anger (that stuff is expensive!)!
I decided in my sun room planning that we were to have a cart that would be wheeled in and out of the sun room for easy grilling. And on that cart I was determined to have the charcoal. Except for charcoal bags are ugly so I was determined to have a pretty charcoal container. Enter, my co-workers empty popcorn tin (since mine had already been used).
This time the can got coated in navy blue paint.

After that dried I attacked it with washi tape again (see, I told you Wednesday it was here to stay) around the top of the container. The width was just perfect.

Then I was so excited to try out this product: clear chalkboard paint. Hurray!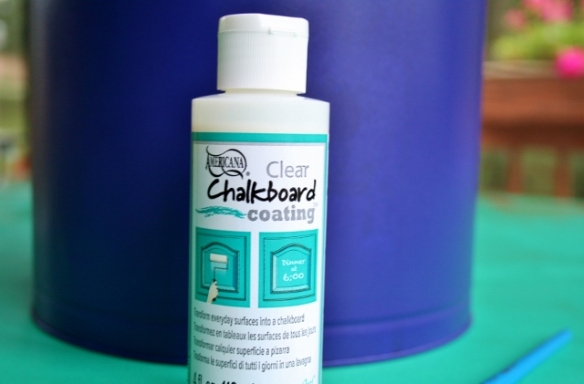 I did my happy dance in the middle of Michael's when I spotted this. I love chalkboard anything but don't love the black look or don't get excited about having to try to make some. This just coats right over any surface and dries clear!
According to directions you apply one coat horizontal and one coat vertical (with an hour dry time between). I did that, waited until it dried, and then taped out a border for it (yes, in washi tape) so it looked more like a label. Then, I put one more coat just to make sure. It's easy to doubt this stuff since you can't see it (and therefore I don't know if it is working or not).
After that cures for 24 hours you need to ready the surface by rubbing chalk all over it. This way your first drawings on it won't be permanently ingrained in the surface (knowing me the first marks would be hideous looking letters).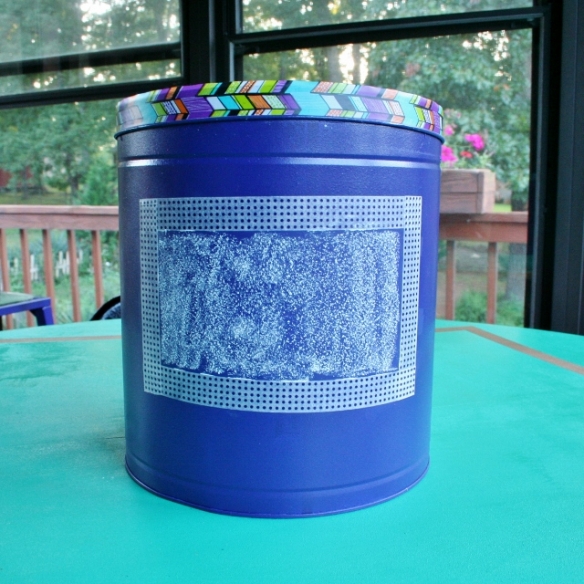 Then you are all set to go! Draw away!





Goodbye ugly charcoal and hello pretty container! Even if we leave it out in the rain it's safe. Now, no surface is safe from my chalkboard paint obsession!
Sharing This Project Here: