Today I am so excited to share with you my first collaborative brand post. At the Haven Conference I met so many great potential sponsors, including Homeright, who specializes in all your DIY needs. We caught up with each other after the conference, and they were generous enough to send me a paint sprayer to try out on a project. They were also generous to offer one for you too! Keep reading!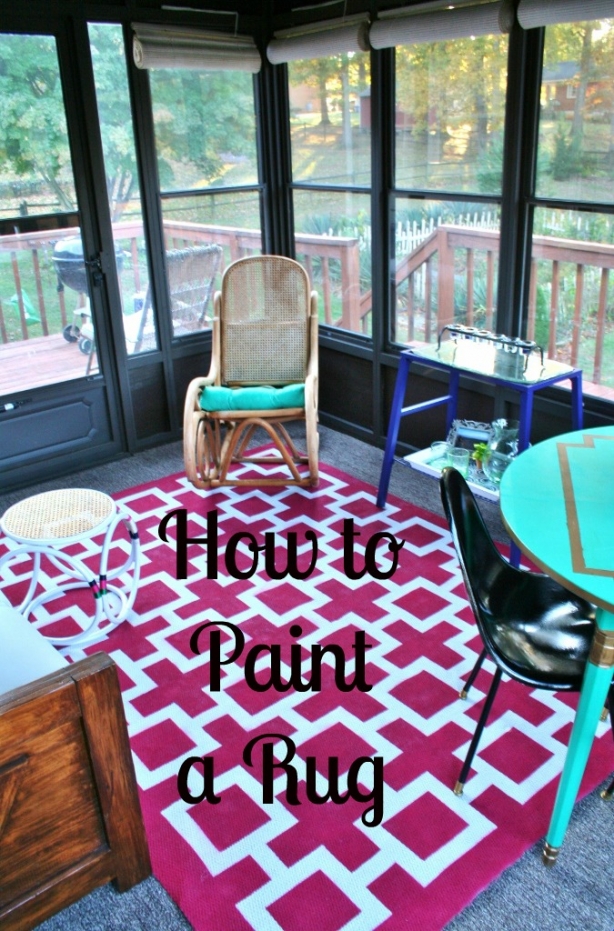 To inaugurate my paint sprayer, I decided to paint a rug. Yup a rug! After doing some research, I decided to smash Addicted 2 Decorating and Almost 40 Year Old Intern tutorials into my own. Here's how it went down.
The Supplies:
Rug from Home Depot
Base color paint (I used Olympic White in Exterior) – You don't need this if you like the base color of the rug
Accent color paint (I used Valspar Duramax color matched with Pantone's Sangria)
Tape (the cheap duct tape)
Drop cloth
Exacto Knife
Measuring Tape/Yard Stick
Calculator/Simple Math Skills
The Process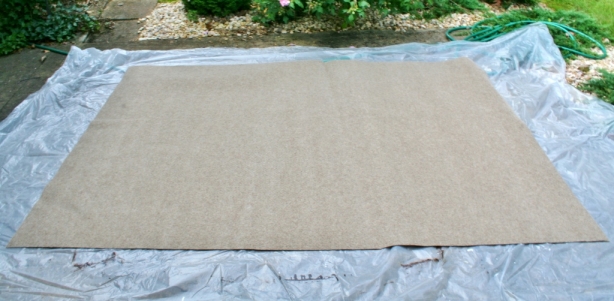 First you need to get your rug the base color you would like. If you like brown (or your rug's color) skip this step. Brown wasn't in my color scheme so I opted to paint my rug a nice bright white.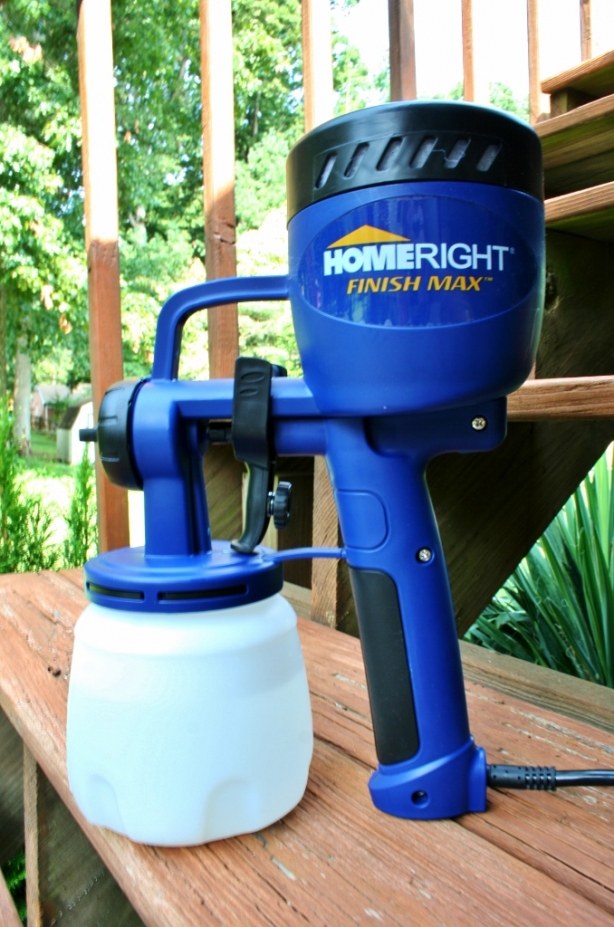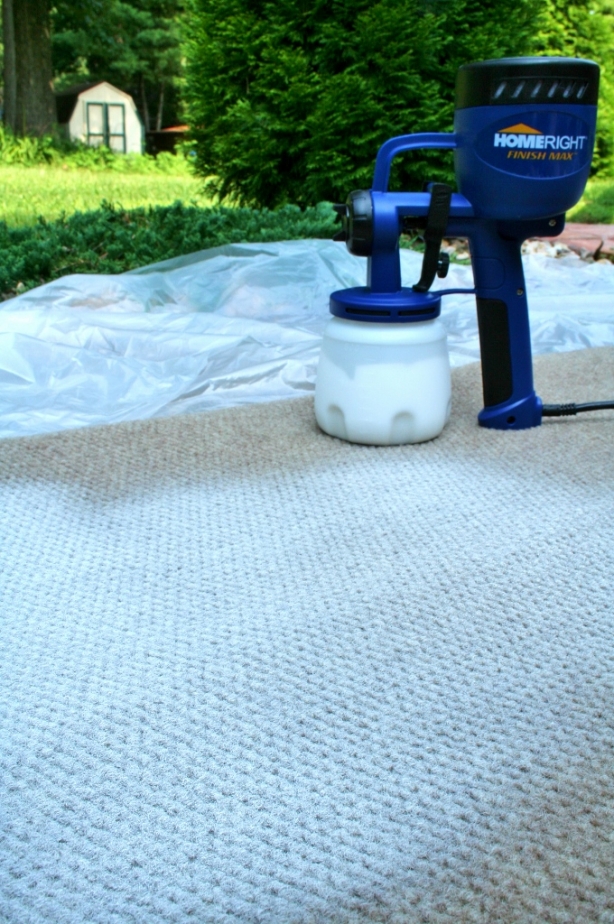 However, it does take time to get a brown rug white. Thank goodness for the paint sprayer! I sprayed the rug 4-5 times (sort of slow to get maximum coverage but quick enough not to get splotches). I found that using the cone sprayer option got me the best coverage. I just started on one end and worked my way down. Then I would wait long enough for it to dry so I could walk on it again and spray another coat.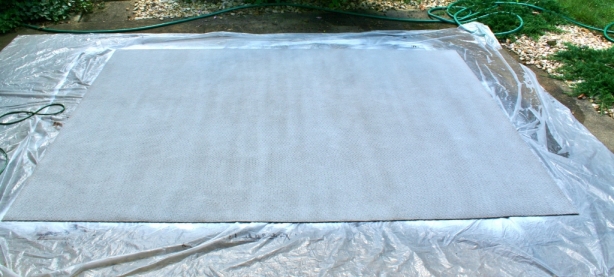 Originally I thought I was going to have to elevate the rug clothesline style to be able to spray paint it. I had this whole elaborate scheme worked up (including buying rope and copious amounts of clothes pins) of stringing the rug up with drop clothes plastered everywhere around it. However, time and hassle was saved when I realized I could hold the sprayer at a 45 degree angle and still get a great stream of paint. Phew, cause that was just going to be crazy.
After the base coat dries (I recommend at least over night) it's time to pick a pattern and get taping. Here is where you need to learn from me. Save some money and time by buying the cheap duct tape. Nope, don't even buy the brand name stuff and for heaven's sake don't buy the $10 really nice painters tape. Want to know why? Because I did. I spent $10 and 3-4 hours taping down a pattern that didn't stick. Temper tantrums might have been thrown. But after a staring contest in the tape aisle for about 15 minutes, I came home with the winner – cheap duct tape. So start with that – please!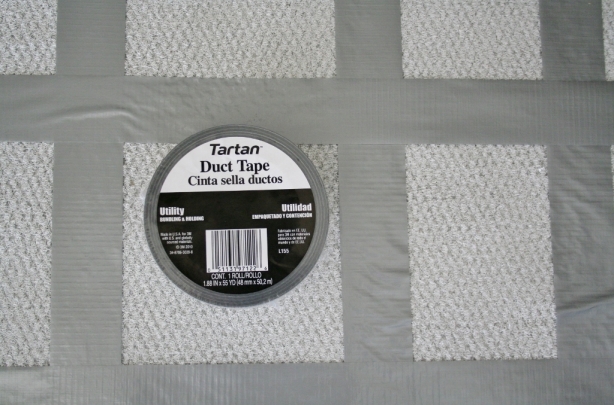 You want to pick a pattern that you can tape out. Whether it's stripes or something more elaborate, it's best done with tape. I decided to go in between stripes and elaborate, using Almost 40 Year Old Intern's pattern as my guide.
Now you have to break out the calculator and grease your math skills. It's time to measure that rug and decide your pattern widths. First, decide how far in you want your pattern to start (aka how big a border you want). Then, use that width and length to make your calculations. First I made vertical stripes, measuring one larger stripe and then one smaller stripe.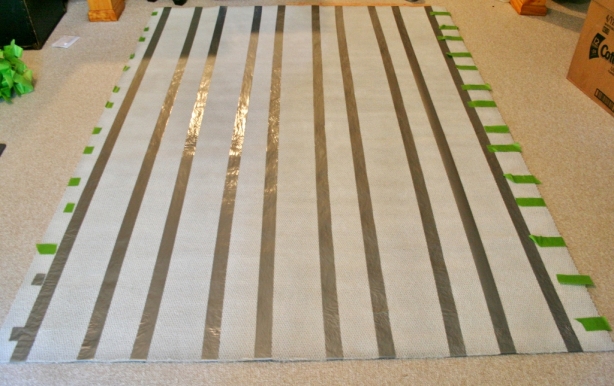 Then, I made horizontal stripes, once again having one larger and one smaller.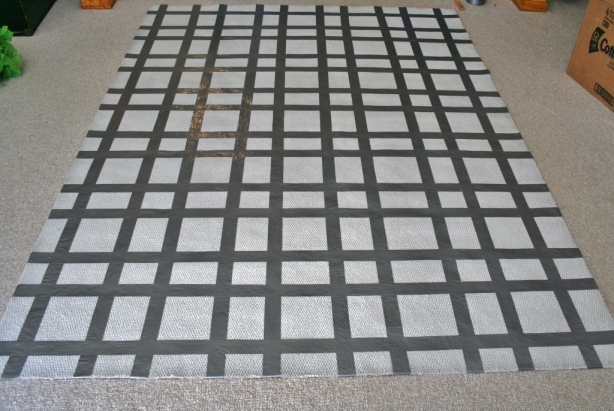 Once you have all your stripes taped down, then take an exacto knife and start cutting out your pattern. You can see I cut out the stripes so I just have a lot of boxes. Once the boxes were cut off I used smaller pieces of tape to connect them. Bad Megan, but I just eyeballed the middle to connect them. It seemed to work out fine. Be warned on this step though cause it takes a lot of time. Like two movies or four 45 minute TV shows worth of time. That really helps make this tedious task better.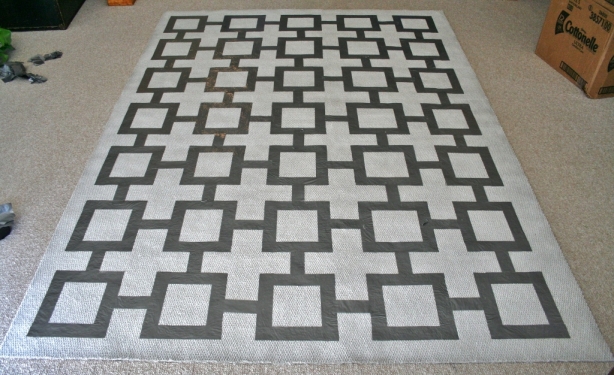 As a final effort to keep that tape down I used my dough roller to roll over the tape one last time to really help it stick.
Next, I did a white coat over the tape as extra insurance of getting clean lines. You have to get your hands dirty a little bit on the first coat since the sprayer's power sometimes lifted the tape a little bit, but once that coat dries it all sticks pretty well. You also learn the "sweet spray spot" where you get good coverage but the force behind the sprayer isn't lifting up the tape.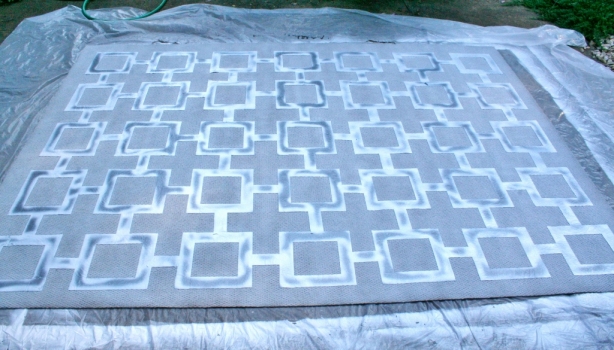 Finally, after the last white coat had dried, I was able to put on my pop of color – Sangria by Pantone (color matched in Valspar's Duramax)! This is really when the happy dances started to happen (since this project had been going on for hours upon hours upon days). The color was gorgeous and it was going on perfectly. I ended up doing three coats of this for truly saturated color.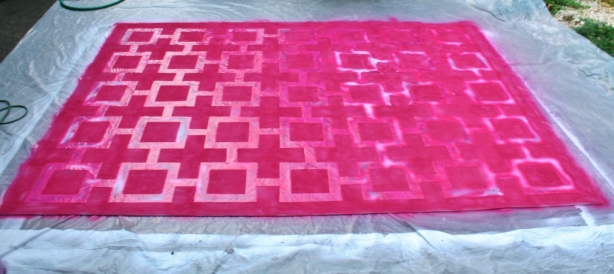 After the last coat dried, it was do or die have another tantrum time. Up came the tape…and out came a perfectly perfect, beautiful patterned rug!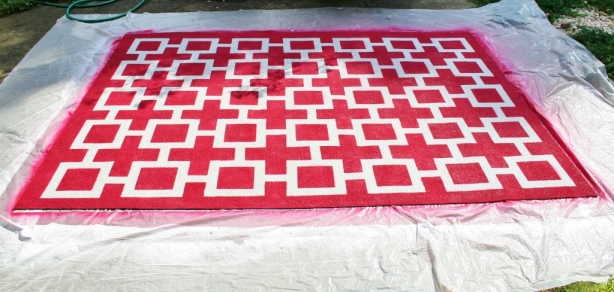 Run a victory dance around your house and then fall to the ground in exhaustion cause this took some time. But man was it worth it.
As extra security I used Valspar's clear gloss protective spray over the rug.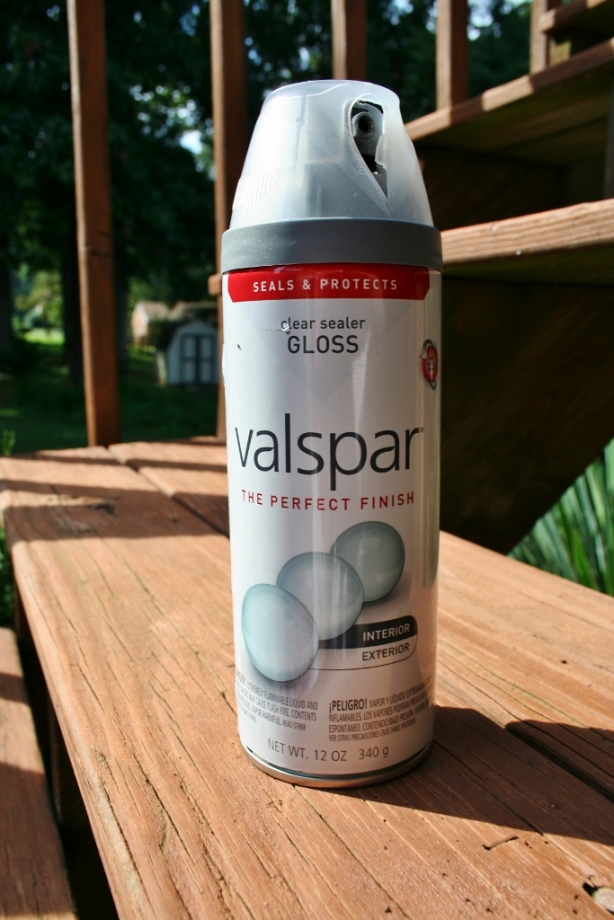 I am SO THRILLED with the results I want to make up a song about it and then film a music video of me dancing on the rug. Instead I will just pet the rug, gaze at the rug, lie on the rug, and hug the rug. I think all the time (and a few tears and a $10 roll of waste tape later) that I put into this rug makes me love it even more. It's something I completely transformed from an average brown rug to a beautiful, geometric beauty!
Now here it is in its permanent home in the sun room. It really adds the crowning glory to the room!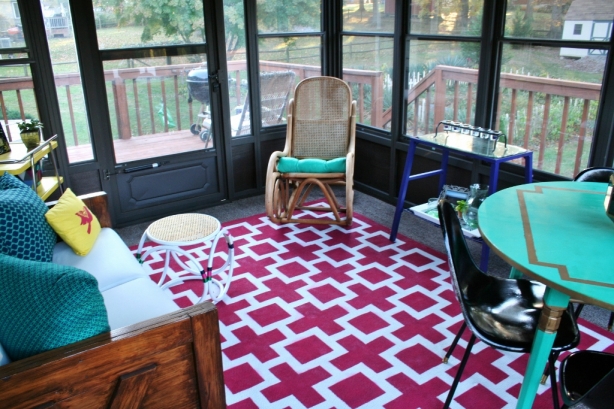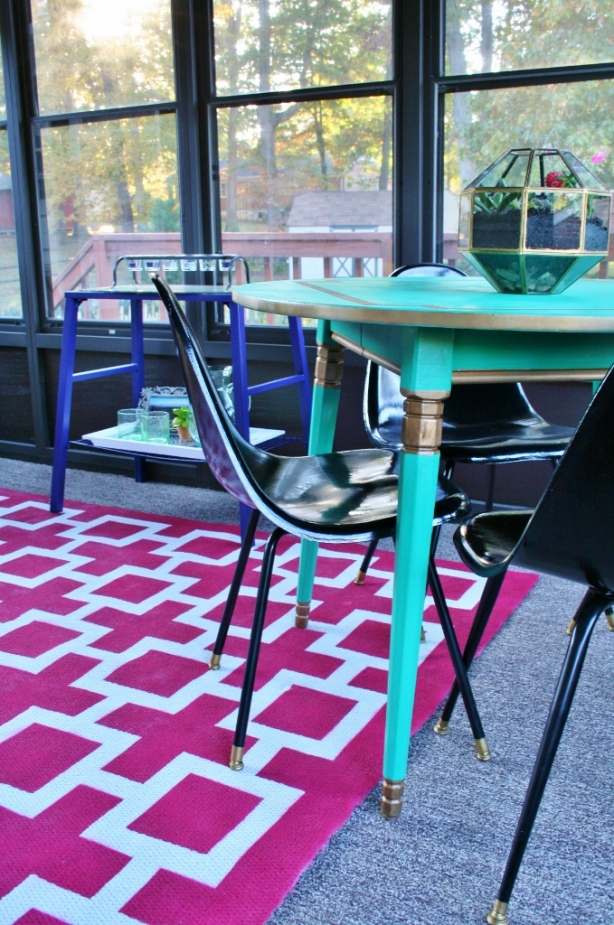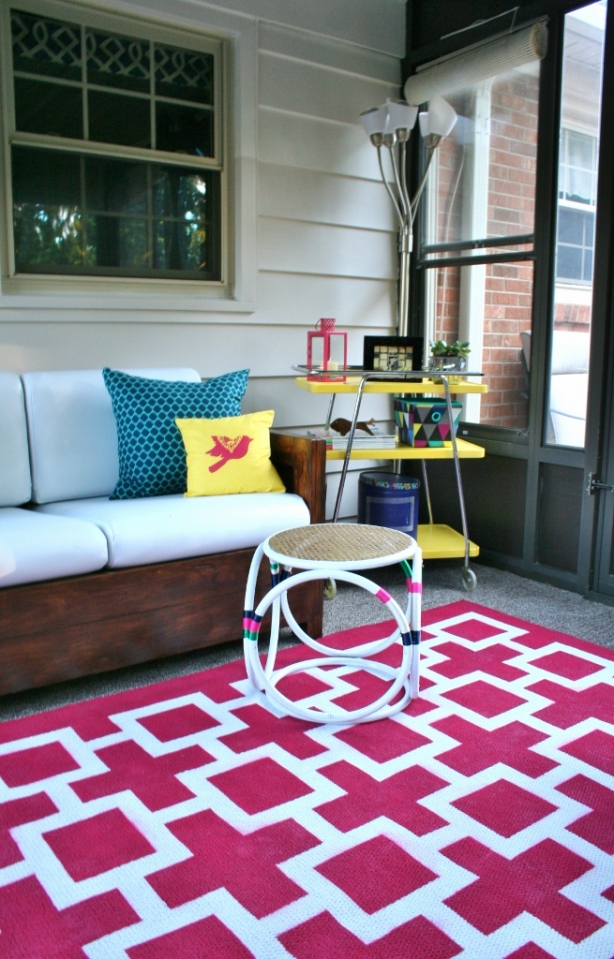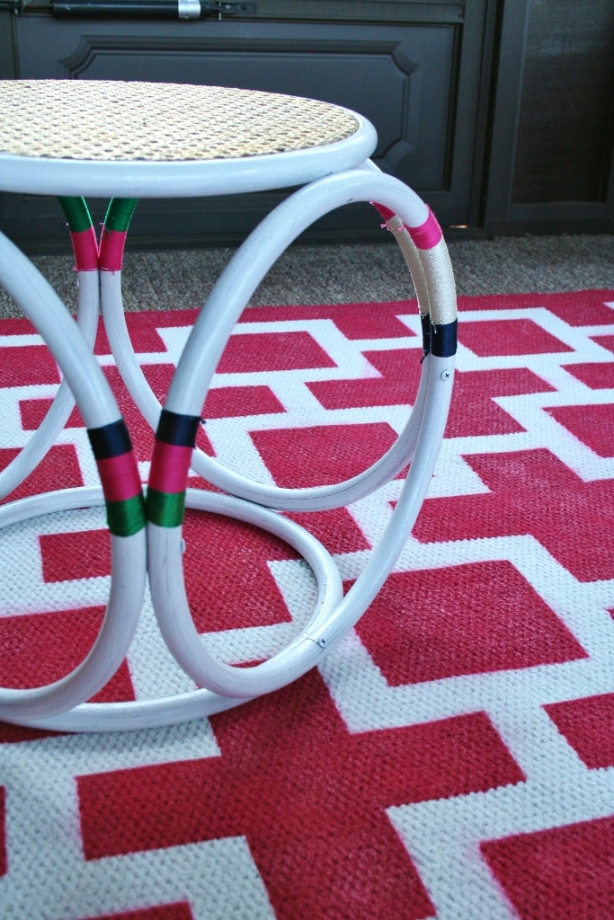 Here's how the cost breakdown went:
Paint Sprayer – a gift from HomeRight
Rug – $18.98 for a 6' x 8' rug (that's a DEAL)
Paint – $50 for two gallons (but if you like the base color of the rug it would just be $25)
Tape – $3.50 for each roll of duct tape and $10 for a lost roll of Painter's tape
Clear Gloss – $4
Exacto knife – already owned
Drop cloth – already owned
Total: $92
Would be $82 if I hadn't bought that extra tape.
Could be $57 if you like the base color of the rug.
So it's not the cheapest project in the world but it's a pretty great price for a 6' x 8' rug! The pride in actually painting a rug and getting to customize it any way you want…well forgive the cheesiness, but that's priceless.
Now, here's the really fun part for YOU! You can win your own paint sprayer to paint anything your heart desires.
Prize: One HomeRight Finish Max Paint Sprayer
Number of Winners: 1 (one)
To Enter: Use Rafflecopter below to enter to win.
Eligibility: This contest is only open for US citizens.
Contest Ends: November 7th at 12:00am
Homeright provided me with their Finish Max sprayer but all thoughts and opinions are all my own.
Sharing this post here: