What does Christmas feel like in your home? Is there a warmth that envelopes you when you walk inside? Is it cozy and cheerful? That's what our house feels like during Christmas. The lights are low and sparkling, candles are wafting cinnamon flavor everywhere, and the (electric) fireplace is making the house a cozy respite from the frigid outdoors. I think this is my favorite part of Christmas – the warmth and love, so I really decided to focus on those elements when decorating. I wanted our home to feel like the heart of Christmas: welcoming, joyful, snuggly, comforting. That is also why I decided to photograph that house in its state I love most – dimly lit and cozily inviting. I hope you feel it where you are.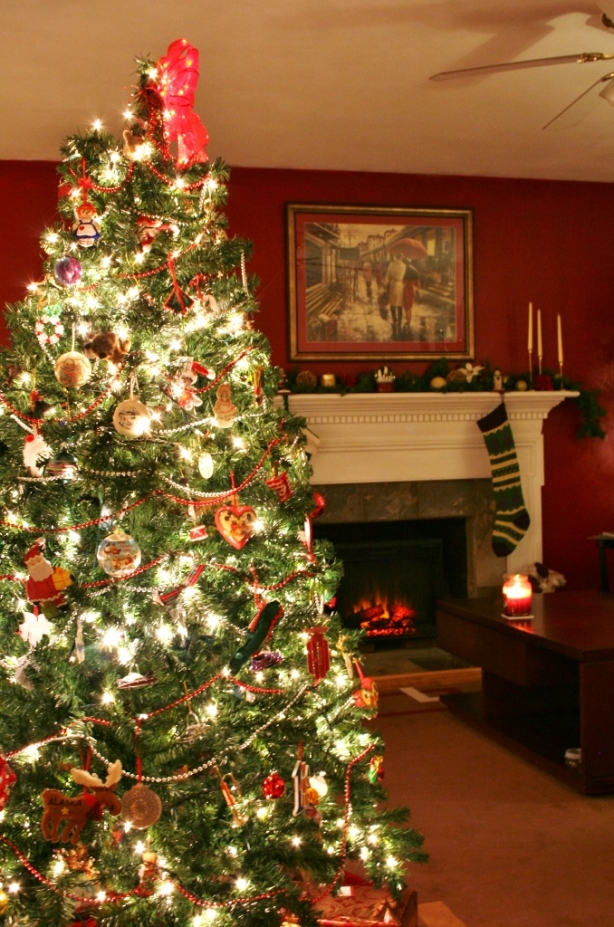 The heart of our home is our living room. This is where Eric and I spend most of our time together. Naturally this is where most of our décor goes each year. Welcome to our Christmas haven.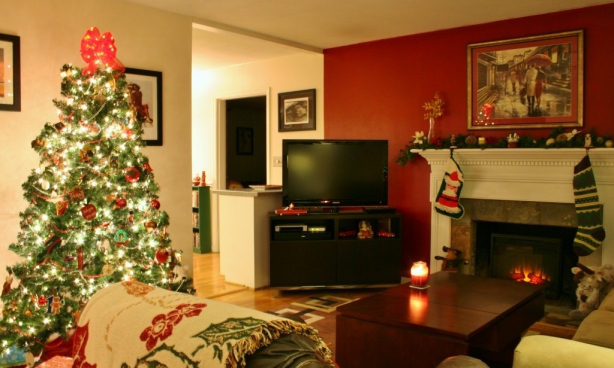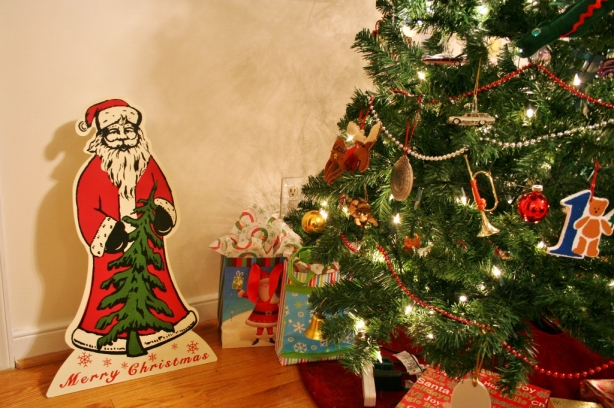 Our room color scheme is perfectly suited for Christmas. The red wall completes all the décor and the green tree and mantle decorations all fit together wonderfully.

Our tree is a wonderful combination of memories. The ornaments represent both Eric and my childhood while also hosting a great amount of ornaments we have gotten together over our 3.5 years of marriage.

The mantle decoration is new this year. In year's past I've just thrown up the stockings and called it done. This year I embraced it as part of our décor and trimmed it up with greenery and glitter (can it get any better than that?!).



I also can't forget my favorite vintage Christmas tree that I was fortunate to get handed down to me by my parents. This was one of my favorite things each year, and I'm so glad to be able to have it in our home.


I also can't forget to include our other tree in the kitchen. It's so delightful and cheery!

We also love, love, love to contribute to making  our neighborhood cheerful and merry during this time of year, so we completely embrace outdoor decorating – mainly lights. We think it just brings so much Christmas spirit to the neighborhood. This year we were ecstatic to see more neighbors than ever putting up lights outside of their home.


The vintage Santa is hands down my favorite outside element. He is just so adorable and happy! I love how he lights up.


Thanks for taking some time to spend in the Rapp Christmas household! If you want more you can check out our 2011 and 2012 holiday tours.
Still can't get enough Christmastime cheer? Here are some more posts for you!
I'll be back with more Christmas posts including creative holiday present wrapping and my Christmas table settings!

I'm doing this 12 Days of Christmas Home Tours with so many other incredibly talented bloggers. Make sure to head over to check out their holiday homes as well!
Monday DEC 2nd
Tuesday DEC 3rd
Wednesday DEC 4th
Thursday DEC 5th
Friday DEC 6th
Saturday DEC 7th
Sunday DEC 8th
Monday DEC 9th
Tuesday DEC 10th
Wednesday DEC 11th
Thursday DEC 12th
Friday DEC 13th
Sharing this post here: