Valentine's Day should be a special day, whether you are single or taken and whether you go out or stay in. Personally, Eric and I aren't the biggest V-Day celebrators. We don't enjoy the set menu and the huge crowds at restaurants. We prefer to have a nice, casual yet special night in. To make it a little different from most nights, I thought I would whip up a little dinner tablescape that is romantic and fun yet simple.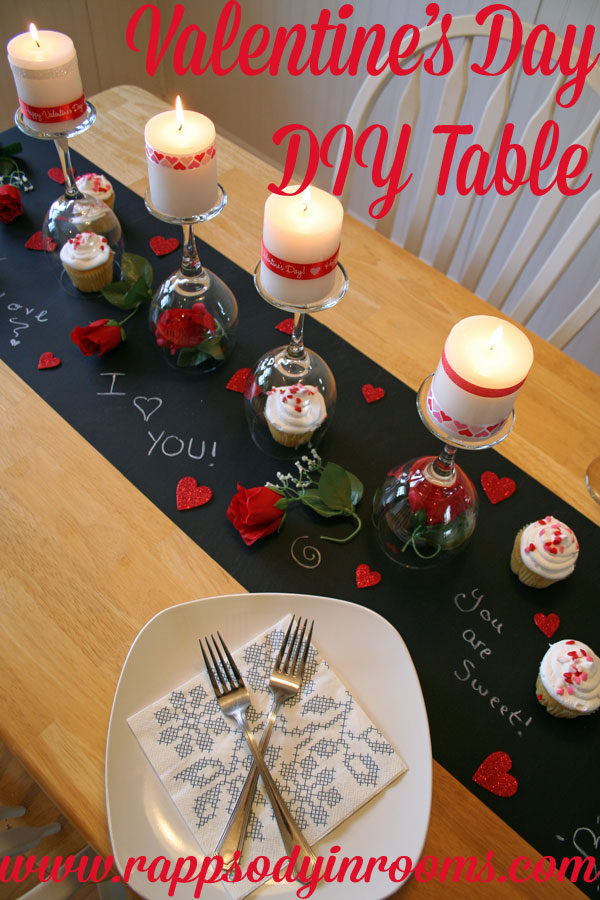 The basis of this tablescape is the chalkboard table runner. It is so simple to make in these two easy steps.
1. I decided to use four sheets of chalkboard scrapbook paper (yes they have this – isn't that awesome!?). I laid them out on the table to the length I wanted and then just taped them together on the backside.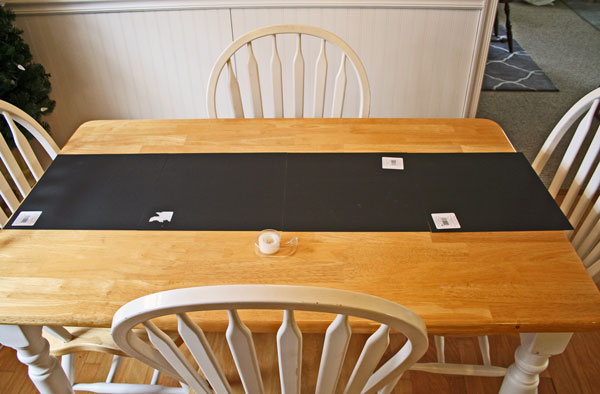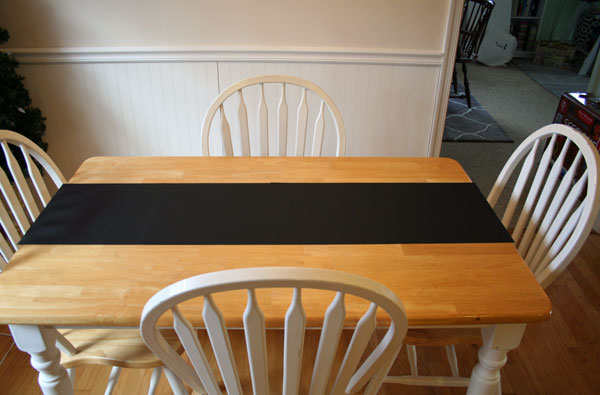 2. After the runner was together, I made sure to season the chalk paper so our love notes weren't permanently on there (although that would be adorable). All I had to do was rub a piece of chalk across it and then wipe it off. The table runner was now complete and ready for words.

Before I chalked up my runner with flowerful words I needed to put the wine glass, cupcake, and candle centerpiece together. To do this I used:
4 wine glasses (use what you have or buy them at the dollar store)
4 small pillar candles
A bunch red roses (real or fake)
Valentine's Day cupcakes (Tip: Buy these at the end of the day when the bakery marks down all their fresh baked goods from that day. I got mine 50% off and they were still fresh and delicious.)
Glitter tape
Valentine's Day ribbon
Decorative hearts

First, I placed the wine glasses upside down on the chalk table runner. I decided to use two different sizes to give a slightly stacked look.

Next, place a cupcake or flower under each wine glass. I chose to do every other. My flowers were fake so I was able to wind them up a little to make them sit up in the glass.

Finally, place the candle on top of the upside down wine glass. I decorated mine with glitter tape and ribbon (just taped around it) to make it more festive.

Since I had leftover cupcakes and roses, I strew them around the runner as well.

As a finishing touch I wrote sweet little  love messages all over the runner.

Now light those candles and enjoy a delightful date night in!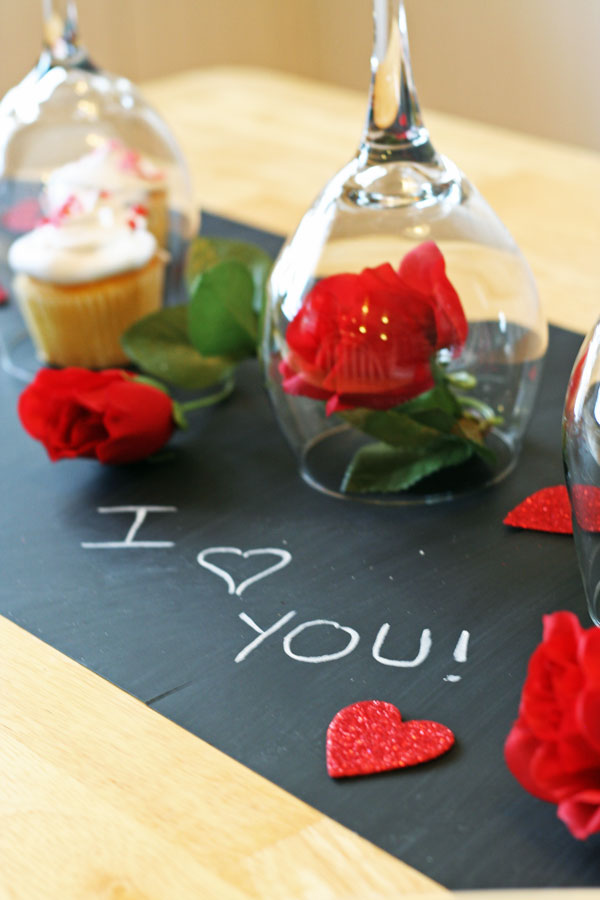 What are you Valentine's Day plans? Any projects up your sleeve for this day of love?
Sharing This Here: