Ok, here it comes. I'm already hearing the hippy jokes and the cheap skate jabs. But I'll take them. Nay, I'll embrace them. Because here I am completely hooked on homemade household cleaners.
It all started when I realized how easy homemade cleaners are when I made all your basic cleaners with just four ingredients.
Money savers and cleaning perfection.
I wanted more! But for less. Are you with me?! It's what we all want.
I've moved onto a homemade laundry detergent. Why laundry detergent? Well it all came down to the simple fact that I was almost out. So I thought why not give it a shot?
As I started researching recipes I almost bailed. The goal here is to make cleaning easier, while still effective, and save some money along the way. However, when I repeatedly saw soap grating and slaving over stove to make it, I was out. Then I stumbled across this oh-so simple recipe on One Good Thing by Jillee.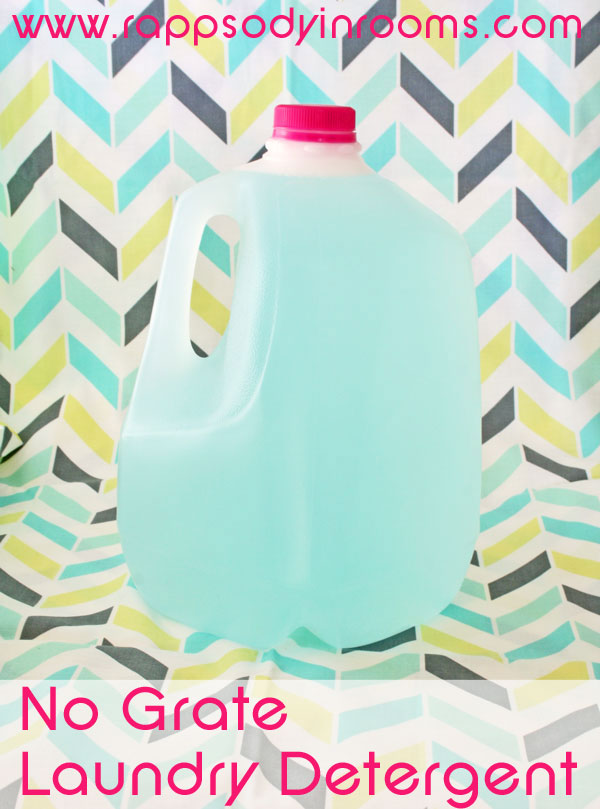 It was only three ingredients (plus water), pennies a gallon, and no grating or cooking required.
No Grate Laundry Detergent

1) Pour the three ingredients into a gallon container (I used a thoroughly cleaned milk jug).


2) Pour 4 cups of boiling water into the container and swirl until dissolved.

3)Let cool and then fill container with cold water. Make sure to fill the container up to the top with water – not just suds. Let the suds run over while filling. You will still have plenty of soap inside.

A Glitter Precaution: Dawn is recommended since it cuts grease. However, it is such a cut-to-the core cleaner that I am choosing to not use this detergent on my fancy shirts with sequins or glitter in case it  could strip it. It would probably be fine but I just have some blingy shirts that I love so much that I was wash them very carefully.
Use about 1/2 cup to 1 cup per wash. Yes, it seems like a lot but it is a thinner detergent. However, it uses so little ingredients and is so easy to make, I don't find that to be a deal breaker. I will probably end up making a couple of gallons at a time just to be more efficient. Still, those boxes and bottle of ingredients I bought will probably last me years! Take that $8 store bought detergent.
The result is still super fresh clothes that are very clean. I can't tell a difference whatsoever in my clothes cleaned with my homemade detergent opposed to a store bought detergent.
I'd love for you to try it and tell me what you think! Are you as hooked on these homemade cleaners as I am? Why didn't I know it was so easy before!?
Amazon affiliate links are included in this post.