Sometimes I feel like I live my life by the Tim Gunn mantra "Make it work". I'm good with that because I think it is such a great saying that can be applied to so many areas in my life (I even have this saying posted above my desk at work)!
I'm especially liking this as I try to simplify my life by getting rid of the stuff cluttering my life and living a little more minimally. I'm definitely taking baby steps in that area but I was so happy to make a few little changes in the living room that made me feel resourceful. I used what I had (with a small tweak) and had a make it work moment.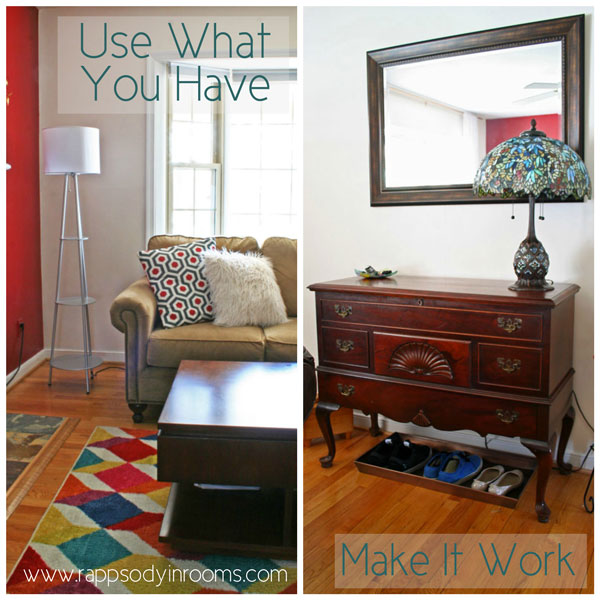 My Use What I Have Moment
The first one was in regards to this fiscus plant.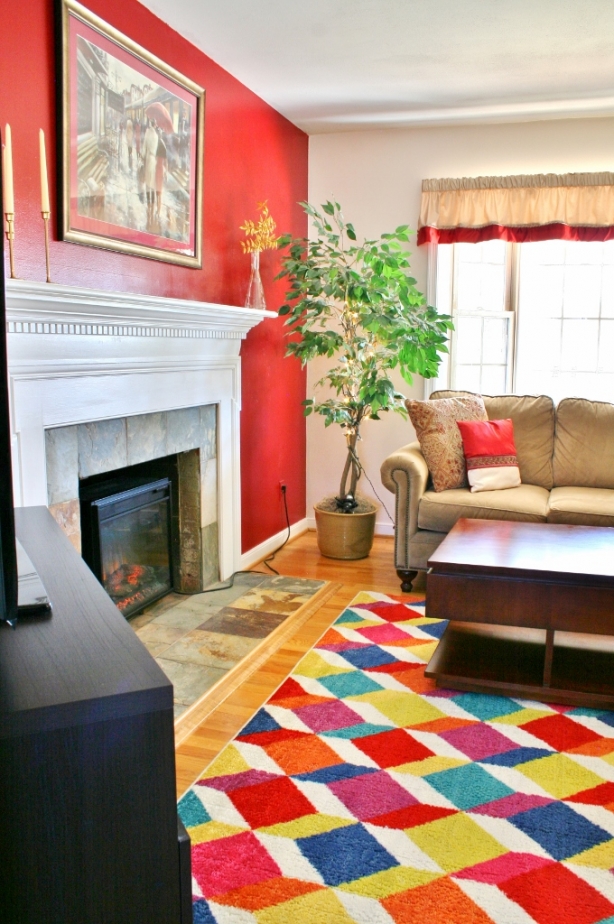 It was a hand-me-down from my mom but it had definitely lived its life and purpose in her home and ours. It was in good shape but it just wasn't the look and feel we wanted for the living room. However, we loved the ambient light it gave out with the Christmas lights on it all year round.
When looking for something new for that corner we knew having low lighting was the number one priority. It also needed to have height to fill that corner.
After hours of online shopping we couldn't find something that we loved. Feel slightly frustrated I took a trip around the house, thinking perhaps we could cobble together something for that corner. I came across this silver lamp from Target a couple of years ago that had the height and interest that could perhaps work in that corner.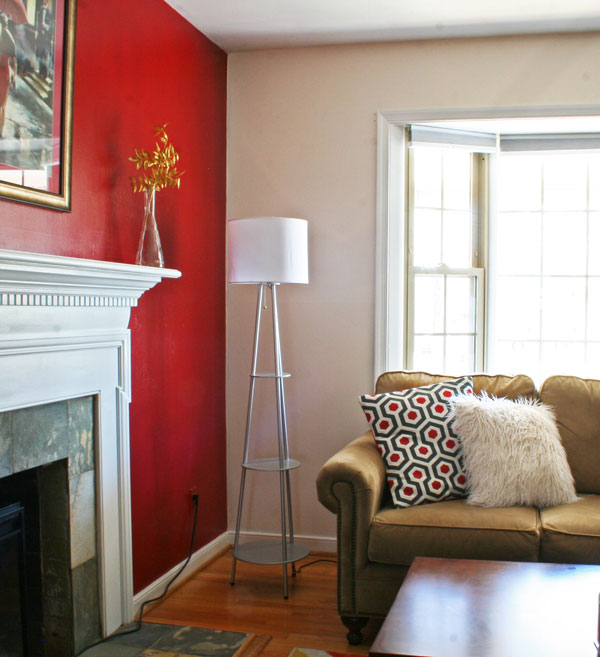 We put it into place and immediately LOVED it! I was thrilled that something not being used that was just cluttering up our basement was the perfect fit! However, it wasn't the perfect color. That light silver look wasn't jiving with all the gold and brass.

I used the same spray Design Masters 24 Karat Gold that I used on the electrical conduit curtain rod to make it blend with the room more.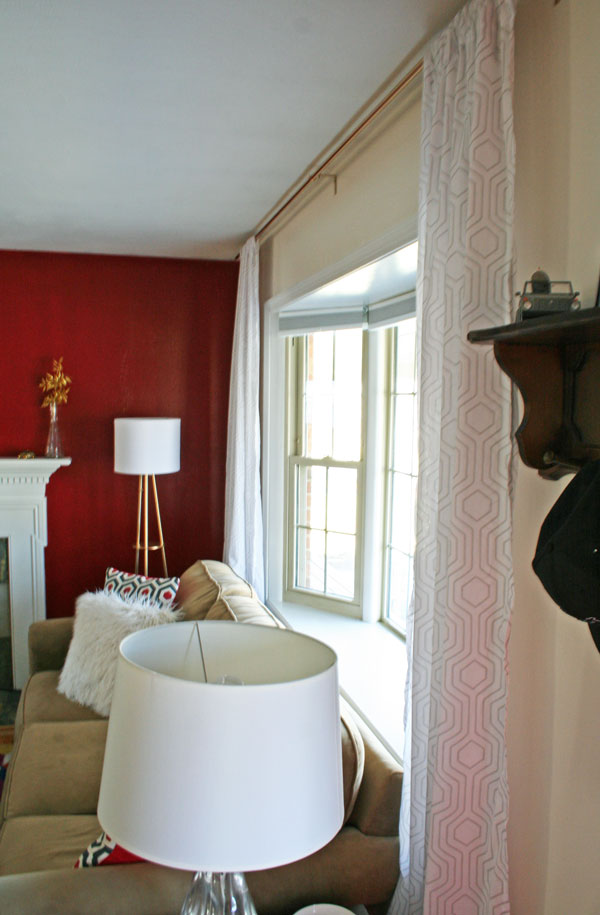 What a change it made to this budget lamp! It definitely had a more upgraded look, plus it blended with the room better.
My Make It Work Moment
We have a beautiful entry way table in our living room. Not having an official mud room or entry way, this and our entry way closet are the only organization and catch-all centers when we walk in the door.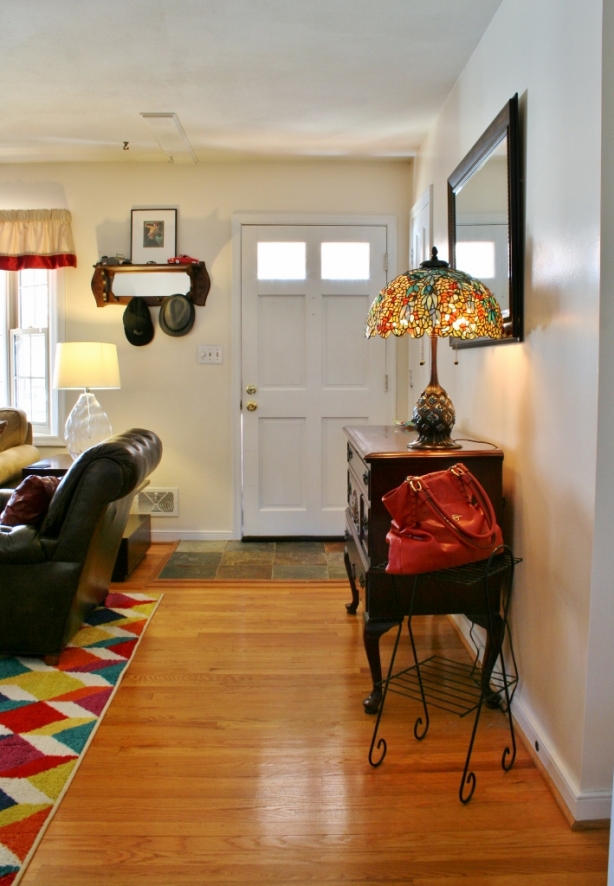 Our closet is working really hard and is filled to the limit with car cleaning supplies, coats, hats, and gloves.
The top of our entry way table is a great place to put keys in and as a holding zone for items going out the door.
The one item that wasn't being cared for in our entry way area were the shoes. Eric is quite the connoisseur of shoes and his exquisite collection tends to hang out in 2-3 pairs by the front door (I keep all of mine in my closets for the most part).
At first I thought we needed to purchase a whole new entry way table to solve the shoe dilemma. I wanted a cabinet that the shoes could be stored in so I didn't have to see them.
Then, I realized that the shoes were the only problem at this point. Instead of getting rid of what we had and replacing the table, I knew I could make this work (and save money and be more practical). I stumbled upon this copper boot tray online at Target and knew this was the solution. The size and color were perfect for the room.


When I got it and slid it under the table, I knew this had been the right decision. No, it doesn't hide the shoes, but really, who cares? Would we really open the cabinet every time we needed to put our shoes away? Probably not. This was also a reminder that I needed to remember that we live in this house. It's definitely not a show room. So who cares if we see our shoes? They're pretty – and this is practical.

I am oh-so pleased with this make it work moment. All it took was $25 and an open mind!
Have you had any use what you have or make it work moments in your home? Share in the comments below!