Let's talk fashion, shall we? Especially now that it seems like winter has turned the corner into spring and we are able to turn to our fun spring wardrobe of bright colors, light layers, and fun pieces!
Ever since I shared my first Stitch Fix review I have been itching to schedule another one. I just loved the idea so much. You sign up, fill out a style profile, and schedule a box. Then a box of five items arrives at your doorstep and you have three days in your home, with your complete wardrobe, to try everything on and really decide what you want to keep.
I just love it. It simplifies the shopping process, you get access to unique items that may not be available where you live, and it helps push my style by providing items I may not have initially picked that I end up loving. Plus, you can leave notes for you stylist and ask for certain pieces based on what you are needing at that time.
For my March Fix I wrote to my stylist Melissa, asking for a denim jacket, a more casual blazer, a dress for graduation, some colorful pants, and anything sparkly. What did Melissa send? Exactly what I asked her – plus a sweet note explaining why she picked everything. Unfortunately the jeans she sent me didn't fit and it would have been indecent to share a picture with you. Here are the four items that did fit and were decent to show you. 🙂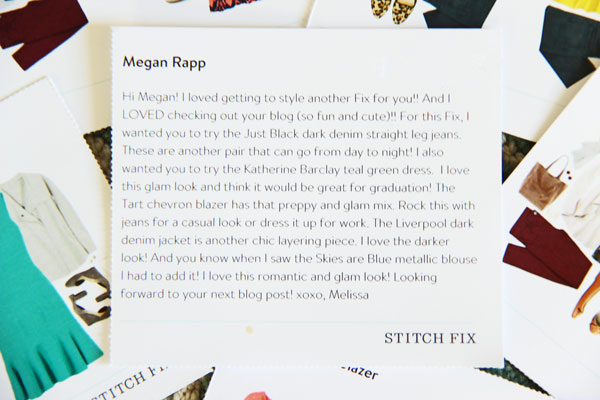 Brandy Metallic Chevron Blouse by Skies are Blue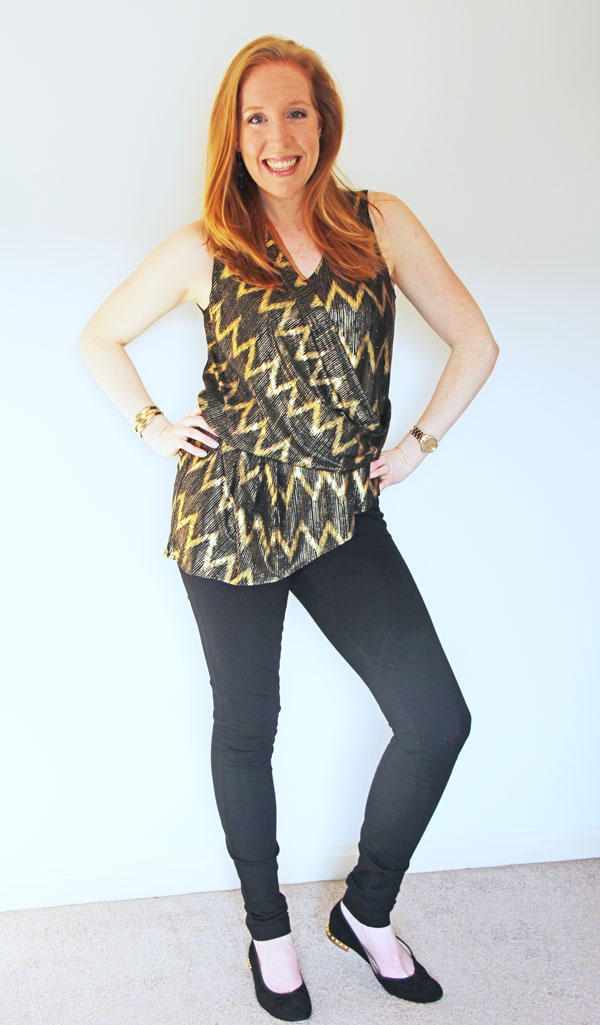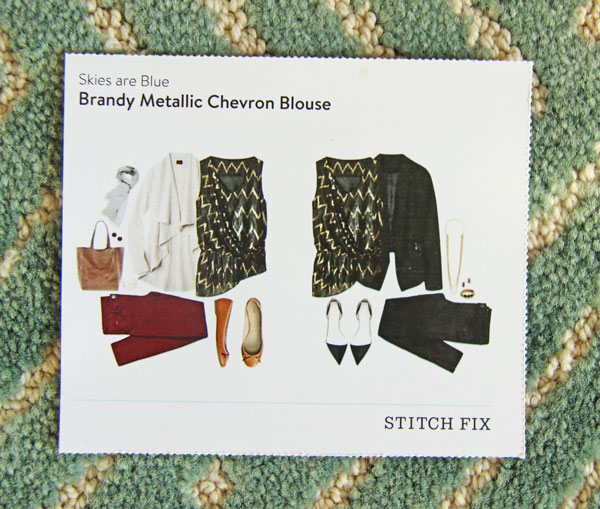 Oh sparkly shirts, you are my love! I basically want my entire wardrobe to be either sparkly or a bright color. It hurts having to return a piece that is so fun and sparkly. Ultimately I did decide to return this one based on the profile it created. All the different draping and the a-line symmetry in addition to the blouse-y fabric didn't make it the most flattering. Sigh. So close but if it isn't amazing and something I am constantly reaching for, I'm not keeping it.
Returned.
Kaylie Chevron Blazer by Tart



I slipped this blazer on and it was like angels singing from the heavens. This classy, structured, yet fun blazer literally feels like wearing your favorite, old, beat-up sweatshirt. It might be the most comfortable piece of clothing I own. It is so soft, stretchy, and just forms to your body while also providing a structured look. Plus, the fun pattern really kicks it up a notch as blazers go.
KEPT!
Syriana Dress by Katherine Barclay 


Oh dress, how I love your color. Unfortunately I felt like a mermaid wearing this (in a bad way). As many women would probably agree, my middle area is my most sensitive body image area that I try to camouflage when dressing. My middle just felt too exposed here, and with the added flounce on the bottom it just didn't flatter me.
Adding some bling at the neck helped balance the flounce at the bottom, but it still wasn't jiving for me. Also, adding a jacket (see below) definitely helped balance the piece out. However, I am not going to buy a dress that I can't take my jacket off. But did I mention the glorious color? Melissa, keep sending that color!
Returned.
Raina Dark Denim Jacket by Liverpool


A jean jacket with stretch is essential. This jacket definitely delivered on that front; it was so comfortable and not confining. I thought about keeping this one but realized that I would prefer a classic jean color in a jacket. Oops, should have told Melissa that. BUT I actually like that she sent me something different from the million jean jackets you see around. I like being pushed to try new things out fashion-wise. This was definitely a close one.
Returned.
Not pictured: Jake Straight Leg Jean by Just Black

Didn't fit! 🙁 It's ok, I have the magical jeans from my last Fix! 🙂
What do you think about my Fix this time around? Pieces I should have kept that I didn't? What's your favorite of the four I showed?
If you are interested in getting your own Fix, you can hop on over and schedule yours now. This is a referral link for me and I would be forever grateful if you used it when signing up! Plus, once you sign up and start getting your Fixes you can pass around your referral link to friends and family and starting getting credit too!