What's green, blue, and sparkly and screams Megan?
That would be my new hexagon sparkly artwork piece that I whipped up on Saturday afternoon while watching American Idol on Hulu (ahem…for the second time because I like it so much I watch it twice #noshame)!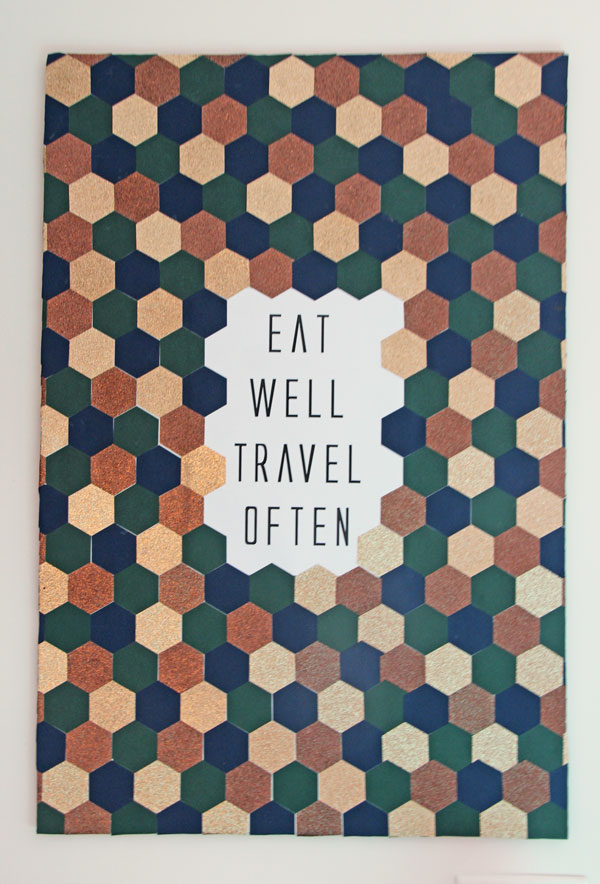 I got the idea from Tara Dennis and initially thought about making a hexagon accent wall where my TV is. Then my hexagon cutter (affiliate link) came in and it was much smaller than I thought and that project would have  literally taken FOREVER.
Instead I decided to make a smaller artwork piece with one of my favorite sayings, "Eat Well Travel Often".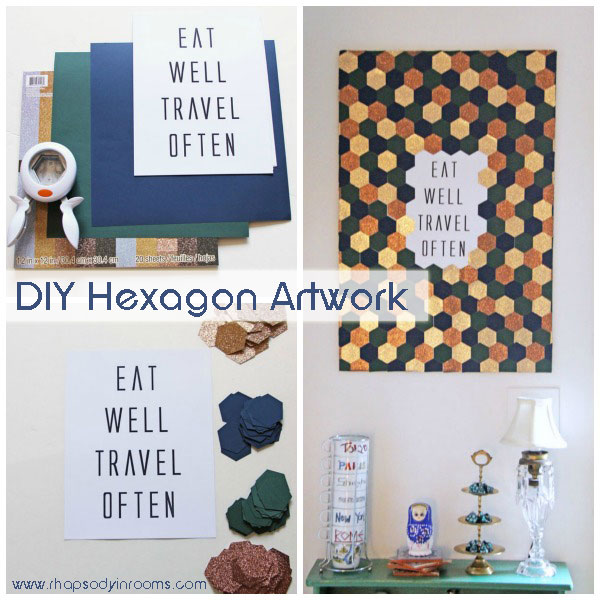 I had just the place for it too! Above the bookcase in my dining room nook. The perfect saying and the perfect place for the artwork.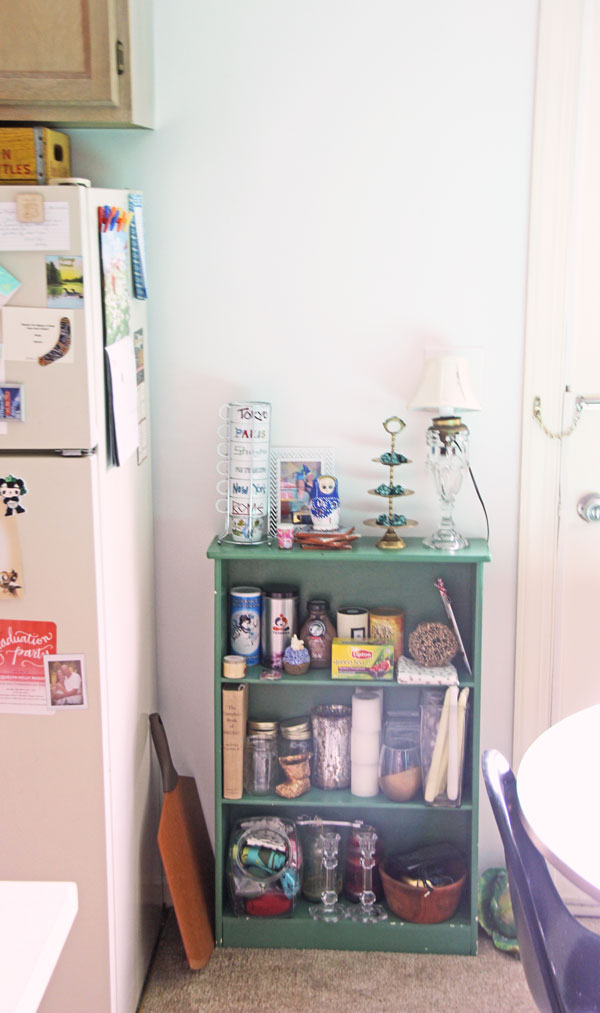 I made a few different versions of the saying using different fonts and decided this one was my favorite. Then I gathered a couple of sheets of scrap book paper in the colors I wanted to use: emerald, navy, and  neutral sparkles!

I cut out a stack of hexagons in each color (I ended up using about 2 sheets of each of the four colors I used). Then I taped the saying in the middle of a piece of foam board and began to glue the hexagons in random order, moving from the top left to right.

It definitely took some time but I find crafts like this a fun way to spend an afternoon.

Since I was fancy-ing up this corner of the room anyways I decided to reorganize the bookcase as well since it was starting to look a little cluttered. I was also able to purge a little more too. More stuff be gone! Although some of the stuff also just relocated to a place that made more sense.

When I stepped back to look at the final result, I was just so, so, so happy! I think it reflects my style perfectly – my favorite colors, the sparkles, and the saying that is exactly how I feel about my life.

My favorite time of day to gaze upon this little corner is between 3pm and 5pm. The afternoon light literally floods my sweet little apartment and makes it a golden place to be. Now it also sparkles when the light hits the artwork!

I have a lot of different colors going on in this piece and I was thinking that it would also look really nice to pick one color in a couple of different shades….just an idea floating around!