Sparkle. Glitter. Shine. Gold. Metallics. If you've been around these parts much at all, you know those are typical words in my everyday vocabulary. I can't help it. I'm a girl with a love of all things shiny and glittery.
To me, all that glitters is good all year round, but it's not for everyone. However, come holiday time it seems like everyone jumps on the glitter train. Welcome to the fun side of life, in all its sparkliest best.
Sometimes I like things that are full on bling (ok, most of the time) but then there are times where I appreciate a subtle sheen as well.
I thought I would round-up some of my favorite blingy things that you can use all year round but are especially appropriate this time of year as well. All these items are gathered from Kirkland's who has a GIANT array of metallic and shiny objects on their website.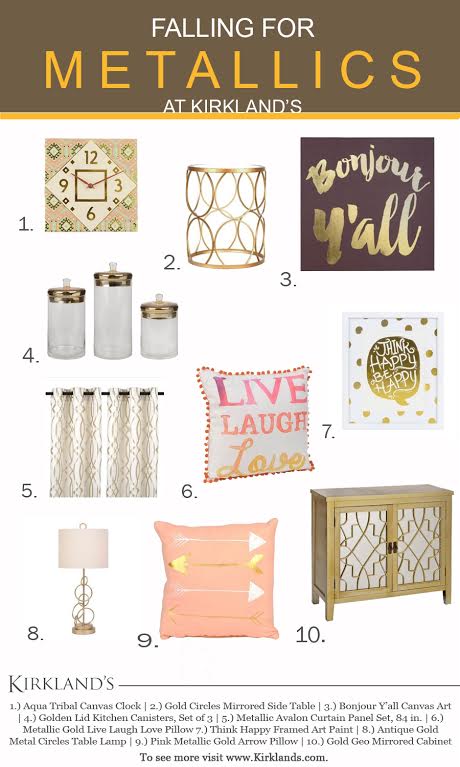 Which one if your favorite? I would definitely have them all but the one that really captures my heart is surprising even to me. That "Bonjour Ya'll" canvas just kills it for me.
I live in the south but have staunchly refused to say ya'll ever. I hold on to my "you guys" New England phrase. But a canvas that marries my love of living in the south with my love of traveling (and France) is a definite winner. Ok, I think I've talked myself into buying it. [In all seriousness, I literally typed that sentence, found out it was on sale for $9.99 and bought it. And this is coming from a non-impulse buyer. It will be here next week. #winning]
This post is not sponsored by Kirkland's. I'm just sharing my genuine love for the things I've found there. Plus, they helped me with the graphic which was just super cool.