What is it about moving that makes me all nostalgic and think-y and reflective? Ok, some of those things are how I feel a lot in general, but I can't tell you how often in March, leading up to my move, I just stood in a room of my apartment gazing at the half packed boxes, bare walls, and packing tape and just thought. And I thought hard.
I thought about the person I had become in the past year and a half in that apartment. Of the tears, the triumphs, the moments, the laughs, the dance parties, the people, the loneliness…just every single moment of my life. It is just normal life stuff we all go through but it was my life stuff. It wasn't always easy or fun but it sure was meaningful, every second of it…and some of it was darn fun too. I just got so grateful and my heart just seemed to overflow with thoughts of goodness when I looked around at the comfort those walls provided me.
I didn't move far, and I didn't move to an unfamiliar place, but it still feels substantial to me. A new, fresh start. From a quiet apartment complex in the trees to the concrete sidewalks of the city, with festivals and restaurants around every corner. It's the perfect move at the perfect time. But still…memories.
Ok, enough mumbo jumbo jabber as I reflect on the past season of my life. I thought it was important to capture what my apartment was looking like before I started packing. This isn't staged, it is just how it was pretty much every time I would walk into my apartment at the end of the day. My final apartment tour…also, I took these pictures at dusk. Seems appropriate right?
The Living Room/Dining Room/Kitchen
This room was pretty much finished. I didn't have anything else I was really wanting to do. It was done!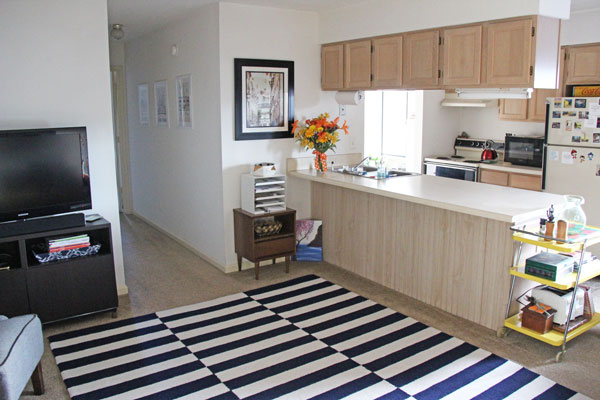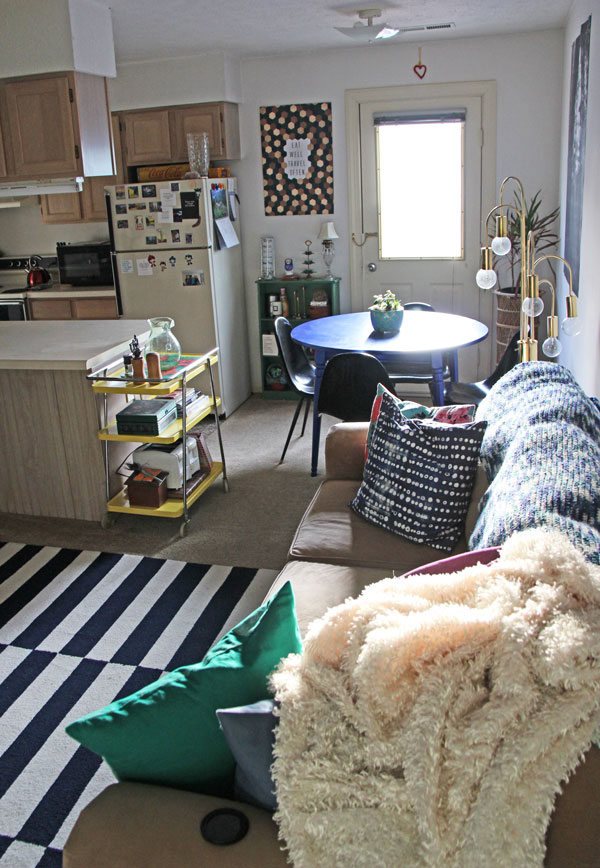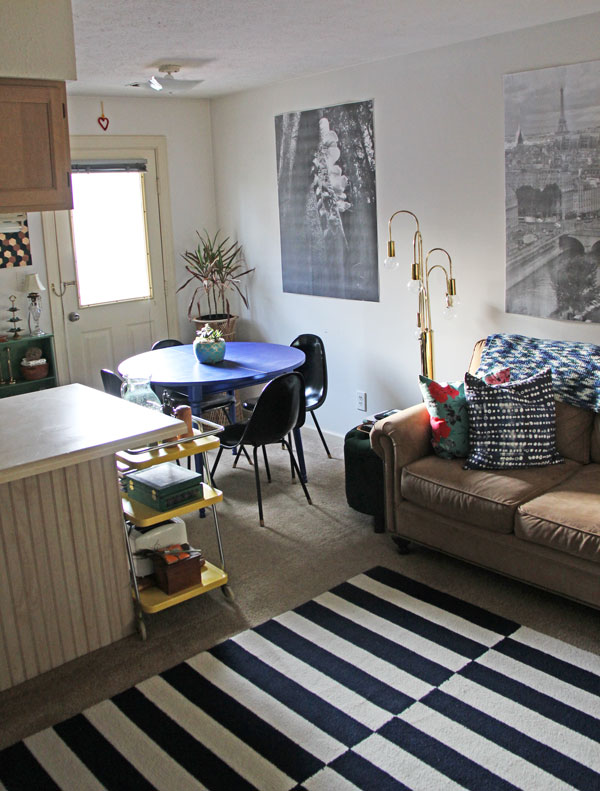 The Studio
This room was a fun, colorful catch-all room. It is where I did my Stitch Fix photo shoots, stored all my craft supplies, and had guests sleep. It got the best sun light of all the rooms and just overall made me happy. It was pretty much done! It was pretty and purposeful, and I was good with it just the way it was.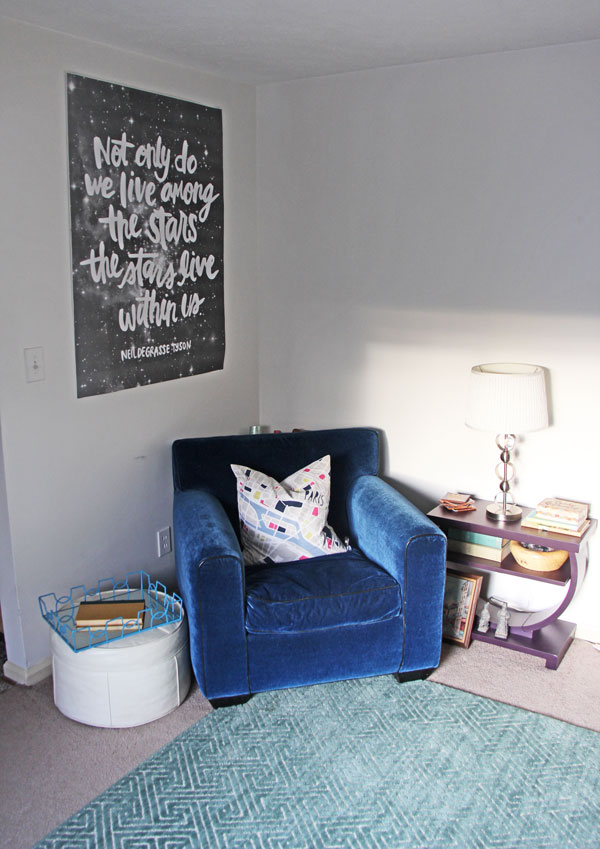 The Bathroom
The bathroom was pretty much done too. It was a small space and there wasn't too much I could do. I hung some artwork and organized the nook area and boom! Pretty, functional bathroom.



The Bedroom
The bedroom is definitely where there was work to be done. I had a few items to add to it but then I decided to move, and I decided against putting holes in the wall for pictures and curtains. Also, the furniture was a little hodge podge. I could have made it look a little more cohesive. But overall it was a happy room for me with the bright morning sun and colorful duvet cover.





The Hallway
Soooo not technically a room but I never really showed you the hallway before. I put up some artwork here that you've never seen…and that's about it!

The Laundry Room
The grand ole laundry room, right?! Haha! It was a good room that held a lot. Plus, I put my first target on the wall from my first time shooting a gun. Why is it that I find shooting a gun so much fun? Anyways….

Well, there it is, my final first apartment tour. Immediately after those pictures were taken I started listing SO many things for sale (Facebook yard sale groups and Craigslist) and sold most of my large furniture and so many other things. It was a process but it made moving and downsizing into 541 square feet so much easier!
I'm settling into my new place now and LOVE IT SO MUCH! Once I get my act together I will share pictures!!