I'm feeling silly. Don't ask about the title. I'm not exactly sure what I was going for there. Yet, somehow that ties into this post, because it is about our guest bedroom. Sometimes I don't know what I was going for in there either. Here is a shot of how it has been looking for quite some time.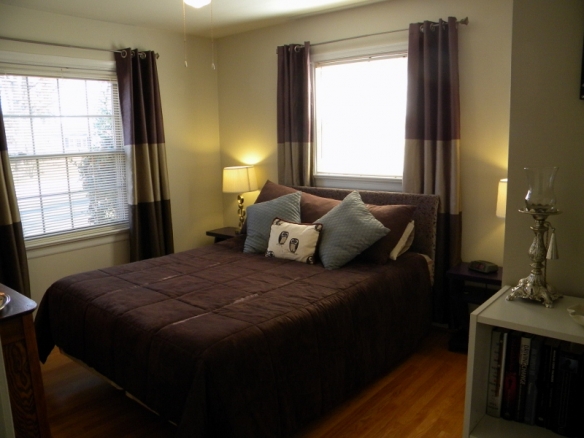 I painted the side tables and TV stand, but other than that this room has had this look for quite some time. Yet, I didn't do a happy dance and lovingly stare at the room whenever I passed by it. I liked it and was pleased with how it looked, but I wasn't head over heels in love. And I believe in true love. I also believe that you should love absolutely everything about every little item that comes into your house. If not, it's just clutter. I had been trying to work this brown and purple room. The hubs had bought that comforter set on his own (pre-marriage) so it held some sentimental value. Or so I thought. When I asked him about possibly changing it up, he said "No big deal Megaloo". Then I set about trying to find a bright, cheerful duvet comforter (so the brown could live inside its new home) that we both loved. It's important that this is a home that we build together, not a Megan dominated space. That's what the Mego Cave is for. After some searching, Macy's won again (that's where the master bedroom duvet cover was from as well).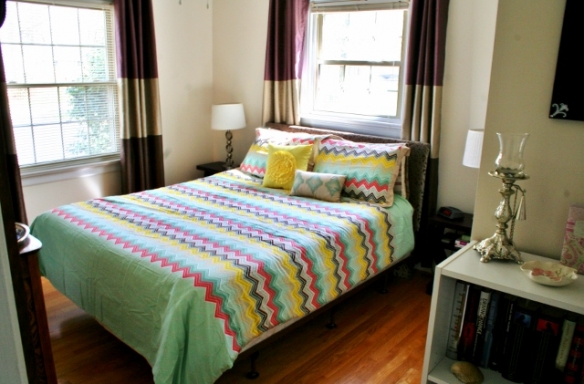 Now don't scream and shout (Britney Spears reference – gah!) when you see this. I warn you because I did. You see, the duvet comforter most definitely does not (nor was I expecting it to) go with the curtains and headboard fabric. In fact, it is quite horrendous to look at all together.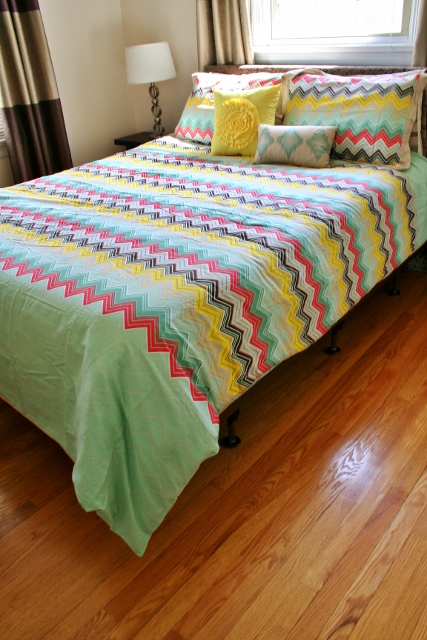 But in full disclosure mode and showing you real time updates, you get to see what I see every day baby. I see a beautiful duvet cover that insanely clashes with every other textile in the room.

On the sunny side, all the furniture (wood and painted) works splendidly with the comforter, as does the paint color. (Please forgive the wrinkles.)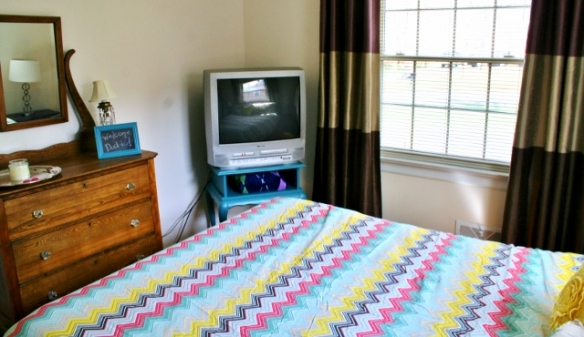 Let's call that seeing the glass half full. But I do apologize to any guests who come before I find the right fabric for curtains and recovering the headboard.

Right now I am scouring local and online fabric stores trying to find the right fit! Stay tuned for updates!