I am having so much fun creating the most inviting, bright, happy guest room I can! The changes with the curtains, fabric gallery wall, and headboard just make me want to do a happy dance. Or just spend lots more time lounging in the guest room. Or at most it makes a nice happy spot to get dressed every day since my clothes are kept in this closet. Or most importantly, host happy guests who make the room even brighter!
I decided to keep the momentum for this room and turn to the bookshelf that not only welcomes you into the guest room but also into the hall. This is the straight view you get when you start down the hallway.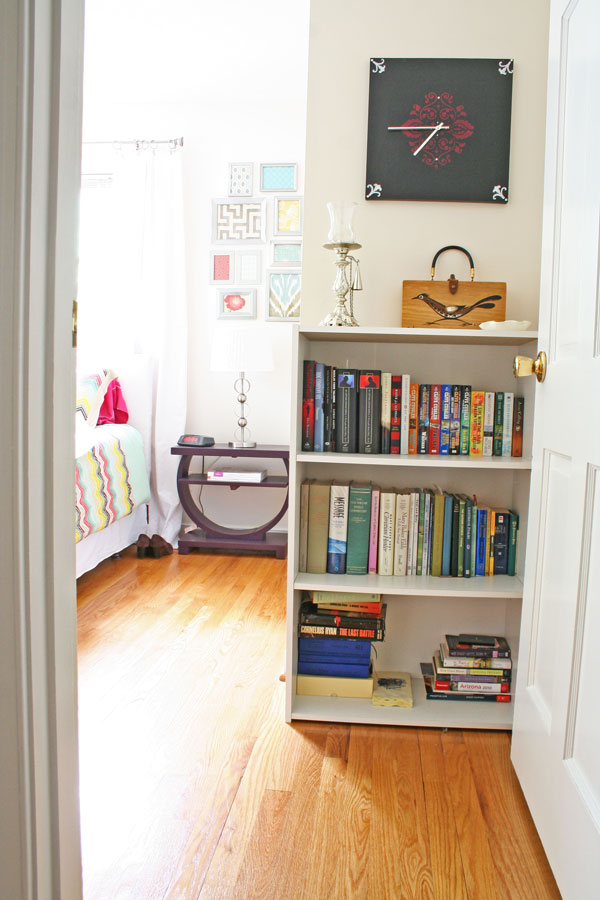 This is a bargain Target bookshelf but I love it. It is spacious, a nice white, and just the right size for this little nook (a happy surprise – we bought it for another space and then it found its way here).
However, the shelves themselves were not all that happy. They were just lined with books. Practical, yes, but particularly appealing? No.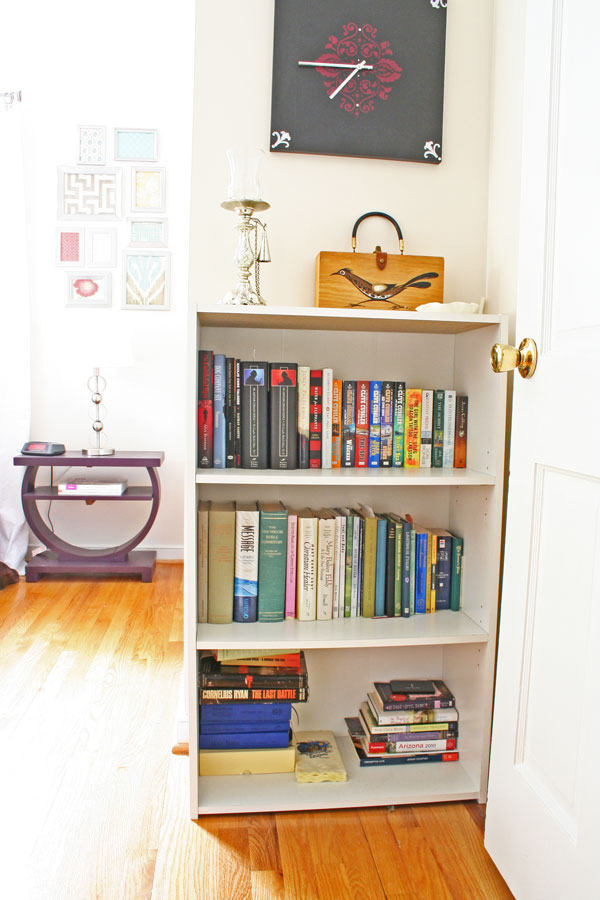 To make this project even more fun, I challenged myself to make it a no spend project. That means everything that you see in the bookcase was already in the house. I love these types of challenges. I feel they can really force you to be more creative and think outside the box.
The result of this challenge to my creativity is what I call a foam board bookshelf topper. Inspired by the foam board cornice for our living room, I took it to the bookshelf. I'll be sharing that tutorial with you later this week. For today I want to focus on the no spend styling challenge for the bookcase. But I couldn't help gush a little bit about that sassy little velour topper, right?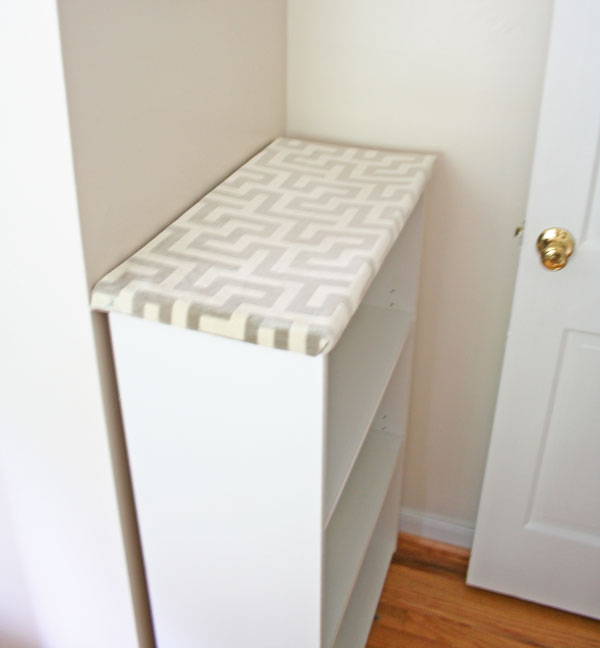 Of course my process always starts with chaos. Most projects start there, don't they? The important thing is that you don't end with chaos (definitely possible with styling projects).
To start styling I first started sorting the books. I took the pretty books or the ones I reach for a lot and put them in a pile. I then sorted out ones I didn't mind sending to the basement bookcase. Then I started layering the books in – some vertical, some horizontal, trying to create a balanced look.

Then came the knick knacks.

I tried to keep the rule of threes in mind and also have a nice mix of sizes, shapes, and heights. I think heights are what add the most interest to styling. You need to lead your eye around a space. Height can really help you accomplish that.

Some of you may question why I didn't cover the back of the bookcase with paper or paint it a bright color. I thought about it but at the end of the day I thought it would just be too busy. So for now I decided to use the sassy foam topper with the velour fabric and keep the white bookcase white so the objects can be the fun pops of color.

I also love to use items that have meaning to me in styling. I love items that have a memory attached to them. They are more fun for me to look at every day compared to items bought from a magazine. Don't get me wrong, I LOVE items from magazines but they need to be in the mix of other much-loved items.
Here are some of the memories in the bookcase disguised as pretty styling pieces.

The wooden tray is from a project done at my first Haven conference.
The bee's wax candle was a present from my mom on one of her trips here. It is from a local store, and we had such fun talking with the owner of the store learning about bee's wax (which is actually quite interesting).
This gorgeous yet delicate bowl in the tray was a wedding present from a very dear friend.

This quirky little road runner number just spoke to me at an antique store in Staunton. Eric took me there for a little weekend getaway earlier this spring. I love anything with some quirk.
The sand is from our wedding. Oh man, I love every memory about that day.

The container holding the books on the left is something my mother-in-law gave to me from her décor she got while living in Japan.
This vase is another memory of shopping with my mom. Also a present from her.
Oh the Candy box. What an AMAZING memory to have of my grandparents who have passed on. After they passed my dad found this box full of love letters from my grandpa to my grandpa when they just met when he was in the Army. Oh. my. gosh. Old love letters. People just don't talk/write/express themselves that way anymore. It allowed me to see more of who my grandparents are and to feel closer to them than I ever have before.

These beautiful blue and green glass ornaments were a gift from my oh-so thoughtful mother-in-law who knows my favorite colors and love of all things glass. I also might have oohed and ahhed over some she has. I'm not so subtle I guess.
The Bubble Room napkins were so pretty I had to snatch them up when Eric and I visited his parents when they lived in Florida. This is one of the best restaurants I have ever eaten at. I don't know if that is because of the food or the amazingly, delicious, gigantic, yummy pieces of cake they serve as dessert.
On top of the color wheel (still love that colorful chunk of wood) is a beautiful monkey bowl my mom bought for Eric. She thought of him because he loves monkeys, it is a drawing done in a Japan (just put on a bowl), and we are going there this year.
Isn't it wonderful that not only can we surround ourselves with beautiful items but these items can also remind us of beautiful moments in life. And as I've said before, I need more reminders in my life to just savor the moments of every day.
Do you have any special items that you decorate with that are not only beautiful but share a special place in your heart?