Hi everyone! Hope you all had a wonderful Thanksgiving holiday full of family, happiness, and love – no matter what form that takes in your life! I was lucky enough to have my Dad come visit, and we had Thanksgiving at my apartment! Movies were watched, pies were baked, and laughs were had!
Now, I'm going to be turning all Christmas decor soon but before I get to that I thought I would first show you how my first furnished apartment tour and how it is shaping up a few weeks in (you can see it empty here). I'm definitely not promising perfectly styled shots and an all done apartment. Nope, that's not my place at all right now. The big stuff is in and the boxes are only somewhat unpacked. But they are still there, biding their time for me to pay attention to them.
So let's take a turn through the apartment and see where we're at before it turns all sparkly and gold for Christmas (for real, I'm writing this staring at my Christmas tree and it will not let you down in the sparkly department).
The Living Room / Dining Room / Kitchen
This main room is definitely the most unpacked. Which makes sense since I live here 99% of the time. I still have lots of ideas for this room – like renter friendly artwork, wall treatments, and fun little styling. Oh yeah, and getting the box outta there and making the bookcase look presentable and not having a rug rolled in the corner. I am definitely wanting a rug for the main room too. Plus the table needs painting. Too much green in that corner and it has a huge rust stain. I'll be back with more details about the color scheme I'm thinking about going with in here.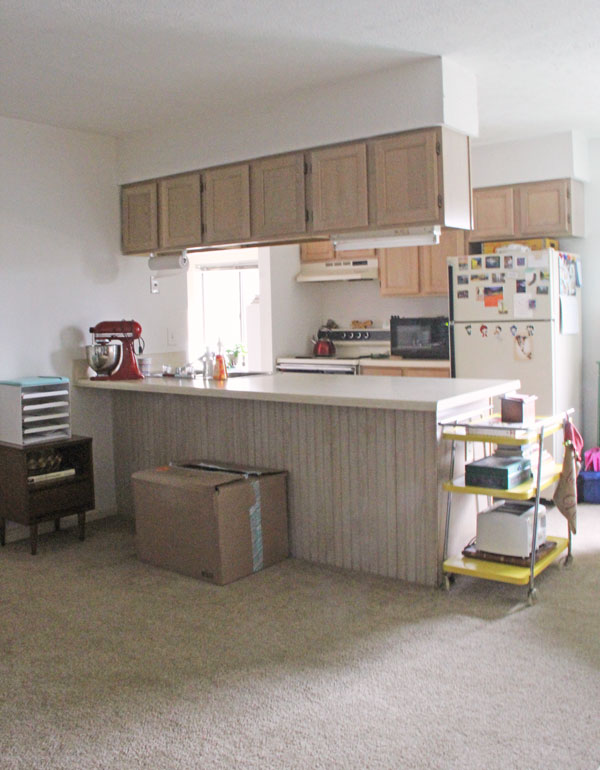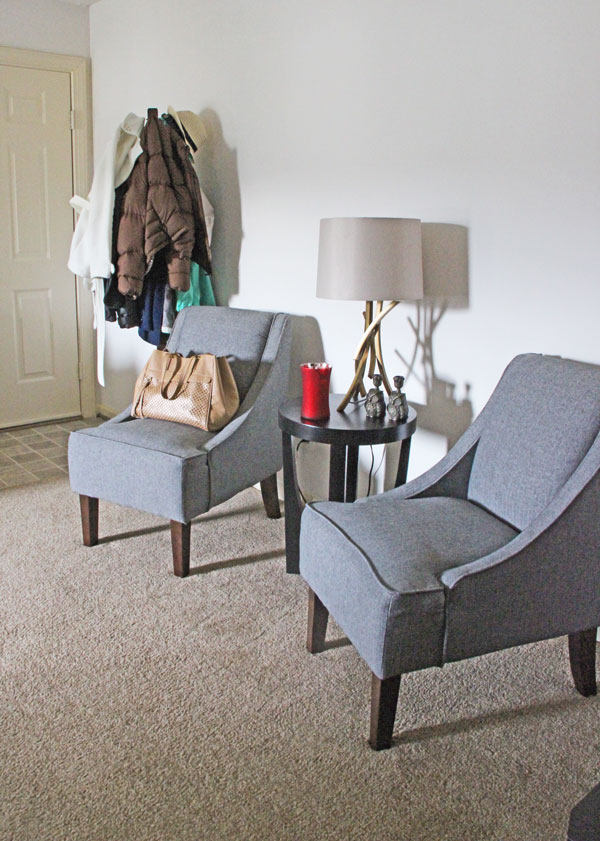 The Den / Studio
This place is  legit MESS. It's where all the boxes go bide their time. But I have big plans for this place. I want it to be my studio for crafting, photo shoots for projects, and lots of other fun stuff. Right now it is just a pile with a styled bookcase. You have to start somewhere right?!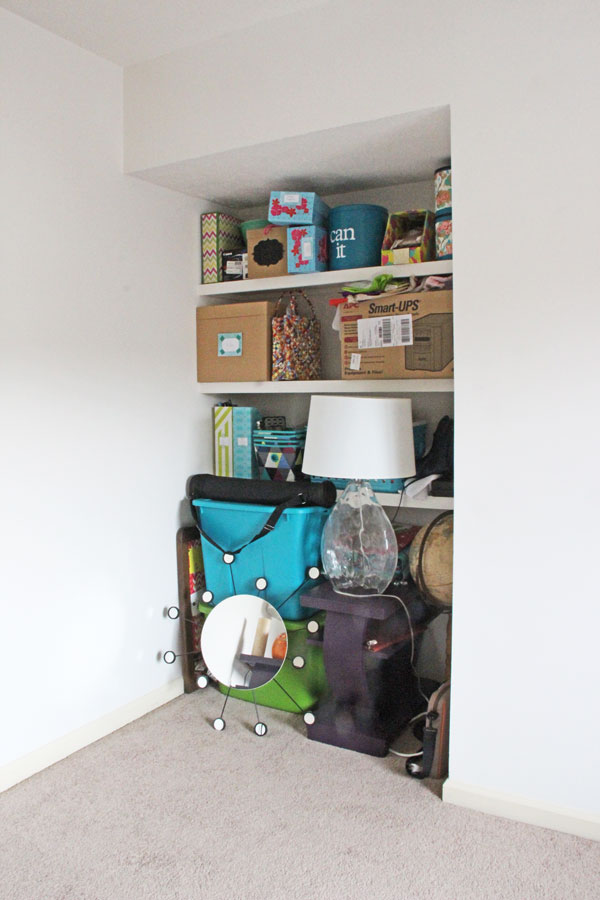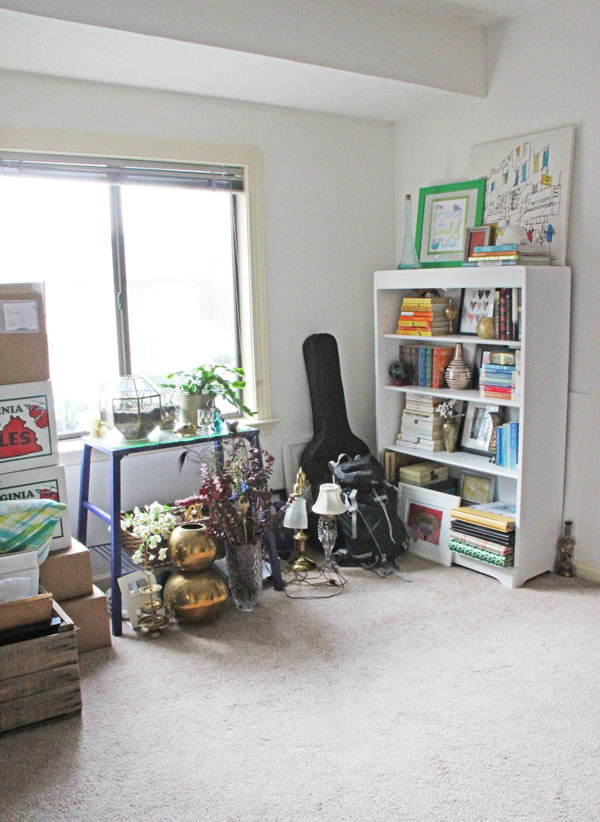 The Bathroom
Not a lot to say about this place. You do what you do. I made a few pretty vignettes in this small space but there is a lot of storage organization that needs to go down in here.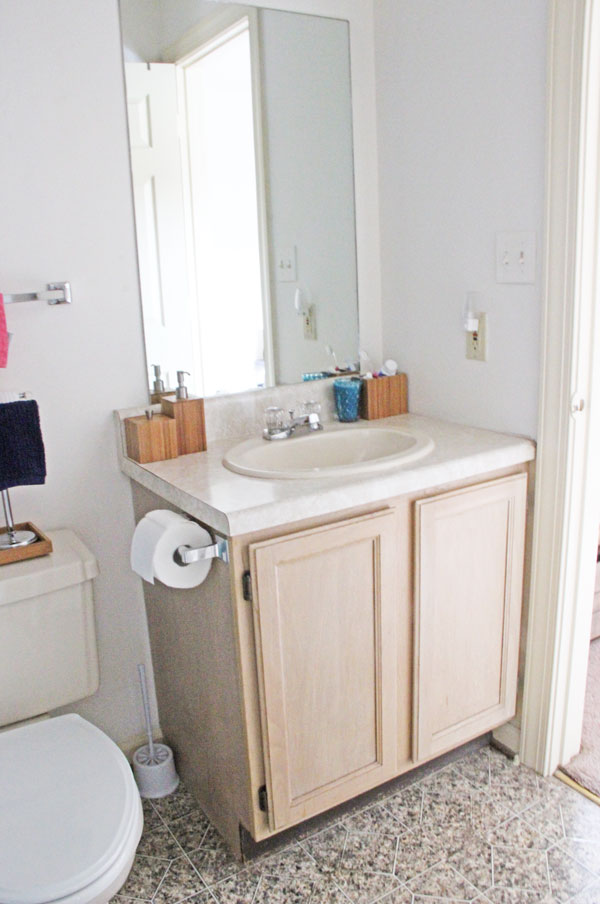 The Bedroom
This room is screaming for something on the walls, don't you think? I do! But the morning light that comes in here is magical and my window has a pretty view outside of trees (not a parking lot like my other windows)! I love this room though. It is so cozy and has plenty of storage for my clothes which is a first for me in quite a long time! I also am digging how my herringbone rug and duvet cover pattern really jive together. One of my best mixing patterns to date!







The Laundry Room / Utility Closet
It houses a major Craigslist score of a washer and dryer that are practically brand new but it also houses a big fat mess on the shelves. But hey – it's storage and it will be organized eventually. Oh yeah. and it's a place for my exercise ball to hang out. Win.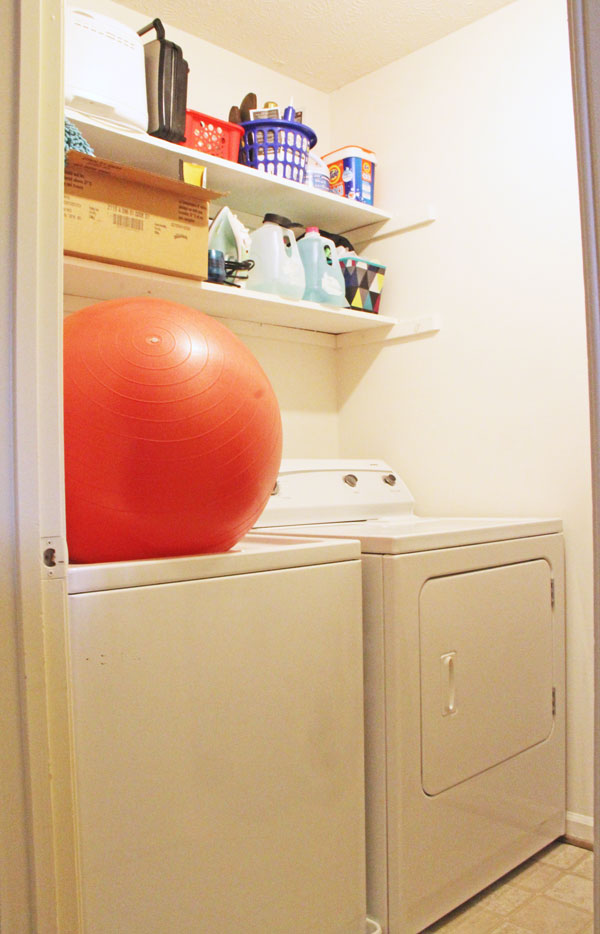 Well folks, that's the grand tour! Hope you liked this peek into this little place I call home. I love every square foot. Can't wait to share my further adventures in it!