Spring! Flowers! Sunshine! Growth! Buds! Happiness! Color! Or at least that is what I think about spring. It just seems to awaken feelings of hope, change, love, joy, and grace. Since this is also the year of fresh flowers in my home (I vowed to myself when I moved into my apartment to always have fresh flowers and that has continually been the case!) I thought it would be fun to splurge on even more flowers for my home for the spring.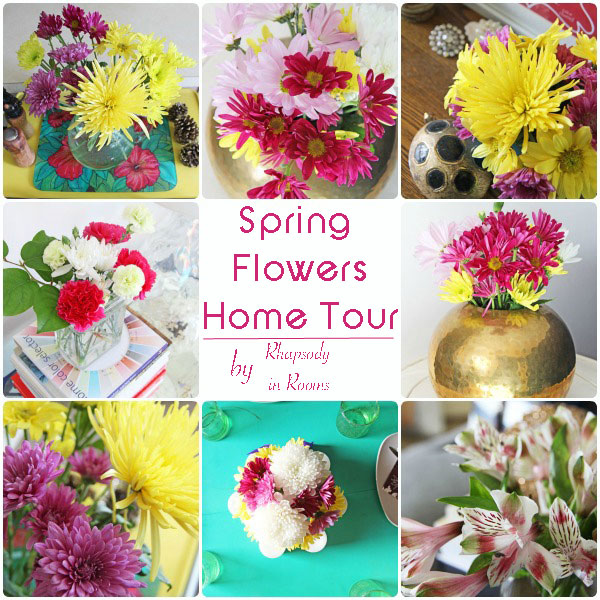 Decorating with flowers is new territory for me and is something that I am excited to learn more about (I even bought a book about it
 – affiliate link) so I thought this would be the perfect opportunity to buy bunches of flowers and try my hand at it. There aren't too many fancy flower shops around ole Lynchburg so I opted for my favorite flower place: the Kroger discount section. Ha! Go on a weekday night when there are lots of marked down flowers. I spent about $10 in flowers and got bunches and bunches! No, they aren't the fanciest flowers but they accomplish my goal: inject bright color and happiness into every room. I wandered around my couple rooms in the apartment looking at everything as an opportunity to hold flowers. I piled all the vessels onto my countertop, along with my flowers, and started to brainstorm.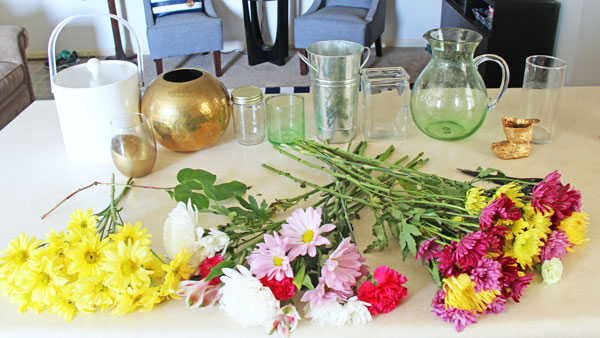 I had ideas of places I wanted to put my flowers so I started with my biggest arrangement – the dining table – and worked down from there. For this arrangement I put a skinny glass container into a bigger glass container and layered the flowers. Then I tied it off with a bow to camouflage the stems a little more and enjoyed playing with a table arrangement. [Fun fact: I did this on Sunday – I've consequently eaten every meal on the couch or standing up at the counter so I can just continue to stare and enjoy the pretty tablescape. Haha!]




Then I decided to put together a little arrangement for the side table in the living room area. Just a few sweet flowers in a pretty gold glass.



Then I moved onto the studio where I made a bouquet in a glass jar and placed it in this larger brass hammered planter.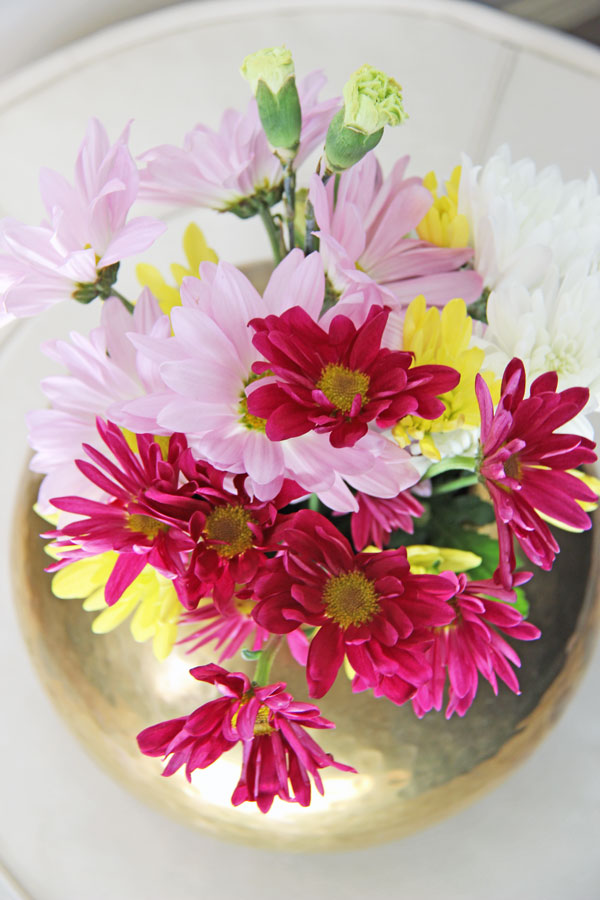 This arrangement may be my favorite with all its white and pinkness. So bright and happy!



I then filled a bright blue mug full of pretties for my bedroom. There is nothing like looking at fresh flowers before you fall asleep at night and when you wake up in the morning. I love it! This may need to happen more.



Finally, my last bouquet was done using this method: throw all the leftovers into my favorite pitcher and call it a day. Boom. Done.



Goodness! Flowers, flowers, flowers everywhere! It feels like such a luxury but I only bought $10 worth of flowers and used containers I had around the house. My house sure is photoshoot ready, right?! However, next time I do this I think I will explore the local area a little more and see what flower shops I can find! But wait! There is more spring fun! I teamed up with a great group of blogger friends to share our favorite spring projects. Make sure to check out their springy projects below!