I am SO excited to finally be able to share with you the progress that I have made with turning my ideas of my emerald, navy and gold living room into reality! I know I talked about this quite some time ago, but I decided to take my time, go with what I loved, and slowly incorporate beautiful elements into my living room.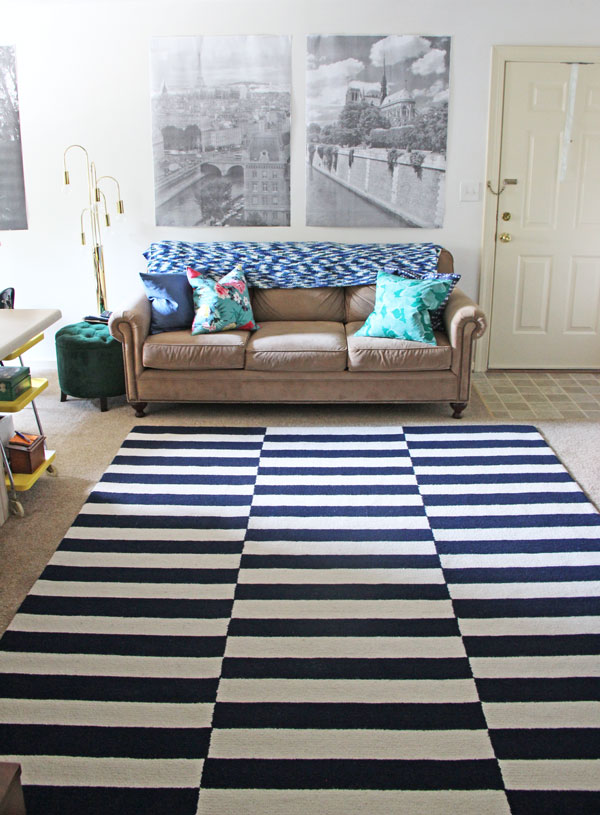 The best thing is that it didn't really take much. I had all the basic elements of the living room (furniture, lamps, tables); then I added pops of colors in pillow covers, blankets, and an area rug, and I had the makings of a color themed room.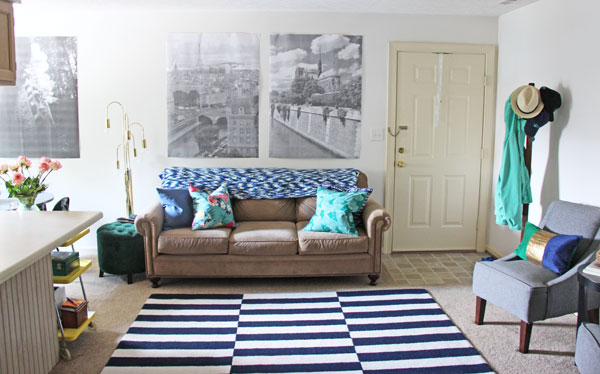 It started with this striped white and navy rug from RugsUSA (where I basically buy all my rugs thanks to their killer sales). I always love the classic look of stripes and thought that a rug was the best place to go classic. I have the hardest time actually pulling the trigger on buying a rug (geesh indecision) but this one was an easy choice. I've actually had it for months and love it! Word of caution though, it's a shedder. But hey, that just makes me vacuum more, right?!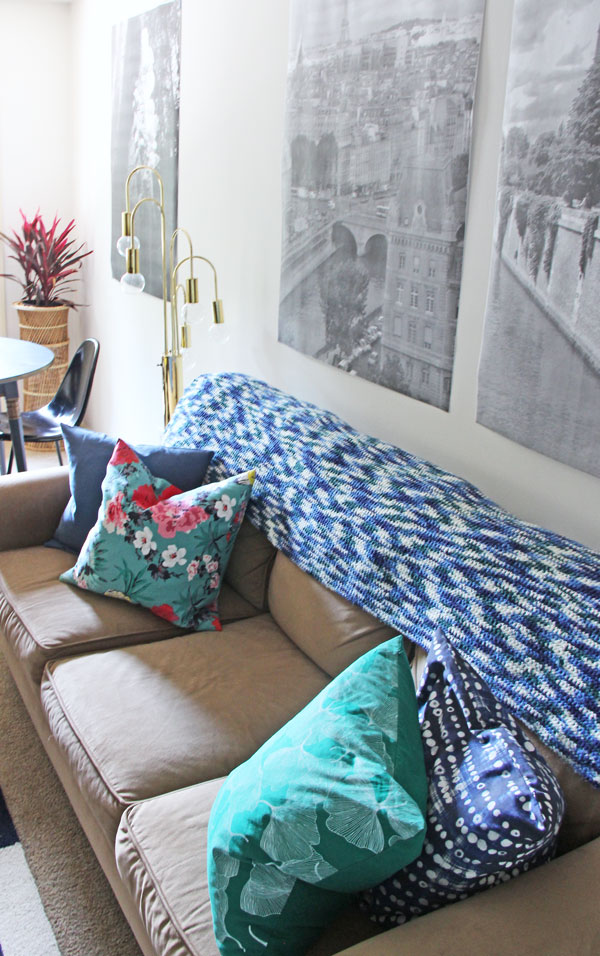 Then I moved on to what I had: a multi-colored blanket that I crocheted in middle school! I draped it over the back of the couch and immediately loved it for two reasons.
1: It blends effortlessly into my color scheme.
2: It hides the saggy, attached back couch cushions that are one of the main reasons I haven't liked this couch for a while. Thankfully, with it covering up those cushions I am liking the couch a TON more. Now I pay attention to the color pops on it and the classic nail head trim and stop hating on the saggy, baggy cushions.

I'm sure you also noticed my new couch pillows! They are the Ikea feather inserts and four pillow covers from H&M that I adore (floral cover, printed green leaf cover, navy velvet cover I meant to buy but was out of stock so I got the canvas one that's not available anymore, blue dot cover not available anymore). I also adore that I purchased these. I love a good ole pillow DIY but it is sometimes so nice to buy something for probably cheaper than I could make it and put no work into making them. That was totally my jam this time.


Swinging on over to the accent chairs, I finally splurged on some pillows and pillow covers that I had literally been stalking for 6 months.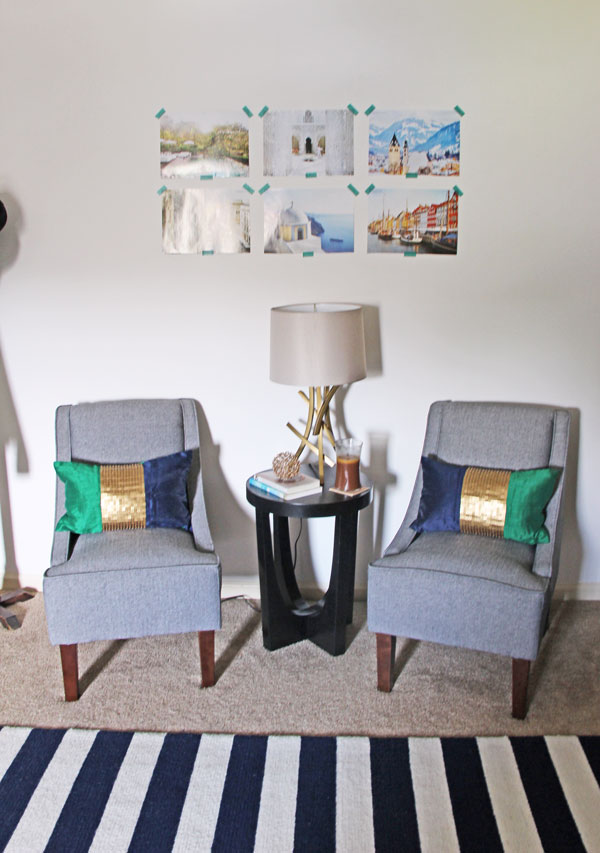 I fell in love with these pillow covers on Etsy and knew they would be the crowning piece for my living room. However, they were a little pricey for me for two pillow covers so I hemmed, hawed, and waited way too long. I finally purchased them and now gaze adoringly at them every day. They are everything I want my color scheme to be. Sometimes a girl just has to splurge.



All these items tie nicely into my current furniture, lamps, and accessories and newly made "Eat Well Travel Often" sign. My living space is definitely coming together and it makes me so happy!

I think my next venture is making some holes in the wall and actually hanging pictures to make it feel even more me and finished.