Happy New Year! Now let's talk about October of last year, shall we? Ha! I've had a whirlwind of a few months with traveling to see family and friends that I am a little behind with getting my Stitch Fix reviews in, so I'm going to do a little push this month to catch up.
In all honesty, I almost cancelled October's fix because of all my traveling and the holidays, but I just couldn't make myself do it. I love them so much! It's my one big treat on myself each month since I am ultra thrifty in the rest of my life.
Boy, I am glad I didn't miss this month either…because it was a surprisingly good one. I say surprising cause I didn't think I would keep much…and then….welll, you will find out. No spoilers here!
If you're new around these parts, stitch fix is a personal stylist company that hand picks 5 items based on your style and size. You get assigned your own stylist, and she gets to know your style based on your pinterest fashion board, style profile, and feedback you leave on your previous fixes. In turn she hand picks out pieces she think will make you look – and feel – great and sends them to you along with styling advice and a personal note. Love that part so much!
This month I asked to keep my same stylist, Lauren, because I love what she picks for me so much. I hope she never goes away because she seems to get my fashion style more than I do! I asked for another pair of pants, another try at a jacket (I've gotten two no's), a cross body bag, and other fun fall items. She totally delivered on all fronts. Let's get into it.
41Hawthorn Lizzy Colorblock Striped Sweater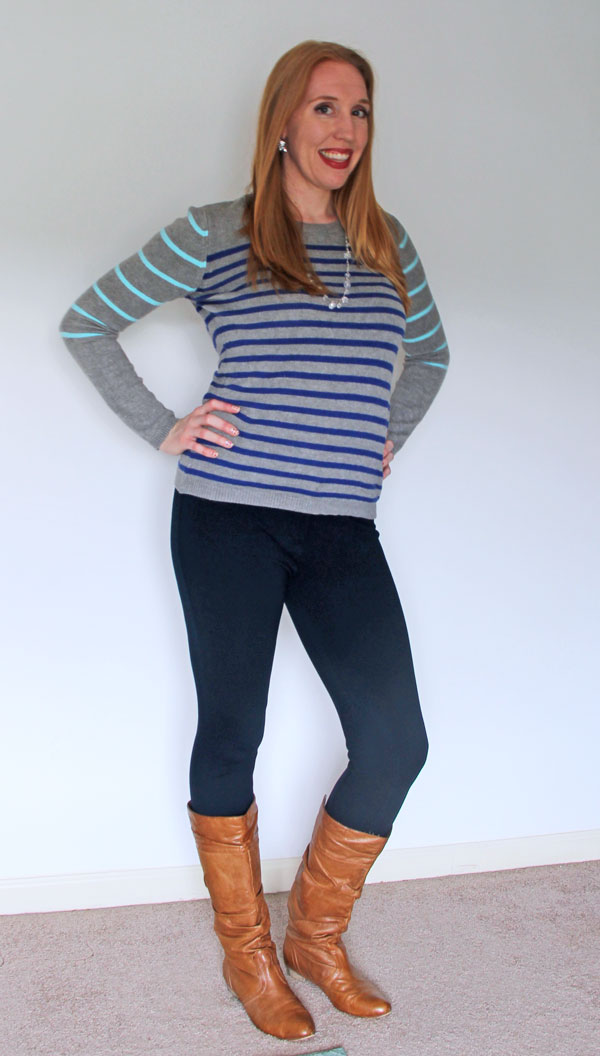 This sweater is the perfect fall/winter staple that I know I will reach for time and time again. It is so extremely, ridiculously soft, which is essential for those cold mornings when getting out from under the warm covers seems like the hardest task in life. Plus, it has my colors – blue and green! I actually showed this to my friend and she said, "This is so Megan I'm surprised you don't already have it". Well, now I do.
Kept
Brooklyn Crossbody Bag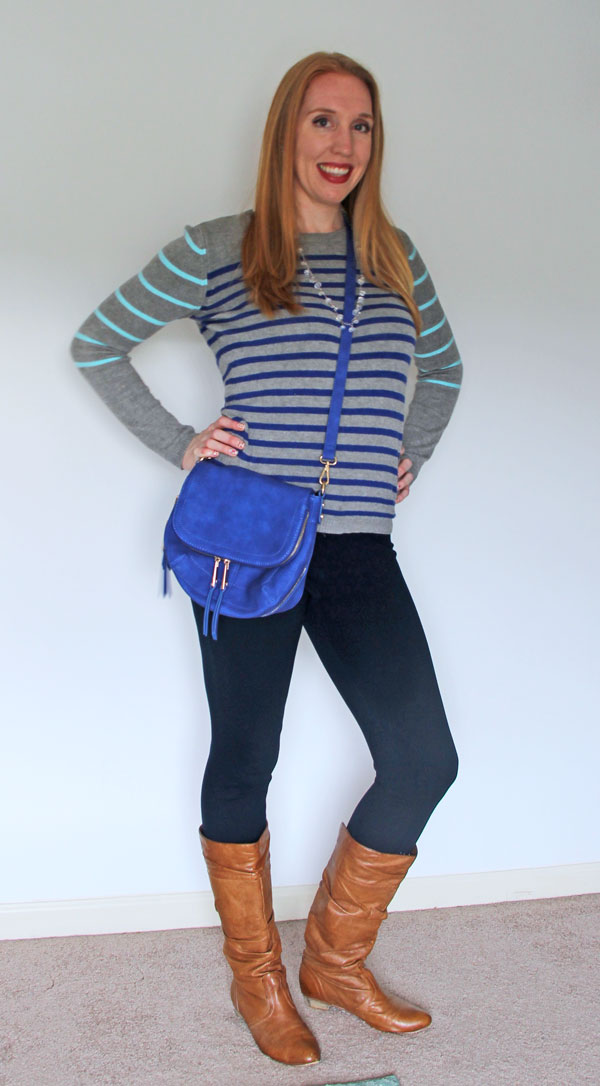 I love a good cross body, especially for traveling (which I've been doing a lot of recently). I have a really structured one but it doesn't fit much because of that reason. I really like that this one is soft (leather soft but it's not real leather) and that it has lots of pockets for storing things. The color is beautiful too. I was on the fence about this once and thought about returning it/giving as a Christmas present but I'm going to keep it.
Kept (After having it almost for months and traveling with it I'm so glad I kept it!!)
Fate Harry Lace Back Pullover Sweater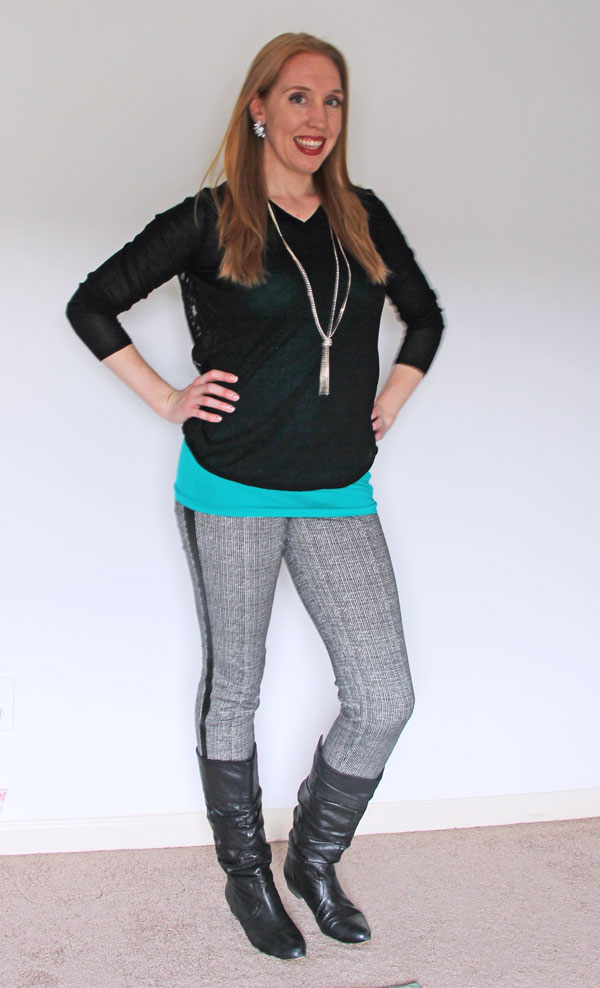 This is one of those times that proves how important it is to try something on. I pulled this out and wasn't impressed. It was black (I go for color) and sheer/lacy. Not usually what I go for. But I took my stylist's suggestion and tried it on with a colorful cami under it and fell in love. This top is amazing!! I love that you can mix it up with the cami underneath it. Plus, a nice black shirt is so versatile and then when you add those lacy details, it gets really good.
Kept
Liverpool Lucia Faux Leather Detail Skinny Pant

It's time to get to the real love affair of this entire box. These pants. Oh my goodness, when I pulled these out I may have said some prayers hoping these pants fit. I love to add a little edge to my wardrobe so anything with leather details makes me swoon. Put that on a patterned pant and I'm in love. Plus, these are super stretchy and sooo comfortable. Plus, they look amazing with the Fate sweater. This is my new favorite outfit of all time now!
Kept
En Creme Shale Drape Open Jacket

This is try three for a jacket. Let me say, this is never something that I would have originally picked. Nor did I love it when I tried it on. I did decide to buy all five items because the 25% discount for buying all five cost the same as buying the three definites (the two sweaters and pants). After many times trying it on and lots of hemming and hawing I sold this on a Stitch Fix Facebook board and am so happy about it! I hope it is at a home where it is worn all the time.
Sold
Ack! There it is – almost a perfect box! Gosh darn it, I love this service. Now that I've transitioned to my cold weather wardrobe I've been really looking at it with a discerning eye. If I don't love it and feel amazing in it, it's out! This gets a whole lot easier as I get more and more amazing items from Stitch Fix.
Want to see more? Check out my other reviews!
my february 2015 stitch fix review
my march 2015 stitch fix review
my april 2015 stitch fix review
my june 2015 stitch fix review
my july 2015 stitch fix review